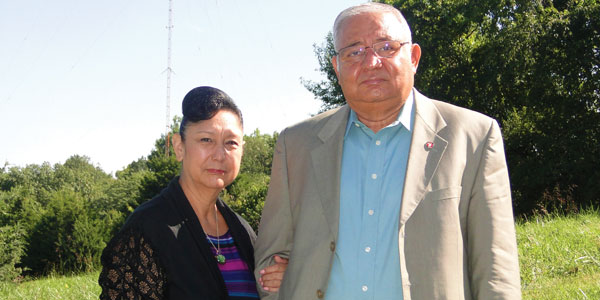 Desde 1982 los pastores Fernando y Esther Aguilar han sido ministros de congregaciones hispanas por medio de la iglesia que ellos fundaron; sin embargo el tiempo ha llegado para empezar a servir de otra manera.
Recientemente los pastores celebraron su último servicio como ministros en la iglesia La Fe en Jesucristo. Su hijo Ditel tomará el liderazgo de la iglesia de ahora en adelante.
"No estamos renunciando," dijo Esther. "Simplemente hemos dado a luz un hijo y un ministro el cual con mucho gozo estamos delegando esta grande responsabilidad."
De acuerdo con Esther, Ditel tiene diferentes metas y un objetivo especifico que es involucrar más a la comunidad joven. Ella y su esposo expresaron la felicidad que tienen al ver su hijo crecer en su misión y alcanzar nuevos triunfos como pastor.
Con Ditel como ministro de la iglesia, Fernando y Esther planean continuar trabajando con la comunidad visitando hospitales y hogares así como haciendo consejería.
Originalmente de Ciudad de México, los Aguilares llegaron a Estados Unidos en 1969 con sus hijos para trabajar. Eventualmente ellos se movieron a Kansas City y comenzaron la iglesia que llamaron La Fe en Jesucristo.
"En 1982 fuimos a un congreso llamado Defensores de la Fe y expresamos la necesidad de abrir una iglesia para la comunidad hispana," dijo Fernando. "Habían muchos hispanos y no muchas iglesias que hablaban español, así que pedimos permiso de abrir una."
La iglesia comenzó como una pequeña congregación y estaba ubicada en su casa en el área de Westside de Kansas City Mo. Después, los Aguilares construyeron una iglesia la cual cerró pronto ya que los vecinos no les gustaba tener una iglesia cristiana cercana. Por un tiempo la congregación se reunía en varias casas e iglesias los domingos para hacer consejería y para los servicios dominicales.
Sin embargo, con más de 90 miembros, Fernando y Esther sintieron la necesidad de encontrar un edificio donde pudieran realizar los servicios todos los domingos. Finalmente, en 1994 su hijo Noe y su esposa encontraron una iglesia bautista que estaba a la venta y les conto acerca de ella.
"Ellos (Noe y su esposa) preguntaron si la podíamos arrendar (la iglesia)," dijo Esther. "Y el pastor dijo que no, que la estaban vendiendo o donando… entonces llenamos la aplicación un mes después recibimos la donación. No tuvimos que pagar ni un penney por ella."
En el 2007 después de haber seguido creciendo, Fernando y Esther establecieron la Iglesia La Fe en Jesucristo en su ubicación actual: 1500 Central Ave.
Fernando y Esther admitieron que no fue fácil establecer y crecer en su iglesia, sin embargo,33 años después le pasan su liderazgo a su hijo y dicen estar agradecidos con Dios y la comunidad que los apoyo en todo el camino.
Iglesia La Fe en Jesucristo suministra servicios a las 7 pm los miércoles y a las 6 pm los domingos. Mara más información visite www.lafeenjesucristo.org.
---
Christian pastors retiring after 33 years of service
Paula Alzate
Since 1982, Pastors Fernando and Esther Aguilar have ministered to Hispanic churchgoers through the church they founded, but the time has come for them to move on to other forms of service.
Recently, the two conducted their last service as ministers at Iglesia La Fe en Jesucristo (Church of Faith in Jesus Christ in English). They're giving the leadership of the Kansas City, Kan., church to their son Ditel.  
"We're not quitting," Esther said. "We are just introducing our son and a new minister with great joy, … (upon whom) we are delegating the big responsibility of spreading the word of God."
According to Esther, Ditel has goals for the church he wants to pursue, especially those involving ministry to young people. She and her husband expressed their excitement at seeing their son grow in his ministry and achieve new goals as a minister.
With Ditel overseeing the church, Fernando and Esther plan to continue working with the community by visiting hospitals, homes and counseling.
Originally from Mexico City, the Aguilars came to the United States with their children in 1969 to work. Eventually, they relocated to the Kansas City area and started Iglesia La Fe en Jesucristo.
"In 1982, we went to a congress called Defensores de la Fe (Defenders of the Faith) and expressed the necessity to open a church for the Hispanic community," Fernando said. "There were a lot of Hispanics and not too many churches that spoke Spanish, so we asked permission to open one."
The church began as a small congregation and was based in their house in Kansas City, Mo.'s Westside area. Then, the Aguilars built a church, which soon closed because the neighbors weren't comfortable with having a Christian church near them. So the congregation gathered in various houses and small places for Sunday services and counseling.
But with more than 90 church members, Fernando and Esther felt the need to find a regular building to hold services. Finally, in 1994, their son Noe and his wife found a Baptist church for sale and told them about it.       
"They (Noe and his wife) asked if we could rent it (the church)," Esther recalled. "And the pastor said, 'No, we are either selling it or donating it.' … So we filled (out) … (an) application and a month later we received the (church as a) donation. We didn't have to pay a penny for it."
In 2007, after years of growth, Fernando and Esther established Iglesia La Fe en Jesucristo at its current location, 1500 Central Ave.
Fernando and Esther will admit the road wasn't easy in establishing and growing their church. But 33 years later, as they pass the torch of leadership on to their son, they're grateful to God and the community that supported them along the way.
Iglesia La Fe en Jesucristo provides services at 7 p.m. on Wednesdays and 6 p.m. on Sundays. For more information about the church, visit www.lafeenjesucristo.org.