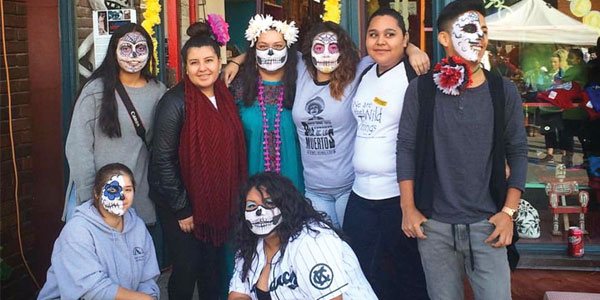 El 3 de octubre la galería y centro de arte Mattie Rhodes llevó a cabo su  17avo festival de Día de los Muertos en Kansas City.
El Día de los Muertos en una fiesta que honra a las personas amadas que ya han muerto. La celebración trajo consigo las tradiciones relacionadas con la fiesta incluyendo altares, ofrendas, y recuerdos de los fallecidos. Así mismo algunos artistas del área Kansas City presentaron sus obras y cantantes y bailarines estuvieron presentes.
Para más información relacionada con el festival del Día de los Muertos y otros eventos de Mattie Rhodes visite http://www.mattierhodes.org/cultural-arts/.
_________________________________________________________________________________________________
Mattie Rhodes remembers Día de los Muertos
Story by Paula Alzate, photos by Paula Alzate and Hector Perez
On Oct. 3, the Mattie Rhodes Art Center and Gallery held its 17th annual Dia de los Muertos (Day of the Dead) Festival at its Kansas City, Mo., facilities.
El Dia de los Muertos is an annual Mexican holiday that honors loved ones who've died. The festival brought the traditions connected with the holiday to life with altars, ofrendas (offerings) and remembrances of the dead. In addition, Kansas City area artists presented their artwork, and dancers and singers performed.
For more information regarding the Day of the Day Festival and other Mattie Rhodes events, visit http://www.mattierhodes.org/cultural-arts/.