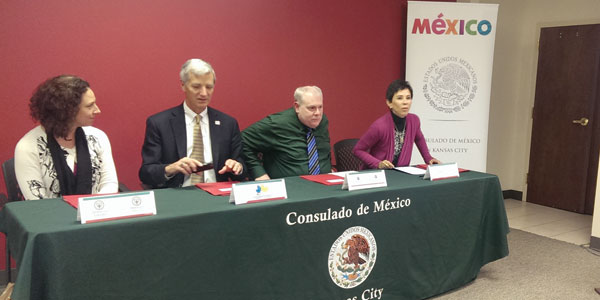 El 20 de noviembre, becarios del Instituto de los Mexicanos en el Exterior (IME) asistieron a una recepción en el Consulado de México en Kansas City, Mo.
Este año, el consulado aportó $ 28.503 en becas para ayudar a los jóvenes mexicanos y mexico-americanos financiar sus estudios en Johnson County Community College (Kan.), Donnelly College y la Universidad de Rockhurst. Las instituciones también ofrecerán la misma cantidad para los 36 estudiantes, con un total $57.006.
Según Alicia Kerber, cónsul de Mexico, la Beca IME fue creada en el 2005 para contribuir a la educación de los migrantes en Estados Unidos y ha proporcionado becas a 56.000 estudiantes. Kerber espera ayudar a 12.000 estudiantes en 2016.
"Esta beca no sólo fue posible gracias al gobierno mexicano", dijo. "Fue posible gracias a los ciudadanos de México, que proporcionaron los fondos de impuestos para apoyar a los estudiantes mexicanos en los Estados Unidos."
Kerber también dijo que el comité de selección se centró en la concesión de becas a estudiantes que sean mujeres o indocumentados. Por otra parte, el comité seleccionó las universidades que proporcionen ayuda a los estudiantes.
Una estudiante que recibió la asistencia es Ana               Lilia Hernández. Hernández, que va a graduarse con un título en negocios de la Universidad de Missouri-Kansas City, agradeció al gobierno mexicano durante la recepción. También expresó su preocupación por la reciente ley de Missouri House Bill 187, una propuesta presentada por el representante estatal Scott Fitzpatrick para excluir a los estudiantes con Acción Diferida para los llegados en la Infancia (DACA) del programa para recibir ayuda financiera, incluyendo becas estatales.
"Los estudiantes con DACA que están en la universidad tienen que pagar el triple de la colegiatura en Missouri – y una gran cantidad de personas no saben acerca de eso", dijo Hernández. "Estamos tratando de hablar con el gobernador para conseguir que se cambie esta legislación."
Kerber apoyó la opinión de Hernández. Es importante para las comunidades construir puentes en lugar de muros para cambiar el mundo, dijo ella.
---
Mexican Consulate grants $28,503 in scholarships
By Melissa Arroyo
On Nov. 20, Institute for Mexicans Abroad (IME) Scholarship recipients attended a reception at the Mexican Consulate in Kansas City, Mo.
This year, the consulate contributed $28,503 in scholarships to help young Mexicans and Mexican-Americans finance their studies at Johnson County (Kan.) Community College, Donnelly College and Rockhurst University. The institutions also matched the scholarships for all 36 students, bringing the contributions to $57,006 overall.
According to Alicia Kerber, head consul, the IME Scholarship was established in 2005 to contribute to the education of migrants in the United States and has provided scholarships to 56,000 students. Kerber expects to help 12,000 students in 2016.
"This scholarship was not only made possible by the Mexican government," she said. "It was made possible by the citizens of Mexico, who provided tax funding to support Mexican students in the United States."
Kerber also said the selection committee focused on awarding its scholarships to female and undocumented students. Moreover, the committee selected the universities that would provide help to the students.
One student receiving assistance is Ana Lilia Hernandez. Hernandez, who'll graduate with a business degree from the University of Missouri-Kansas City, thanked the Mexican government during the reception for her scholarship. She also raised concerns about Missouri House Bill 187, a proposal filed by state Rep. Scott Fitzpatrick to deter Deferred Action for Childhood Arrivals (DACA) program students to receive financial aid, including in-state tuition and scholarships.
"DACA students who are in college are being charged three times the tuition in Missouri – and a lot of people are unaware of it," Hernandez said. "We are trying to speak with the governor to get this legislation changed."
Kerber supported Hernandez's view. It's important for communities to build bridges instead of walls to change the world, she said.