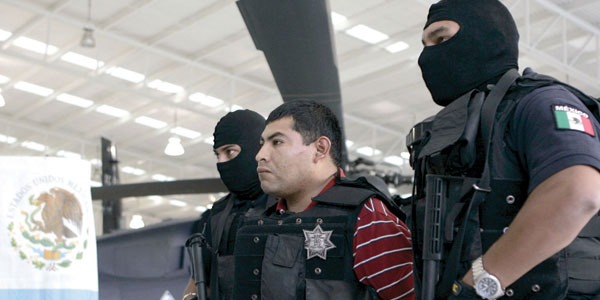 La extradición de México a Estados Unidos para Jaime González Durán (alias el Hummer) fundador y líder del cartel mexicano Los Zetas, ha sido retrasada, quizás hasta suspendida.
Arrestado en el 2008 por la policía mexicana, González Durán encabezó a los Zetas en varios estados mexicanos, entre ellos Tamaulipas, Nuevo León, Michoacán, Tabasco y Quintana Roo. Cuando fue arrestado, tenía $150,000 y un arma. Otros miembros del cartel que fueron arrestados con González Durán fueron Anselmo Rivera, Francisco Páez y Benito Peña Gutiérrez.
Declarado culpable de secuestro y los asesinatos de 4 policías mexicanos, el "Hummer" fue sentenciado a 35 años en una prisión mexicana de Tamaulipas. Después de ser sentenciado, el gobierno de Estados Unidos hizo una petición para su extradición a territorio norteamericano. Aunque el Ministerio de Asuntos Exteriores avanzó con el proceso de extradición, un juez federal en México recientemente detuvo el proceso debido a una apelación.
De acuerdo con reportes de noticias en México, el juez decidirá en diciembre si el "Hummer" será extraditado. Para tomar su decisión, el juez examinará los crímenes que es acusado de haber cometido en Estados Unidos.
__________________________________________________________________________________________________________
Mexico stops extradition of drug lord – for now
By chara
The extradition of Jaime Gonzalez Duran (a.k.a. "El Hummer"), founder and leader of the Mexican drug cartel Los Zetas, from Mexico to the United States has been delayed, perhaps stopped.
Arrested in 2008 by Mexican police officers, Gonzalez Duran led the Zetas in several Mexican states, including Tamaulipas, Nuevo Leon, Michoacan, Tabasco and Quintana Roo. When he was arrested, he had $150,000 and a firearm. Other drug cartel members who were arrested with Gonzalez Duran included Anselmo Rivera, Francisco Paez and Benito Pena Gutierrez.
Found guilty of kidnapping and the murders of four Mexican police officers, "El Hummer" was sentenced to 35 years in a Mexican prison in Tamaulipas. After being sentenced, the U.S. government issued a petition for his extradition to U.S. territory. Although the Ministry of Foreign Affairs moved ahead with the extradition process, a federal judge in Mexico recently stopped the process because of an appeal.
According to Mexican news reports, the judge will decide in December if "El Hummer" is extradited. To make his decision, the judge will examine the crimes the drug lord is being accused of having committed in the United States.