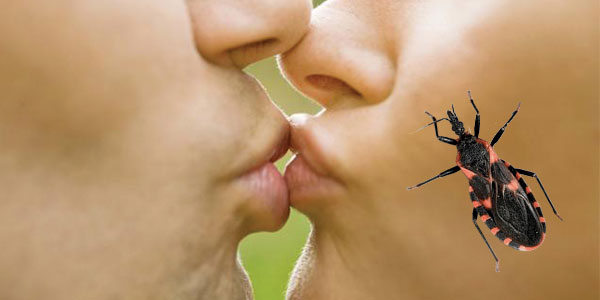 Los Centros para Control y Prevención de Enfermedades  recientemente emitieron una advertencia sobre una epidemia causada por el insecto Triatomine – alias el insecto besador.
De acuerdo con las autoridades sanitarias, el insecto puede trasmitir Chagas, una enfermedad causada por un parásito que se transmite hacia los animales y las personas. Los insectos besadores se conocen por picar la cara y labios de los humanos, dejando el parásito que causa Chagas.
"Se le llama insecto besador porque generalmente pica alrededor de la boca y los ojos y parece estar atraído al calor y al dióxido de carbono, así que por eso parece picar alrededor de la cara", ABC News citó a Sue Ellen Morrison, enfermera líder del Departamento del Control de Salud en el condado Buncombe (N.C.).
Las personas pueden contagiarse de otras maneras, incluyendo transmisión congénita, transfusiones de sangre, trasplantes de órganos, consumir alimentos crudos contaminados con excremento de los insectos infectados y exposición accidental de laboratorio.
Los síntomas de Chagas incluyen inflamación o enrojecimiento de la piel en el lugar de la infección, erupción cutánea, inflamación de los ganglios linfáticos, fiebre, dolores en el cuerpo, cansancio, náuseas, vómito y diarrea.
Varios estados han reportado casos de infecciones Chagas, entre ellos Georgia, Carolina del Norte, California, Louisiana, Tennessee, Florida, Arkansas y Alabama. En el momento de imprenta, no han surgido casos en Kansas ni en Missouri; sin embargo, las autoridades sanitarias de ambos estados le han pedido a la gente que tome las precauciones apropiadas.
Aunque no hay vacuna para la enfermedad, Chagas es curable. El tratamiento consiste de medicamentos antiparasitarios para matar el parásito. Además, un médico recetará medicamentos para controlar los síntomas y la infección.
_________________________________________________________________________________________________________
CDC warns of epidemic caused by kissing bugs
By Chara
The Centers for Disease Control and Prevention recently issued a warning about an epidemic caused by the Triatomine bug – a.k.a., the kissing bug.
According to health authorities, this bug can carry Chagas, a disease caused by a parasite that's transmitted to animals and people. Kissing bugs are known to bite human faces and lips, leaving the parasite that causes Chagas.
"It is called the kissing bug because it generally bites around the mouth and eyes and seems to be attracted to heat and CO2, so that's why it seems to bite around the face," Sue Ellen Morrison,  Buncombe County (N.C.) Department of Health disease control lead nurse, was quoted by ABC News as saying.
People can become infected in other ways, including congenital transmission, blood transfusions, organ transplants, consuming uncooked food contaminated with feces from infected bugs and accidental laboratory exposure.
Chagas symptoms include swelling or redness at the skin infection site, rashes, swollen lymph nodes, a fever, body aches, fatigue, nausea, vomiting and diarrhea.
Several states have reported cases of Chagas infections, including Georgia, North Carolina, California, Louisiana, Tennessee, Florida, Arkansas and Alabama. At press time, there weren't any cases in Kansas or Missouri; however, health authorities in both states have asked people to take the proper precautions.
Although there's no vaccine for the disease, Chagas is treatable. The treatment includes anti-parasitic medications to kill the parasite. In addition, a doctor will prescribe medication to manage the symptoms and infection.