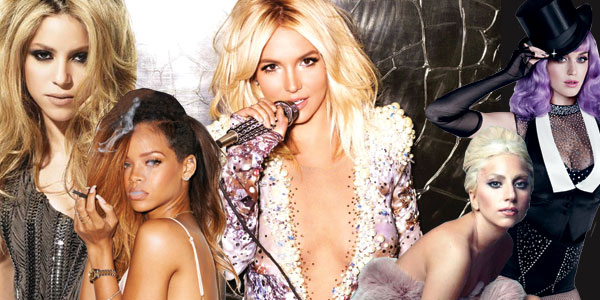 El 2016 es un año de importantes regresos musicales los cuales prometen mucho para los fanáticos de estas cantantes, recientemente se dio a conocer  un top 5 de los álbumes más esperados para el próximo año.
La lista la lidera Britney Spears quien, por lo que sabemos, ya está trabajando en su nueva producción la cual podría salir a la venta en febrero o marzo; desde el año a mediados del el 2015 se esperaba este regreso pero no se concretó por que la cantante está perfeccionando este trabajo al máximo ya que quiere que este sea su regreso triunfal. se rumora que Will.I.Am., Zedd y Diplo están detrás de  la producción del noveno disco de estudio de la intérprete.
Después de ella está Rihanna, quien viene cocinando a bastante fuego lento su próxima producción discográfica aunque ya escuchamos algunas canciones que incluirá. Ella ya dio a conocer el título de este disco que se llamará'Anti' -título que eligió por su condición de rebelde y porque, según explicó, le gusta hacer lo contrario de lo que la gente espera de ella- incluya sencillos como 'American Oxygen' y 'Bitch Better Have My Money'.
Katy Perry ocupa el tercer lugar de la lista , En este momento la estrella internacional sigue sumergida en su Prismatic Tour pero a su vez está trabajando en su nuevo material, con el que pretende dejar a todos con la boca abierta. Así lo confirmaba su mánager Steven Jensen durante una conferencia que se celebró hace unos días.éste será su cuarto trabajo discogr´åfico.
Lady Gaga queda en cuarto lugar en esta lista de espera la Mother Monster se retiró por un tiempo para recuperar su inspiración, la cantante acaba terminar su tour Cheek To Cheek Tour sin mucho éxito y bajo los rumores de la baja venta de boletos, actualmente la cantante se encuentra  en las grabaciones de American Horror Story: Hotel.
El top lo finaliza La cantante colombiana Shakira, quien después de convertirse en madre por segunda ocasión puso una aparente pausa para estar al 100 por  ciento dedicada a sus hijos  después de un tiempo anunció que en el 2016 regresaría a la música, con un disco en el cual se involucrará como productora y autora.
Ya veremos quien de estas maravillosas cantantes será la reina del 2016 y será la que domine las listas de popularidad. Que comiencen las apuestas señores.