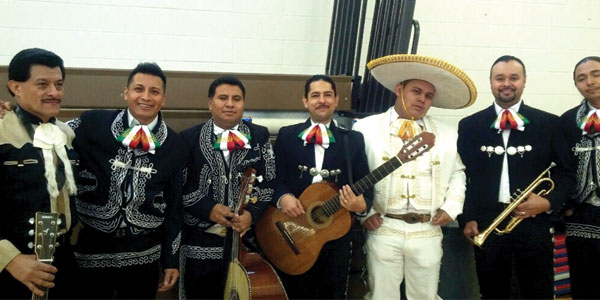 Raúl Martínez y Armando Tajín trabajan como mecánico y operador de máquinas, respectivamente, para ayudar a alimentar a sus familias y satisfacer otras necesidades de la familia.
También trabajan como músicos para ayudar a alimentar sus almas.
Martínez y Tajín dirigen el grupo Mariachi El Andariego. Cada noche, se reúnen con los integrantes de la banda Miguel Hernández, Javier Martínez, Lalo García y Rafael Orneales para ensayar varias canciones tradicionales de mariachis. Según Tajín, formar la banda había estado en mente durante unos años y se convirtió en una posibilidad hace un año.
"Todos nosotros venimos de diferentes orígenes y regiones", dijo Tajín. "Tenemos gente de Kansas City, Los Angeles, México y Guatemala."
Miembros del Mariachi El Andariego traen diversos orígenes musicales y talentos. Eso es una ventaja, dijo Hernández.
"Cada uno de los elementos que componen Mariachi El Andariego incluyen el conocimiento de la música y la versatilidad con diferentes instrumentos," dijo Hernández. "Esto nos permite ofrecer una gran variedad de estilos musicales, (y) que añade brillo a nuestro trabajo."
Los miembros de la banda dijeron que se enorgullecen de su trabajo y disfrutan de ver que sus horas de ensayo valen la pena cuando se realizan en eventos especiales.
"La mejor parte del día es ver (a los invitados) disfrutando de nuestra música mientras tocamos y nos piden seguir tocando música", dijo Javier Martínez. "Nos permite saber que estamos haciendo bien nuestro trabajo."
Según Hernández, una de las razones que todos los miembros tienen un interés especial en la reproducción de música de mariachi es porque "es una forma de mantener viva la tradición y mantener la música de mariachi como una manera de identificar la cultura mexicana en los Estados Unidos."
Tajín dijo que el grupo planea expandir su personal, grabar vídeos de música y seguirá ampliando su repertorio.
Para aprender más sobre Mariachi El Andariego, póngase en contacto con Raúl Martínez al (816) 682-3196 o Tajín al (913) 548 – 9367.
---
Mariachi El Andariego keeping tradition alive in KC
Raul Martinez and Armando Tajin work as a mechanic and a machine operator, respectively, to help feed their families and meet other family needs.
They also work as musicians to help feed their souls.
Martinez and Tajin direct the group Mariachi El Andariego. Every night, they meet with bandmates Miguel Hernandez, Javier Martinez, Lalo Garcia and Rafael Orneales to rehearse various traditional mariachi songs. According to Tajin, forming a band had been in mind for a few years and became a possibility a year ago.
"All of us come from different backgrounds and regions," Tajin said. "We have people from Kansas City, Los Angeles, Mexico and Guatemala."
Mariachi El Andariego's members bring diverse musical backgrounds and talents. That's an advantage, Hernandez said.
"Each of the elements that make up Mariachi El Andariego include our music knowledge and versatility with different instruments," Hernandez said. "This allows us to provide a variety of musical styles, (and) that adds shine to our work."
The band members said they take pride in their work and enjoy seeing their hours of rehearsal pay off when performing at special events.
"The best part of the day is to see (party guests) enjoying our music while we play and they ask us to continue playing," Javier Martinez said. "It lets us know that we are doing our job right."
According to Hernandez, one reason all of the members have a special interest in playing mariachi music is because "it's a way to keep the tradition alive and maintain mariachi music as a way to identify Mexican culture in the United States."
Tajin said the group plans to expand its personnel, shoot music videos and continue to expand its repertoire.
To learn more about Mariachi El Andariego, contact Raul Martinez at (816) 682-3196 or Tajin at (913) 548-9367.