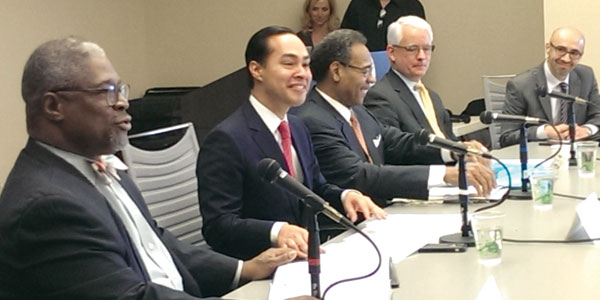 El Alcalde de Kansas City, Mo. Sly James prevé un futuro más prometedor para la comunidad al proporcionar viviendas asequibles y vecindarios más seguros.
Lo mismo ocurre con el secretario del departamento de Vivienda y Desarrollo Urbano de EE.UU. (HUD) Julian Castro y Congresista Emmanuel Cleaver II.
El miércoles (17 de Feb.), James, Castro y Cleaver se reunieron en las oficinas del Consejo Regional de Mid-America para hablar de las viviendas asequible. James comenzó la sesión exponiendo los logros recientes en los esfuerzos de vivienda asequible y discusión del " libro de estrategias para la prosperidad," un plan que guiará la ciudad y a otras ciudades en los Estados Unidos.
"Muy a menudo, lo bien que vivimos en nuestros barrios determina cuánto más podemos tener éxito en nuestras vidas", dijo James. "Las circunstancias en las que vivimos absolutamente afectan a la forma en la que vivimos."
Castro hizo seguimiento declarando cómo los precios de alquiler están aumentando, dejando a muchas familias luchando por encontrar una vivienda asequible, a pesar de la actual situación positiva de la economía.
"A menudo, las familias están bloqueadas en los barrios en dificultades – y no son capaces de acceder a buenas escuelas, tránsito o puestos de trabajo", dijo Castro. "Creemos que las oportunidades aparecen en las vidas de la gente si viven en una buena zona."
Durante el evento, varios líderes de la zona participaron en una mesa redonda y proporcionaron ideas sobre cómo mejorar la calidad de vida de los residentes a travez de viviendas asequibles.
En el otoño de 2015, Kansas City, Mo., ganó una competencia subsidio de $ 30 millones del HUD para reemplazar el proyecto de vivienda Chouteau Cortes y mejorar el Paseo Gateway, una mejora que se espera que tome cinco años y mejore la calidad de vida de sus residentes.
Para obtener más información acerca de las opciones de alojamiento en la zona asequibles existente, visite www.hud.gov.
______________________________________________________________________________________________________________________
HUD secretary kicks off "Prosperity Playbook" tour in KCMO
By Melissa Arroyo
Kansas City, Mo., Mayor Sly James envisions a more promising future for the community by providing affordable housing and safer neighborhoods.
So do U.S. Housing and Urban Development (HUD) Secretary Julian Castro and U.S. Rep. Emmanuel Cleaver II.
On Wednesday (Feb. 17), James, Castro and Cleaver gathered at the Mid-America Regional Council offices to discuss affordable housing. James started the session by outlining recent accomplishments in affordable housing efforts and discussing the "Prosperity Playbook," a blueprint that will guide the city and serve as a reference for other U.S. cities.
"Dealing with the fact of where we live and how good our neighborhoods are often determines how much more we can get out of our lives," James said. "The circumstances in which we live absolutely affect how we live."
Castro followed up on James' opening remarks by declaring how rent prices are increasing, leaving many families struggling to find affordable housing, despite the current healthy economy and an all-time-low unemployment rate.
"Oftentimes, families are locked in distressed neighborhoods – and they are not able to access good schools, transit or jobs," Castro said. "We believe that housing helps spark people's opportunities in daily lives."
During the event, several area leaders participated in a panel discussion and provided insights on how to improve residents' quality of life with affordable housing.
In the fall of 2015, Kansas City, Mo., won a competitive $30 million grant from HUD to replace the Chouteau Courts housing project and improve the Paseo Gateway, an improvement that's expected to take five years and improve the quality of life of its residents.
For more information about existing affordable area housing options, visit www.hud.gov.