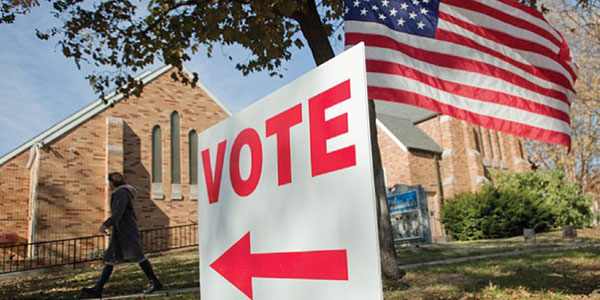 En las elecciones primarias a nivel estatal el 2 de agosto en Kansas, los votantes considerarán las preguntas y candidatos para el Senado y Cámara de Estados Unidos, el Senado y la Cámara estatal y los jueces estatales y locales. La Liga de Mujeres Votantes del condado Johnson se está comunicando para informar y incorporar a los residentes en el proceso de elección.
«Hasta estamos pensando organizar reuniones con el tema de la votación», dijo Candy Birch, quien encabeza el equipo de administración de la sección del condado Johnson. «Queremos que el proceso de votación sea fácil y sin contratiempos».
Aquí presentamos una guía sobre lo que los votantes prospectivos y registrados necesitan saber antes del 12 de julio, la fecha límite para registrarse o actualizar su registro de votantes y poder votar el 2 de agosto.
Quién puede votar
Los ciudadanos de Estados Unidos que son residentes en Kansas y tendrán 18 años de edad para el 2 de agosto pueden registrarse para votar. Los ciudadanos de Estados Unidos y residentes de Kansas que viven en el extranjero y miembros del ejército de Estados Unidos pueden solicitar una votación por correo. Solamente los demócratas y republicanos registrados pueden depositar un voto en la elección primaria. Sin embargo, los votantes que están registrados como no afiliados pueden cambiar su afiliación de partido completando un formulario de registro en el lugar de votación. Ellos pueden cambiar de nuevo a no afiliados en el mes de septiembre.
Cómo registrarse
Complete una solicitud de registro de votantes. Las personas que se registren para votar en Kansas por primera vez deben proveer documentación que compruebe su ciudadanía de Estados Unidos: acta de nacimiento que verifica la ciudadanía en Estados Unidos; pasaporte vigente o expirado de Estados Unidos; certificado de naturalización; registro de servicio militar demostrando el lugar de nacimiento en Estados Unidos y otro tipo de comprobantes. Para la lista completa visite http://www.gotvoterid.com/proof-of-citizenship.html.
Para poder votar en todo el estado en las elecciones primarias el 2 de agosto en Kansas y que se cuente la papeleta de votación, los votantes por primera vez que han entregado una solicitud de registro de votantes pero no han proporcionado la documentación de la ciudadanía, deben entregar en persona o electrónicamente antes del 1º de agosto los documentos que comprueben la ciudadanía en la oficina electoral de su condado.
Lugares para registrarse
Las solicitudes de registro de votantes están disponibles en línea (https://www.kssos.org/forms/elections/voterregistration.pdf), en las oficinas electorales del condado, todas las bibliotecas del condado Johnson y de Kansas City, Kansas, oficinas de vehículos de motor y campañas de registro de votantes.
Devuelva la solicitud completada a su oficina electoral del condado por correo postal, fax o en persona. Envíe un texto con la foto de su comprobante de ciudadanía al 913-953-9539; o envíe por correo o entregue su documentación de ciudadanía en la oficina electoral de su condado o en una oficina local de vehículos de motor en Kansas.
Qué debe de llevar al punto de votación el Día de la Elección
Licencia de conducir o no conducir de Kansas; identificación del ejército de Estados Unidos; pasaporte de Estados Unidos; tarjeta de identificación emitida por una institución educativa post secundaria de Kansas; licencia de manejo de otro Estado u otra tarjeta de identificación; licencia vigente para portar arma escondida de Kansas o licencia para armas de otro estado; placa oficial de identidad como empleado estatal, federal, del condado o municipal.
Cómo puede votar si tiene dominio limitado de inglés
Los votantes en Kansas con dominio limitado de inglés tienen dos opciones, dijo el Director de Elecciones, Bryan Caskey. Ellos pueden votar en persona en su oficina electoral del condado a partir del 13 de julio o en su lugar de votación registrado el 2 de agosto y solicitar ayuda. Dos trabajadores de elecciones, un demócrata y un republicano harán todo lo que puedan para ayudar al votante a depositar su voto. La ley estatal solamente requiere que cuatro condados en Kansas – Finney, Ford, Grant y Seward – proporcionen asistencia para otros lenguajes. La segunda opción para los votantes con inglés limitado, dijo Caskey, es solicitar una papeleta electoral por correo de su oficina electoral del condado. "Alguien en el hogar puede ayudarles a traducirlo", dijo él. Las papeletas de votación para votar por correo deben ser recibidas en la oficina electoral antes de finalizar la jornada el Día de la Elección.
______________________________________________________________________________________________________
Registration/voting basics: Kan., August primary
By Edie R. Lambert
In the Aug. 2 statewide primary elections in Kansas, voters will consider ballot questions and candidates for the U.S. Senate and House, the state Senate and House, and state and local judges.  
The League of Women Voters of Johnson County is reaching out to educate and engage residents in the election process.
"We're even considering (hosting) ballot parties," said Candy Birch, who heads the Johnson County chapter's management team. "We want the voting process to be easy and seamless."
Here's a primer on what prospective and registered Kansas voters need to know before July 12, the deadline to register or update voter registration in order to cast a ballot on Aug. 2.
Who can vote
United States citizens who are residents of Kansas and will be 18 years old by Aug. 2 can register to vote. U.S. citizens and Kansas residents living abroad and members of the U.S. military can request an absentee ballot. Only registered Democrats and Republicans can cast a ballot in the primary. However, voters who are registered as unaffiliated can change their party affiliation by completing a registration form at the polling place. They can switch back to unaffiliated in September.   
How to register
Complete a voter registration application. Persons registering to vote in Kansas for the first time must provide documentary proof of U.S. citizenship: birth certificate verifying U.S. citizenship; valid or expired U.S. passport; certificate of naturalization; U.S. military record of service showing U.S. place of birth and other types of proof. For a complete list, go to http://www.gotvoterid.com/proof-of-citizenship.html.
In order to vote in the Aug. 2 statewide primary elections in Kansas and have the ballot counted, first-time voters who have submitted a voter registration application but not provided citizenship documentation must submit documentary proof of citizenship to their county election office in person or electronically before Aug. 1.   
Where to register
Voter registration applications are available online (https://www.kssos.org/forms/elections/voterregistration.pdf), at county election offices, all Johnson County and Kansas City Kansas library branches, motor vehicle offices and voter registration drives.
Return the completed application to your county election office by mail, fax or in person. Text a photo of your proof of citizenship to 913-953-9539; or mail or deliver your citizenship documentation to your county election office or local Kansas motor vehicle office.
What to take to the polling place on Election Day
Kansas driver's license or non-driver's license; U.S. military identification; U.S. passport; identification card issued by a Kansas post-secondary education institution; out-of-state driver's license or other identification card; valid Kansas concealed carry handgun license or out-of-state weapon license; official municipal, county, state or federal employee badge.
How to vote if you have limited English proficiency
Kansas voters with limited English proficiency have two options, said state Election Director Bryan Caskey. They can vote in person at their county election office starting July 13 or at their registered polling place on Aug. 2 and ask for assistance. Two poll workers, one Democrat and one Republican will do their best to help the voter cast her/his ballot. State law only requires four Kansas counties – Finney, Ford, Grant and Seward – to provide alternative language assistance.
Limited English proficient voters' second option, Caskey said, is to request an advance ballot by mail from their county election office. "Someone at home can help them translate it," he said.
Advance ballots must be received by the county election office by close-of-business on Election Day.