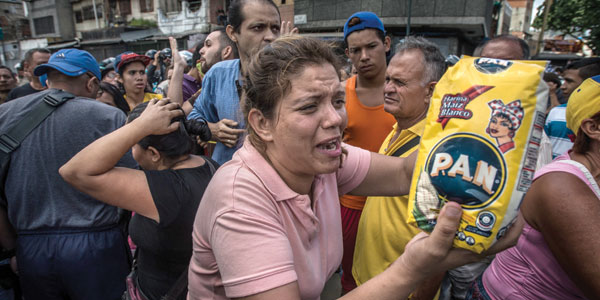 El domingo (10 de julio), el régimen del presidente de Venezuela, Nicolás Maduro, abrió la frontera de su país con la nación vecina de Colombia por primera vez en 10 meses.
Esta misma fue una medida llevada a cabo por la necesidad y la desesperación de la situación, no por compasión o responsabilidad para con sus ciudadanos.
El gobierno de Venezuela no puede proporcionar a sus ciudadanos ni con las necesidades más básicas de alimentos y medicinas. Durante ya mucho tiempo que el país sudamericano y sus habitantes sufren una escasez extrema de sus necesidades básicas y elementales.
El presidente Maduro acordó la apertura de las fronteras de su país por sólo 12 horas. A las 9 a.m. del día domingo 16.000 venezolanos ya habían cruzado la frontera con Colombia, con la esperanza de comprar algunos artículos básicos para sus familias hambrientas. La confusión y el pánico habitaron las calles. Los venezolanos se apresuraron a comprar todo lo que podían llevar de vuelta y cruzar la frontera rápidamente por miedo a que la frontera cerrara y dejarlos alejados de sus hogares y seres queridos. Los venezolanos se sentían abrumados por la gran cantidad de productos que sus vecinos colombianos podían disfrutan cada día.
Por primera vez desde agosto de 2015, se utilizaron en Venezuela los caminos que se extienden desde Venezuela a Colombia – pero sólo a pie, ya que los coches no no fueron  permitidos. Miles de personas caminaron esta larga distancia para obtener simples objetos que en los Estados Unidos y en la mayoría de los otros países damos por sentado – papel higiénico, champú, arroz, harina y aceite.
La apertura de la frontera durante 12 horas por el régimen corrupto de Maduro no es forma de solucionar la gran escasez de Venezuela. Esta no es la forma en que un país debe operarse. Es hora de que el régimen de Maduro permita que la oposición ayude y  sacar a este hermoso país y sus ciudadanos de la miseria – no más medidas tomadas por necesidad y desesperación.
_______________________________________________________________________________________________________
Venezuela: Thoughts on a regime opening its borders
Commentary by Dermidio Juez-Perez
On Sunday (July 10), Venezuelan President Nicolas Maduro's regime opened Venezuela's border to neighboring Colombia for the first time in 10 months.
It was a measure conducted out of necessity and desperation, not compassion or responsibility.
The Venezuelan government is incapable of providing its citizens with even the minimal necessities of food and medicine. For a while, the South American country has suffered from extreme shortages of its necessities.
President Maduro agreed to open his country's borders for only 12 hours. By 9 a.m. Sunday, 16,000 Venezuelans had already crossed the border into Colombia, hoping to purchase a few basic items for their hungry families. Confusion and panic ruled the streets. Venezuelans hurried to the stores to purchase as much as they could afford to carry back cross the border, afraid the border would close and keep them away from their homes and loved ones. Many were overwhelmed by the large quantities of products Colombians enjoy each day.
For the first time since August 2015, the roads that run from Venezuela to Colombia were being used – but only by pedestrians, as cars weren't allowed. Thousands of people walked the long distance, carrying items that we in the United States and most other countries take for granted – toilet paper, shampoo, rice, flour and oil.
Opening the border for 12 hours by the corrupt, evil Maduro regime isn't the solution to Venezuela's shortages. This isn't the way a country should operate. It's time for the Maduro regime to allow the opposition to help and take the beautiful country of Venezuela and its hard-working people out of its misery – and to stop operating out of necessity and desperation.