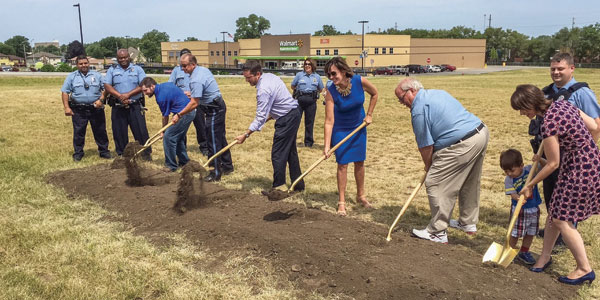 El director espera que el nuevo edificio aumentará  la colaboración entre la comunidad y la policía
El director de la policía de Kansas City, Kansas, Terry Zeigler espera que la reubicación de una estación ayude a su departamento a participar mejor con la comunidad a la que protege y da servicio.
Aproximadamente en junio del 2017, el departamento planea trasladar su estación de la Patrulla Sur de la presenta ubicación en la cuadra 2100 de la calle Sur 34 hacia "el sureste de" el Walmart Neighborhood Market en Metropolitan Avenue, dijo Zeigler el lunes (18 de julio). Recientemente, se celebró una ceremonia de inicio de obras en la futura localidad de la estación.
"Vamos a estar mucho más visibles en las áreas de Argentine y Rosedale… lo cual es bueno", declaró el director. "Nuestros oficiales, llegarán tres veces al día para cambios de turnos, así que habrá un poco más de tráfico policiaco en ese vecindario… con la visibilidad de la policía, pienso que será un elemento disuasivo para el crimen".
De acuerdo con Zeigler, el nuevo edificio incluirá "un salón comunitario" en el lado norte del edificio y está invitando a los residentes de la comunidad a que tengan sus eventos especiales y reuniones de organización allí.
"El salón nos da la oportunidad, como departamento de policía, para interactuar con la comunidad", dijo Zeigler. "Nuestro departamento ha tenido vigilancia comunitaria por mucho tiempo, y para mí, el diseño de… el edificio habla de nuestra dedicación hacia esa filosofía".
Los planes de reubicación de la Patrulla Sur llegaron en un momento en que los problemas relacionados con la vigilancia son parte de una conversación nacional colectiva. Los recientes incidentes que han desatado las discusiones, incluyendo tiroteos por parte de oficiales de policía contra civiles en Minnesota y Louisiana, y tiroteos hacia oficiales de policía en Texas y Luisiana.
En noticias relacionadas, múltiples agencias de noticias reportaron que el capitán Robert David "Dave" Melton fue asesinado en cumplimiento de su deber el martes 19 de julio mientras perseguía a unos sospechosos. KMBC-TV (canal 9) reportó que los oficiales electos en Kansas ofrecieron sus condolencias, incluyendo al gobernador Sam Brownback.
____________________________________________________________________________________________________
KCKPD to relocate South Patrol precinct
Chief hoping new building will foster community-police engagement
By Shawn Roney
Kansas City, Kan., Police Chief Terry Zeigler hopes the relocation of a precinct will help his department better engage with the community it protects and serves.
In approximately June 2017, the department plans to move its South Patrol station from the 2100 block of South 34th Street to "just southeast of" the Walmart Neighborhood Market on Metropolitan Avenue, Zeigler said Monday (July 18). Recently, there was a groundbreaking ceremony at the station's future location.
"We're going to be a lot more visible in the Argentine and Rosedale … (areas), which is good," the chief stated. "Our police officers, they'll be coming in three times a day for shift changes, so (there'll be) a lot more police traffic in that neighborhood…. With the police visibility, I think that's a deterrent for crime."
According to Zeigler, the new building will include "a community room" on the building's north side. He's encouraging community residents to hold their special events and organizational meetings there.    
"It (room) gives us the chance, as a police department, to interact with the community," Zeigler said. "Our department has had community policing for a long time. And to me, the design of … (the) building speaks to our commitment to that philosophy."
The South Patrol relocation plans come at a time when policing-related issues are part of a collective national conversation. Recent incidents have sparked the discussions, including shootings by police officers of civilians in Minnesota and Louisiana, and shootings of police officers in Texas and Louisiana.
In related news, multiple news agencies reported that Capt. Robert David "Dave" Melton was killed in the line of duty on Tuesday (July 19) while pursuing some suspects. KMBC-TV (Channel 9) reported that Kansas elected officials have offered their condolences, including Gov. Sam Brownback.