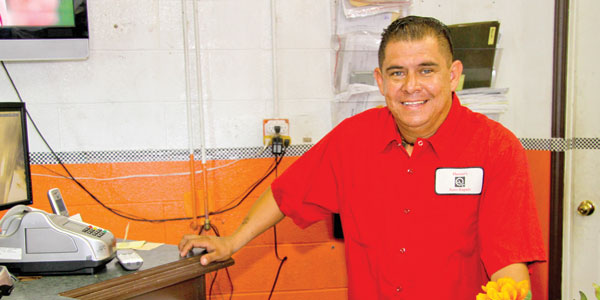 Para Héctor Manuel Solorio ser mecánico de autos era sólo un pasatiempo, pero con el tiempo, esta afición se convirtió en algo más. El negocio Hector's Auto Repair se estableció entre el 2007 y 2008. Hoy en día, los servicios de Solorio se encuentran en tres ubicaciones: en el 2602 y el 2603 de la calle 9 y en el 810 de la avenida Prospect en Kansas City, Mo.
El interés de Solorio en arreglar coches, es lo que despertó su atención  en el negocio, esto como resultado de reparar sus coches.
"Empezó como un pasatiempo", recuerda Solorio. "Yo tenía un amigo que era mecánico y él tenía su propio negocio. En ese momento, platicábamos sobre su negocio y más tarde llegó el momento en el que fui capaz de iniciar el mío".
La motivación para establecer su negocio de reparación de automóviles provenía de su amor por los coches. Aunque Solorio comenzó a arreglar sus coches como pasatiempo, también lo hizo para ahorrar dinero, lo que se convirtió en un factor importante en la apertura de Hector's Auto Repair.
"Yo sé que aquí en los EE.UU. es muy caro  pagar por un mecánico y a mi me gusta arreglar mis coches constantemente", dijo Solorio.
Solorio que es originario de San Juan de los Lagos, Jalisco, México, cree que siempre se debe tener una meta y trabajar sobre ella, él ha disfrutado trabajar constantemente a lo largo de los años.
"Hemos crecido bastante bien", añadió Solorio. "La comunidad ha sido un gran apoyo, hemos estado en el negocio de servicio para automóviles durante algunos años." Solorio está agradecido a la comunidad por poner su fe y confianza en Hector's Auto Repair. Espera que el apoyo continúe  creciendo y ver a su negocio prosperar. Para obtener más información sobre Hector's Auto Repair, llame al (816) 218-9205 o visite una de sus tres ubicaciones.
_________________________________________________________________________________________________________________
Hector's Auto Repair: From hobby to business
Story by Katherine Diaz and photos by Michael Alvarado
Auto repair began as a hobby for Hector Manuel Solorio.
Over time, it grew into something more.
Between 2007 and 2008, Solorio established Hector's Auto Repair. Today, Solorio's services extend to three locations: 2602 Ninth St., 2603 Ninth St. and 810 Prospect Ave. in Kansas City, Mo.
"I had a friend who was a mechanic and had his own business," Solorio recalled. "At that time, we talked about his business – and then later on, the time came when I was able to start my own business."
Solorio's motivation to establish his own auto repair business stemmed from his love of cars. It also stemmed from his desire to save on expenses.
"I know that here in the U.S. it's very expensive to pay for a mechanic, and I would fix my cars more than a few times," he said.
Originally from San Juan de los Lagos, Jalisco, Mexico, Solorio believes in always having a new goal to work toward. Through the years, he has enjoyed working consistently.
"We have grown really well," Solorio said. "The community has been very supportive, and now we've been in business for a few years (with) providing automobile services."
Solorio is thankful to the community for supporting Hector's Auto Repair. He hopes that support will continue to grow, so that his business continues to prosper.
For more information on Hector's Auto Repair, call (816) 218-9205 or visit one of his three locations.