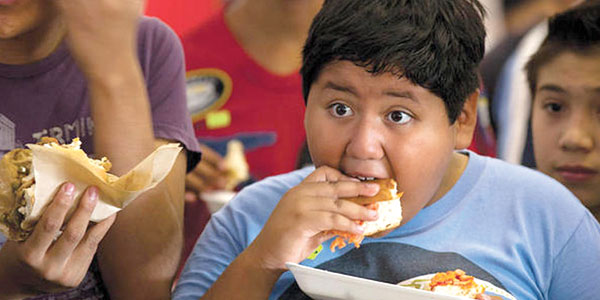 Uno de cada tres adultos en Kansas es obeso, según un informe reciente.
Publicado a principios de septiembre, el informe indica que Kansas ocupa el séptimo lugar entre los estados con las tasas más altas de obesidad en adultos en el 34.7 por ciento y Missouri en el puesto 10 en el 32.4 por ciento. Los estados más saludables tenían una tasa de obesidad en adultos de 25 por ciento o menos.
Publicada anualmente como el "estado de la obesidad: mejores políticas para un América más sano", el informe indica que, entre los grupos étnicos, afroamericanos y los latinos fueron afectados de manera desproporcionada. En Kansas, el 42 por ciento de los adultos afectados eran afroamericanos, latinos, seguido por un 35 por ciento y los blancos con un 31 por ciento.
A nivel nacional, los afroamericanos y los latinos también se vieron afectados por varias razones, según el informe. Una explicación es que los latinos que viven bajo la línea de la pobreza experimentan el hambre, no puede comprar alimentos nutritivos y no tienen acceso a lugares seguros para la actividad física limitada. Otra explicación es que los latinos tienden a ser altamente expuestos a la comercialización de alimentos menos nutritivos.
Financiado por la Fundación Robert Wood Johnson y dirigido por la Fundación para la Salud de los Estados Unidos, una organización sin fines de lucro, los investigadores insisten en que los problemas de obesidad dentro de la comunidad latina – una de las comunidades de más rápido crecimiento del país – deben ser resueltos para disminuir el gasto de servicios de salud y mejorar los niveles de productividad.
El informe también incluye una sección que describe las políticas recomendadas, que podrían ralentizar la tasa de obesidad en todo el país – e incluso revertirla. La organización propone invertir en políticas y programas para ayudar a prevenir la obesidad infantil y crear acceso a alimentos nutritivos.
____________________________________________________________________________________________________________
Kansas among top 10 states in obesity rate
By Melissa Arroyo
One in every three Kansas adults is obese, according to a recent report.
Published in early September, the report stated that Kansas ranked seventh among the states with the highest adult obesity rates at 34.7 percent and Missouri ranked 10th at 32.4 percent. The healthiest states had an adult obesity rate of 25 percent or less.
Published annually as the "State of Obesity: Better Policies for Healthier America," the report outlined that, among ethnic groups, African Americans and Latinos were disproportionately affected. In Kansas, 42 percent of the adults affected were African American, followed by Latinos at 35 percent and whites at 31 percent.
Nationally, the African American and Latino populations also were affected. There are several reasons why Latinos were affected, according to the report. One explanation was that Latinos living under the poverty line experience higher hunger rates, can't afford nutritious food and have limited access to safe places for physical activity. Another explanation was that Latinos tend to be highly exposed to the marketing of less nutritious food.
Funded by the Robert Wood Johnson Foundation and conducted by the Trust for America's Health, a non-profit organization, the researchers insisted that obesity issues within the Latino community – one of the country's fastest growing communities – must be addressed to decrease healthcare spending and improve productivity levels.
The report also included a section outlining recommended policies that, if enacted, would slow down the obesity rate nationwide – and even reverse it. The organization proposed investing in policies and programs to help prevent childhood obesity and create access to nutritious food.