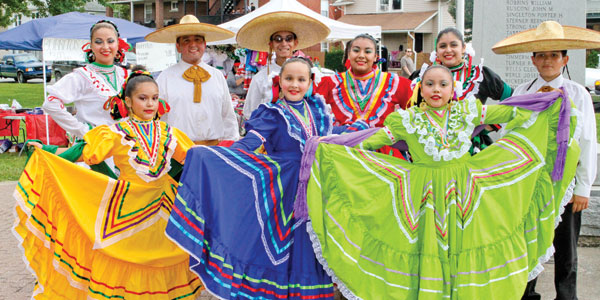 By Paula Alzate
A love of dancing and Mexican culture has led a Topeka, Kan., native to start a dance troupe to not only teach kids Mexican folklore, but also to help them develop character.
The troupe is called Grupo Folklorico del Sol. It was founded by Daniel Tetuan. While working a full-time job and attending Johnson County (Kan.) Community College, Tetuan was able to follow one of his passions and teach kids the art of dancing.
"We started with three students – and now, we have 15," he said. "The youngest one is 3 years old."
Tetuan also is the Midwestern representative of the Asociacion Nacional de Grupos Folkloricos. The association has encouraged youth to become interested in folkloric dancing, he said. It also has helped him develop teaching strategies to implement to his dance troupe in the Kansas City area.
"What we do (the association) is, we go out and we do performances around the community," Tetuan said. "We do pretty … (well). We are inspiring everyone who is interested in folkloric dancing."
Tetuan's own passion for folkloric dancing started when he was 5 years old and joined his mother's dance troupe. He continued to develop his dance skills under the under the direction of Ediberto Gonzalez at the Ballet Folklorico de Topeka. Eventually, he traveled to Mexico to study folkloric dancing.
"I started with them (Ballet Folklorico de Topeka) when I was 10," Tetuan said. "I still dance with them. I also was able to travel to Colima, Mexico, and … (study) ballet folklorico under the direction of Professor Rafael Zamarripa. Then, I came (back) to the (United) States and have attended different conferences with different maestros."
And eventually, Tetuan founded his own troupe. According to Tetuan, networking has played an important role in developing Grupo Folklorico del Sol. Tetuan said he wants to encourage more people to join.
Tetuan and his students meet weekly to practice, and there's no charge to participate. Tetuan, who's the only instructor, is collecting funds for Grupo Folklorico del Sol to attend a 2017 national conference in Texas.
"The passion that I have for this art I am sharing with the kids, so they can grow up and appreciate what I grew up doing," he said. "They're learning about their traditions and their culture…. Also, I am having kids teach the younger (kids), teaching them how to be leaders. That's what it is all about."
To join Grupo Folklorico del Sol or for more information, contact Tetuan at (913) 526-7037 or visit the troupe's Facebook page.
---
Residente del área promueve la cultura mexicana con el baile
El amor a la danza y la cultura mexicana ha llevado un originaio de Topeka, Kan., a comenzar un grupo de danza, no sólo para enseñar a los niños el folklore mexicano, sino también para ayudarles a desarrollar su carácter.
El grupo se llama Grupo Folklórico del Sol; fundado por Daniel Tetuán. Mientras él trabaja  tiempo completo y asiste a Johnson County Community College, Tetuán fue capaz de seguir una de sus pasiones y de enseñar a los niños el arte de la danza.
"Empezamos con tres estudiantes – y ahora, tenemos 15", dijo. "El más joven tiene 3 años."
Tetuán también es el representante del Midwest de la Asociación Nacional de Grupos Folklóricos. La asociación ha incentivado a los jóvenes a interesarse en el baile folclórico, dijo. También les ha ayudado a desarrollar estrategias de enseñanzas para aplicar a su grupo de danza en el área de Kansas City.
"Lo que hacemos (la asociación) es, salimos y hacemos presentaciones en torno a la comunidad", dijo Tetuán. "Hacemos bastante … Estamos inspirando a todos los interesados en la danza folclórica".
Su propia pasión por el baile folclórico comenzó cuando tenía 5 años de edad y se unió al grupo de baile de su madre. Él continuó desarrollando sus habilidades de baile bajo la dirección de Ediberto González en el Ballet Folklórico de Topeka. Con el tiempo, viajó a México para estudiar el baile folclórico.
"Empecé con ellos (Ballet Folklórico de Topeka) cuando tenía 10 años", dijo Tetuán. "Todavía bailo con ellos. También tuve la oportunidad de viajar a Colima, México, y … estudiar ballet folklórico bajo la dirección del profesor Rafael Zamarripa. Después, vine (de nuevo) a los Estados Unidos y he asistido a diferentes conferencias con diferentes maestros".
Y, finalmente, fundó su propio grupo. De acuerdo con Tetuán, networking y socializar ha jugado un papel importante en el desarrollo de Grupo Folklórico del Sol. ÉL dijo que quiere incentivar a más personas a que se unan.
Tetuán y sus estudiantes se reúnen semanalmente para practicar, y no hay ningún cargo para participar. Tetuán, es el único instructor, y ahora el Grupo Folklórico del Sol está recogiendo fondos para asistir a una conferencia nacional en el 2017 en Texas.
"La pasión que tengo por este arte, la estoy compartiendo con los niños, para que puedan crecer y apreciar lo que crecí haciendo", dijo. "Están aprendiendo acerca de sus tradiciones y su cultura …. Además, estoy teniendo niños que enseñan a los más jóvenes y esto les enseña cómo ser líderes. De eso es lo que se trata «.
Para participar en el Grupo Folklórico del Sol contacte a Tetuán al 913.526.7037 o visite su página de Facebook.