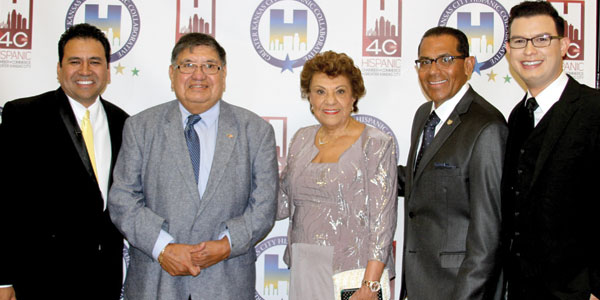 Story by Nicholas Peterson and photos by Michael Alvarado.
On Oct. 6, 700 guests donned dressy attire to help the Hispanic Chamber of Commerce of Greater Kansas City (HCC) celebrate its 39th anniversary, as the HCC hosted its 39th annual Noche de Gala at the Overland Park (Kan.) Marriott.
To help open the evening meant to acknowledge and celebrate the Hispanic business community, a Venezuelan dance was performed by the Venezuelan Association of Kansas City. Natalia Yasmeen Castaneda (Castañeda in Spanish) also sang the national anthem.
Guests enjoyed a three-course dinner and popular Mexican songs as performed by Alexia Romero. There was also an awards ceremony highlighting the contributions of past and present HCC members.
Award-winners and the category of their honor included the following: Anita's Cuisine and MJ Designs & Parts, New Small Business of the Year; Gonzalez Construction, Hispanic Business of the Year; and H & R Block, Corporation of the Year. Other honorees were Brian Hernandez, who received the Richard Barrera Award for individual contributions to the chamber; Becky Gripp, who was named Humanitarian of the Year; Luis Garcia, Chairman's Award; and the Manny Lopez family for its significant contributions to the local business community.
Founded in 1977, the HCC's mission is to create, advance and promote economic opportunities within the Hispanic market and business community.
---
HCC celebra su 39 aniversario con su gala anual
El 6 de octubre, 700 invitados se vistieron de gala para celebrar con la Cámara de Comercio Hispana de Kansas City (HCC) su 39 aniversario, el HCC realizó su Noche de Gala anual en el Marriott de Overland Park (Kan.).
Para abrir la velada de una manera que reconociera y conmemorará a la comunidad empresarial hispana, se llevó a cabo una danza venezolana por parte de la Asociación Venezolana de Kansas City. Natalia Yasmeen Castañeda cantó el himno nacional.
Los invitados disfrutaron de una cena de tres tiempos y canciones populares mexicanas interpretadas por Alexia Romero. También se realizó una entrega de premios destacando las contribuciones de los ex-miembros y miembros de HCC.
Los ganadores y sus categorías fueron las siguientes: Nueva Empresa Pequeña del Año para Anita's Cuisine y MJ Designs & Parts, Gonzalez Construction ganó el premio a Empresa Hispana del Año, Negocios Hispano del Año y Empresa del Año para H & R Block. Otros galardonados fueron Brian Hernández quien recibió el premio Richard Barrera por sus contribuciones individuales a la cámara, Becky Gripp quien fue nombrado Humanitario del Año, Luis Garcia, el premio de el Chairman, y la familia Manny López por sus significantes contribuciones a la comunidad empresarial local.
Fundada en 1977, la misión de la HCC es crear, fomentar y promover oportunidades económicas dentro de la comunidad de mercado y empresas hispanas.