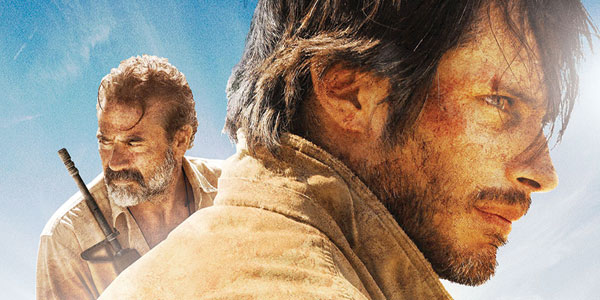 Un nuevo filme representa de manera poderosa –y espantosa -la experiencia de los inmigrantes a lo largo de la frontera entre Estados Unidos y México.
Dirigida por Jonán Cuarón, mexicano de 33 años de edad, co escritor de la exitosa película en el 2013 "Gravity", la película se titula "Desierto", la cual se estrenó el 14 de octubre.
Cuarón se abrió su camino en la producción de cine mientras estudiaba literatura inglesa y arte de estudio en Vassar College, un pequeño colegio de artes liberales ubicada a unas dos horas al norte de la ciudad de Nueva York.
"Soy dema-siado tímido para actuar, así fue cuando empecé a enfo-carme más en la especialidad de inglés y el departamento, porque es lo que me permitía escribir", recuerda durante una entrevista telefónica con Dos Mundos.
Mientras se encontraba en Vassar, Cuarón capturó la pasión de su ex novia por filmar, un modo artístico que complementaba su pasión por escribir.
"Me permitía contar historias, y también me permitía proporcionar vehículos visuales para hacerlo", explicó.
Cuarón utiliza el vehículo del filme de manera poderosa en "Desierto",  la sinopsis de la película ya es una perturbador montaje audiovisual de los inmigrantes heridos a muerte y corriendo por sus vidas en el desierto. Una música igualmente discordante perdura hasta el final de la sinopsis.
Pero Cuarón señala, "Desierto" no es un documental.
"Nunca tuve la intención de que la película fuera un acercamiento periodístico al tema", dijo. "Para mí, la película siempre tuvo la intención de ser una analogía de hasta dónde podemos llegar como sociedad si seguimos promoviendo tanta aversión".
"No quise convertirla en una película de sermón, quise que la película llegara a una audiencia más amplia", agregó Cuarón.
Clasificada "R", "Desierto" es protagonizada por Gael García Bernal ("The Motorcycle Diaries, "Y Tu Mamá También") y Jeffrey Dean Morgan ("Watchmen"). El drama de 94 minutos de duración se estrena en los cines the Cinemark 20 and XD multiplex en Merriam, Kansas. Para leer una lista del horario completo visite https://www.cinemark.com/theatre-259.
_____________________________________________________________________________________________________________
Director of the new film Desierto talks to Dos Mundos
Commentary by Nicholas Peterson
A new film powerfully – and frightfully – allegorizes the experience of immigrants along the U.S.-Mexico border.
Directed by 33-year-old Mexican City native Jonás Cuarón, co-writer of the 2013 blockbuster "Gravity," the film is called "Desierto." It opened on Oct 14.  
 Cuarón found his way into filmmaking while studying English literature and studio art at Vassar College, a small liberal arts college about two hours north of New York City.
"I'm too shy to do acting, so that's when I started focusing more on the English major and the department, because it's what allowed me to write," he recalled during a recent phone interview with Dos Mundos.
While at Vassar, Cuarón caught his former girlfriend's passion for film, an artistic mode that complemented his love for writing.
"It allowed me to tell stories, but it allowed me to also give visual mediums to do that," he explained.
Cuarón uses the film medium powerfully in "Desierto." The trailer itself is a disturbing audiovisual montage of immigrants being shot dead and running for their lives in the desert. An equally discordant audio track lingers at the trailer's end.
     But, Cuarón points out, "Desierto" isn't a documentary.
 "I never intended the film to be a journalistic approach to the subject matter," he said. "To me, the film was always meant to be an allegory as to where we can arrive to as a society if we keep promoting so much hatred."
"I didn't want to make a preachy movie," Cuarón added. "I wanted to make a movie that reached out to a wider audience."
Rated R, "Desierto" stars Gael Garcia Bernal ("The Motorcycle Diaries, "Y Tu Mama Tambien") and Jeffrey Dean Morgan ("Watchmen"). The 94-minute drama is playing at the Cinemark 20 and XD multiplex in Merriam, Kan. For a list of screening times, visit https://www.cinemark.com/theatre-259.