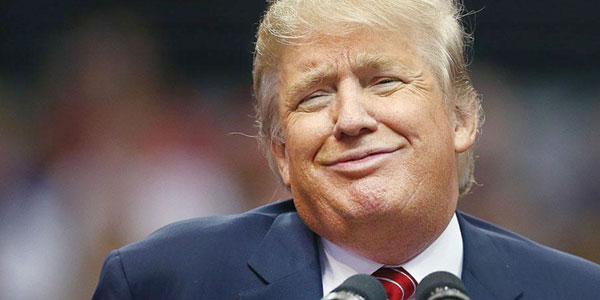 Algunos de los residentes de Trump Place en Nueva York están tan avergonzados de vivir en un edificio de apartamentos con el nombre del candidato Republicano a la presidencia, que han pedido que lo quiten.
No es fácil, como reportó recientemente El New York Times. Es una cuestión complicada de contratos. Pero la vergüenza es real.
¿De qué se apenan? De que sus amigos, familiares y compañeros de trabajo los vinculen con una persona que ha insultado a inmigrantes, musulmanes, mujeres y personas con discapacidades, entre muchos otros.
Hay palabras que hieren. Por eso en esta columna me limito a reproducir lo que ha dicho Donald Trump desde que lanzó su campaña por la Casa Blanca:
— 16 de junio de 2015: "Traen drogas. Traen el crimen. Son violadores". (Sobre los inmigrantes que envía México a Estados Unidos.)
— 18 de julio de 2015: "Es un héroe de guerra porque lo capturaron. A mí me gusta la gente que no fue capturada". (Sobre el senador republicano John McCain, capturado durante la guerra de Vietnam.)
— 7 de agosto de 2015: "Le salía sangre de sus ojos, le salía sangre de todos lados". (Sobre la periodista Megyn Kelly, quien le preguntó sobre los insultos que le ha hecho a las mujeres en el primer debate Republicano.)
— 25 de agosto de 2015: "Siéntate. Siéntate … Nadie te ha dado la palabra. Regrésate a Univision". (Lo que me dijo Trump antes de expulsarme de una conferencia de prensa en Iowa.)
— 12 de noviembre de 2015: "Yo sé más de ISIS que los generales. Créanme".
— 24 de noviembre de 2015: "Este pobre tipo. Deberían de ver a ese pobre tipo". (Burlándose de un reportero del New York Times que tiene una discapacidad física.)
— 7 de diciembre de 2015: "Donald J. Trump está pidiendo un cierre total y completo de la entrada de musulmanes a Estados Unidos".
— 6 de febrero: "Yo volvería a usar la tortura y los mandaría al infierno con cosas mucho peores que el 'submarino' ". (Apoyando una forma de tortura en que se simula ahogar al prisionero.)
— 28 de febrero: "No sé nada de David Duke. ¿OK? No sé nada de los supremacistas blancos". (Trump dijo que no oyó bien la pregunta, por un problema de su audífono, cuando le preguntaron en CNN si rechazaba el apoyo de un exlíder del Ku Klux Klan.)
— 3 de junio: "He sido tratado muy injustamente por este juez. Él es un juez de origen mexicano, y yo estoy construyendo un muro". (Sobre el juez Gonzalo Curiel, nacido en Indiana, que preside una demanda contra la Universidad Trump.)
— 27 de julio: "Rusia, si están escuchando, espero que puedan encontrar los 30 mil mensajes de correo electrónico que se han perdido". (Trump pidiéndole a los rusos que "piratear" los mensajes de correo electrónico de Hillary Clinton. Luego su campaña dijo que era una broma.)
— 30 de julio: "Si ves a su esposa, estaba parada ahí. No tenía nada que decir. Quizás no la dejaban". (Sobre el discurso de los padres del soldado estadounidense Humayun Khan, muerto en Irak en el 2004. Ellos criticaron a Trump por su propuesta de prohibir la entrada de musulmanes.)
— 31 de agosto: "México va a pagar por el muro". (Después de su visita relámpago con el presidente de México, Enrique Peña Nieto.)
— 16 de septiembre: "Barack Obama nació en Estados Unidos. Punto". (Tras años de cuestionar públicamente el lugar de nacimiento — Hawái — del primer presidente afroamericano.)
— 26 de septiembre: "Es que soy muy listo". (Sobre la sospecha que no ha pagado impuestos federales por años y su negativa a dar a conocer sus declaraciones de impuestos.)
— 27 de septiembre: Alicia Machado "ganó cantidades masivas de peso y eso era un verdadero problema". (Sobre la Miss Universo venezolana quien lo acusó de maltrato.)
— 7 de octubre: "Cuando eres una estrella, te dejan hacerlo. Puedes hacer cualquier cosa, agarrarlas de la vagina". (De un video grabado en el 2005 por el programa "Access Hollywood". Se dio a conocer en octubre).
— 19 de octubre: "Qué mujer más pesada". (Sobre Hillary Clinton en el tercer debate presidencial.)
— 20 de octubre: "Aceptaré los resultados de esta elección presidencial histórica … si yo gano".
— 22 de octubre: "Todas esas mujeres están mintiendo. Esas mentirosas serán demandadas después de la elección". (Sobre las 11 mujeres que lo han acusado públicamente de manosearlas y de hostigamiento sexual.)
Sí, las palabras importan.
(Jorge Ramos, periodista ganador del Emmy, es el principal director de noticias de Univision Network. Ramos, nacido en México, es autor de nueve libros de grandes ventas, el más reciente de los cuales es "A Country for All: An Immigrant Manifesto".)
---
Trump: Words Matter
Some residents of Trump Place in New York are so ashamed of living in an apartment complex that bears the name of the Republican presidential candidate that they've petitioned to get it removed.
According to a recent article in The New York Times, removing all traces of Trump's name from Trump Place would not be as easy as pulling the letters off the buildings — contracts have been signed, and agreements are in place.
Still, the issue is bothering many residents. Many are afraid that their friends, relatives and co-workers will identify their Trump Place address with a man who has railed against immigrants, Muslims, women, disabled people and other groups since he launched his bid for the White House last summer.
Simply put: Words matter, and some cut deeply. That's why during these last days before U.S. presidential election, I thought it would be worthwhile to revisit some of Trump's own words. Perhaps they will demonstrate why even living in a building with his name on the front might be unsettling.
— June 16, 2015: On immigrants from Mexico: "They're bringing drugs. They're bringing crime. They're rapists."
— Aug. 7, 2015: On Megyn Kelly, a Fox News anchor, after she challenged Trump at the first Republican debate over insults he has launched at women: "There was blood coming out of her eyes, blood coming out of her … wherever."
— Aug. 25, 2015: Moments before Trump ejected me from his news conference in Iowa: "Sit down, sit down, sit down. … You haven't been called. Go back to Univision."
— July 18, 2015: On Republican Sen. John McCain, who was a prisoner of war during the Vietnam War: "He's not a war hero. … He's a war hero because he was captured. I like people that weren't captured."
— Nov. 12, 2015: On his military knowledge: "I know more about ISIS than the generals do. Believe me."
— Nov. 24, 2015: After mocking/mimicking a New York Times reporter with a physical disability: "Now, the poor guy, you ought to see this guy."
— Dec. 7, 2015: On Muslims coming to the U.S.: "Donald J. Trump is calling for a total and complete shutdown of Muslims entering the United States."
— Feb. 6: On a torture technique that simulates the sensation of drowning: "I would bring back waterboarding, and I'd bring back a hell of a lot worse than waterboarding."
— Feb. 28: After being asked on CNN if he repudiated the endorsement of a former Ku Klux Klan leader: "I don't know anything about David Duke, OK? I don't know anything about what you're even talking about with white supremacy or white supremacists."
— June 3: On Indiana-born Judge Gonzalo Curiel, who is presiding over a lawsuit against Trump University: "I've been treated very unfairly by this judge. Now, this judge is of Mexican heritage. I'm building a wall, OK? I'm building a wall."
— July 27: On hacking into Hillary Clinton's email: "Russia, if you're listening, I hope you're able to find the 30,000 emails that are missing." (His campaign later said Trump was joking.)
— July 30: After Khizr Khan, the father of Capt. Humayun Khan, an American soldier killed in 2004 by a suicide bomber in Iraq, criticized Trump's proposal to ban Muslims from entering the U.S.: "If you look at his wife, she was standing there. She had nothing to say. She probably — maybe she wasn't allowed to have anything to say. You tell me."
— Aug. 31: After his unexpected visit with Mexican President Enrique Peña Nieto: "Mexico will pay for the wall."
— Sept. 16: After years of publicly casting doubt on the birthplace of the nation's first African-American president: "Barack Obama was born in the United States. Period."
— Sept. 26: After Clinton posited at a debate that Trump hasn't paid federal taxes for years: "That makes me smart."
— Sept. 27: After a former Miss Universe winner from Venezuela accused Trump of mistreatment: Alicia Machado "gained a massive amount of weight, and it was a real problem."
— Oct. 7: From a video recorded aboard a bus in 2005 by "Access Hollywood": "When you're a star, they let you do it. You can do anything. Grab them by the pussy."
— Oct. 19: To Clinton during the third presidential debate: "Such a nasty woman."
— Oct. 20: On how he will react to election results: "I will totally accept the results of this great and historic presidential election … if I win."
— Oct. 22: On the 11 women who have publicly accused Trump of groping and sexual harassment: "Every woman lied. … All of these liars will be sued after the election is over."
Yes, words matter.