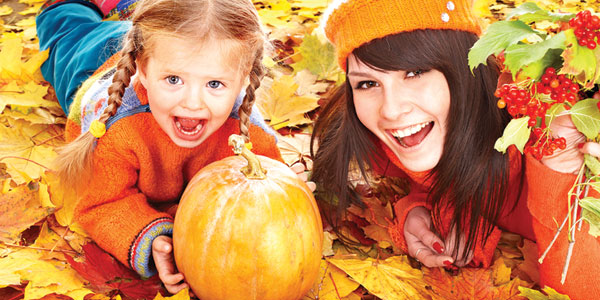 El Día de Acción de Gracias es un día para celebrar la gratitud. Desafortunadamente, nuestra sociedad está más enfocada en el pavo y pastel de calabaza, el fútbol y las compras de medianoche. El significado de Acción de Gracias tiende a perderse y en muchas familias ya no existe.
Este año, los aliento a incorporar el verdadero espíritu de Acción de Gracias. Tomemos el tiempo para probar una de estas ideas:
* Iniciar un diario de gratitud o una conversación de gratitud: Cada noche hasta Navidad, cada miembro de la familia puede escribir dos cosas por las cuales están agradecidos en un diario. O en lugar de escribir, pueden conversar acerca de estas cosas en la mesa familiar. Esta es una gran estrategia para terminar el día con una nota positiva y apreciar algo todos los días.
* Incorpore tiempo familiar en el Día de Acción de Gracias: Después del pavo y antes de que empiecen las compras, todos deberíamos pasar tiempo de calidad con nuestras familia. Podríamos jugar un juego de mesa, leer un libro o recordar imágenes antiguas. O simplemente, podríamos celebrar en familia y cocinar juntos. Los niños pueden ayudar a medir los ingredientes, desplegar la masa del pastel o poner la mesa.
* Charlas positivas: Ya que el Día de Acción de Gracias es un día de gratitud, centremos todas nuestras conversaciones alrededor de lo que le trae alegría y la fortaleza en su familia.
* Trabajo voluntario: Devolver a la comunidad es una gran manera de difundir la alegría de este día, brindemos ayuda a los más necesitados y alentemos un sentido de comunidad. Los niños a menudo pueden participar en actividades relacionadas con el voluntariado, tales como servir comidas de Acción de Gracias en una despensa de alimentos o en una iglesia local.
---
How to incorporate the meaning of Thanksgiving into your family activities
By Melissa Arroyo
Thanksgiving is meant to be a holiday of gratitude. But with all the focus on having turkey and pumpkin pie, watching football and doing midnight shopping, the meaning of Thanksgiving tends to get lost in the shuffle.
This year, incorporate the true spirit of Thanksgiving by taking time to try one of these ideas:
*Start a gratitude journal or a gratitude conversation: Every night until Christmas, each family member writes down two things they're thankful for in a journal. Or instead of writing, have family members discuss what they're tankful for at the dinner table. This is a great strategy for ending the day on a positive note and remembering to appreciate something every day.
*Incorporate family time into Thanksgiving Day: After the turkey and before the shopping begins, spend quality time as a family by doing such activities as playing a board game, reading a book or reminiscing over old pictures. Or celebrate being a family and learning by having your children help cook or bake. The kids can help measure ingredients, roll out the pie dough or set the dinner table.
*Encourage positive table talk: With Thanksgiving being a day of gratitude, center conversations around what brings you joy and the strengths of your family.
*Volunteer: Giving back to the community is a great way to spread holiday cheer, help others and create a sense of community. Children can often participate in volunteer-related activities such as serving Thanksgiving meals at a food pantry or local church. Or volunteer at home by decorating Christmas cards and taking them to the residents of a local nursing home.