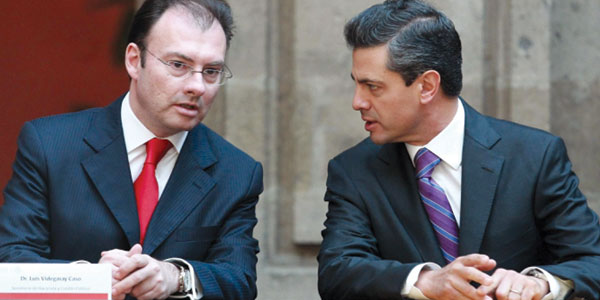 Luis Videgaray tiene un nuevo trabajo en el gobierno.
Obligado a renunciar a su cargo como secretario de Hacienda de México hace unos meses debido a su participación en la planificación de la reciente visita de Donald Trump a México, Videgaray fue nombrado secretario de Relaciones Exteriores.
Videgaray sustituye a Claudia Ruiz Massieu, quien se opuso a la visita de Trump. Los medios de comunicación afirman que Ruiz Massieu presentó su renuncia. Sin embargo, algunos mexicanos  se preguntan si ella se vio obligada a dimitir para permitir que el presidente mexicano, Enrique Peña Nieto, negociara con el gobierno estadounidense liderado por Trump.
La renuncia de Ruiz Massieu fue anunciada durante una reciente conferencia de prensa. Peña Nieto le agradeció su servicio.
"Claudia, muchas gracias por tu amistad, tu lealtad y tu trabajo por México", mencionó Peña Nieto.
Algunos mexicanos podrían ver el cambio en el gabinete de Peña Nieto como un reflejo de su incompetencia e ineptitud en las relaciones internacionales, dado que Videgaray carece de experiencia en relaciones exteriores. De hecho, cuando Videgaray fue nombrado, indicó que iba a aprender sobre diplomacia.
Peña Nieto ha sido muy criticado por los recientes cambios en su gabinete, en particular el caso de Videgaray. Aunque el Presidente mexicano ha declarado que quiere trabajar en la relación de México con Estados Unidos, mucha gente duda de la capacidad de Videgaray para conseguir el objetivo de Peña Nieto. Dado que Videgaray es considerado uno de los mejores amigos del presidente mexicano, se sospecha que el cambio es una señal de nepotismo en el gobierno de Peña Nieto.
________________________________________________________________________________________________
Peña Nieto appoints Videgaray as foreign relations minister
By Chara
Luis Videgaray has a new government job.
Forced to resign from his position as Mexican finance minister a few months ago because of his involvement in planning Donald Trump's recent visit to Mexico, Videgaray was recently named foreign relations minister.
Videgaray replaces Claudia Ruiz Massieu, who opposed Trump's visit. News sources state that Ruiz Massieu submitted her resignation; however, some Mexicans are probably wondering if she was forced to resign to allow Mexican President Enrique Pena Nieto (Peña Nieto in Spanish) to negotiate with the Trump-led U.S. government.
Ruiz Massieu's resignation was announced during a recent news conference. Pena Nieto thanked her for her service.
"Claudia, thank you very much for your friendship, your loyalty and your work for Mexico," Pena Nieto stated.
Some Mexicans might see the change in Pena Nieto's cabinet as a reflection of his incompetence and ineptitude at international relations, given that Videgaray lacks expertise in foreign relations. In fact, when Videgaray was appointed, he said he was going to learn about diplomacy.
Pena Nieto has been highly criticized for the recent moves involving his cabinet, particularly the Videgaray appointment. Although the Mexican president has stated that he wants to work on Mexico's relationship with the United States, many people doubt Videgaray's capabilities to pursue Pena Nieto's goal. Given that Videgaray is considered one the Mexican president's best friends, it's suspected that the appointment is a sign of cronyism in the Pena Nieto administration.