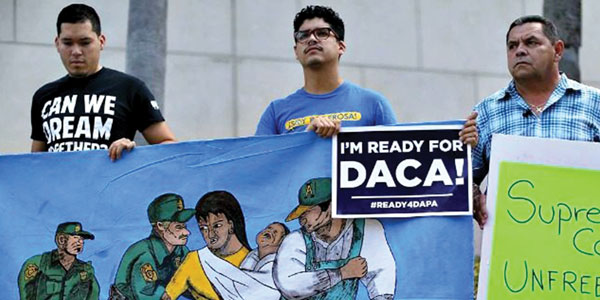 Una fuente anónima filtró seis borradores de las órdenes ejecutivas del presidente Trump sobre inmigración a Vox Media, una plataforma de noticias digitales de Nueva York (véase vox.com).
Entre los borradores se filtró, una orden ejecutiva declara el deseo del presidente Trump de poner fin al Programa de Acción Diferida para los Llegados en la Niñez (DACA).
Los miembros del personal de Vox Media no pudieron verificar la autenticidad de los documentos. Sin embargo, confirmaron que dos de los seis borradores coincidían con las órdenes ejecutivas publicadas palabra por palabra, como la orden ejecutiva de construir un muro en la frontera entre Estados Unidos y México. Tras el lanzamiento de los borradores, un tercer borrador coincidió con la actual prohibición del Presidente a inmigrantes y refugiados de algunos países del Medio Oriente.
Aunque las tres órdenes restantes todavía están bajo revisión y podrían ser desechadas, los temores siguen siendo que el presidente Trump llevará adelante con sus órdenes ejecutivas.
Si se llevan adelante, la orden ejecutiva llamada "Finalización de Amnistías Ejecutivas Inconstitucionales" pondría fin al programa DACA que ha proporcionado protección de deportación y permisos de trabajo a 740,000 inmigrantes indocumentados. La orden ejecutiva redactada establece que cualquier permiso de trabajo emitido seguiría siendo válido, pero no sería renovable, terminando así el programa completamente en el 2019. Además, si la orden es llevada adelante, la libertad condicional anticipada no sería concedida a los destinatarios de DACA que viajan en el extranjero.
Por otra parte, la orden ejecutiva redactada terminaría el programa de la acción, de la Acción Diferida para los padres de americanos y de los residentes permanentes legales de la administración de Obama, que fue bloqueado en corte.
an los servicios sociales exclusivamente para     Actualmente, algunas de estas órdenes ejecutivas todavía no han sido oficiales, pero el personal de Dos Mundos continuará reportándolas
________________________________________________________________________________________________
Trump plans to end DACA program, according to leaked executive orders
By Melissa Arroyo
An anonymous source leaked six drafts of President Trump's executive orders on immigration to Vox Media, a New York City-based digital news platform (see vox.com).
Among the drafts leaked, one executive order declares President Trump's desire to end the Deferred Action for Childhood Arrivals (DACA) program.
Vox Media staff members couldn't verify the documents' authenticity. However, they confirmed that two of the six drafts matched the released executive orders word-for-word, such as the executive order to build a wall on the U.S.-Mexico border. Following the release of the leaked drafts, a third draft also matched the president's current ban on immigrants and refugees from some Middle Eastern countries.
Although the remaining three orders are still under revision and might be scrapped, fears remain that President Trump will carry forward with his executive orders.
If they are carried forward, the executive order named "Ending Unconstitutional Executive Amnesties" would end the DACA program that has provided deportation protection and work permits to 740,000 undocumented immigrants. The drafted executive order states that any issued work permits would remain valid, but wouldn't be renewable, thus ending the program completely by 2019. In addition, if the order is carried forward, advanced parole wouldn't be granted to DACA recipients traveling abroad.
Moreover, the drafted executive order would end the Obama administration's Deferred Action for Parents of Americans and Lawful Permanent Residents program, which was blocked in court.
The other two drafted executive orders would dismantle the H1B visa program for high-skilled workers and limit social services exclusively for U.S. citizens with U.S.-born parents.
Currently, some of these executive orders have yet to be released, but Dos Mundos staff will continue to report on them as more information becomes available.