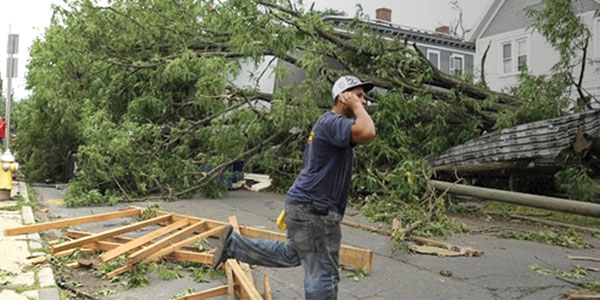 La gran tormenta del 18 de mayo que azotó el área de Kansas City produjo daños significantes en el techo y canaletas de mi casa.
Afortunadamente, esta fue la primera vez que tuve que lidiar con este tipo de daños. Pero por desgracia, no tenía ni idea qué hacer.
Para que no se encuentre usted en una situación similar, he compilado algunos consejos del Centro Nacional de Daños de Tormentas. Espero que usted nunca necesite usar esta información. Sin embargo, es importante estar preparado.
Al revisar si hay daños, recuerde que su seguridad es lo más importante. Si ve una línea eléctica caída, evítela y llame a su compañía de servicios públicos inmediatamente.
Usted tendrá que evaluar todos los daños de la tormenta, comenzando con cualquier daño a su techo. El techo es su primera capa de protección – y por lo tanto, la primera parte de su casa en obtener dañado.
Algunos tipos comunes de daños causados ​​por las tormentas en su techo pueden ser agujeros; Costuras separadas; Faltantes de tejas; Recogida de granulados en las canaletas; Fugas en el techo; Y abolladuras en las paredes exteriores y canaletas.
Las ventanas y las puertas también son vulnerables al viento y a los desechos voladores. Por lo tanto, inspeccione sus ventanas para detectar grietas, agujeros y marcos dañados. Por último, tendrá que evaluar el revestimiento, pintura, ladrillos y otras superficies exteriores de su hogar, como la unidad de aire acondicionado.
Una vez que haya evaluado y documentado todo su daño tomando fotografías, póngase en contacto con al menos tres contratistas locales para inspeccionar su techo y darle una estimación por escrito. En este punto, usted estará listo para presentar una reclamación de seguro. Lea su póliza de seguro y siga las instrucciones específicas para presentar su reclamo. Procese su reclamo tan pronto después de la tormenta como sea posible, ya que muchas políticas tienen un límite de tiempo para la presentación.
Cuando presenta un reclamo, su proveedor de seguros le enviará un ajustador para evaluar el daño. Es importante insistir en que su contratista esté presente en el momento de la inspección. Después de todo, es su trabajo asegurarse de que el ajustador de seguros le dé una evaluación justa.
Si su reclamo es denegado, no se preocupe. Usted tiene el derecho de reunirse con tres ajustadores de seguros. Incluso una pequeña cantidad de daño debe resultar en una reclamación aprobada, ya que cualquier tipo de daño puede devaluar su hogar.
Para obtener más información, visite www.stromdamagecenter.org.
__________________________________________________________________________________
What to do when you have storm damage
Commentary by Dermidio Juez-Perez
The big May 18 storm that hit the Kansas City area produced significant damage to my roof and gutters.
Fortunately, it was the first time I had to deal with storm damage. But unfortunately, I had no idea what to do.
So that others don't find themselves in a similar situation, I've provided some tips from the National Storm Damage Center. Hopefully, you'll never need to use this information. Still, it's smart to be prepared.
When checking for damage, remember that safety must always come first. If you see a downed power line, avoid it and call your utility company immediately.
You'll need to assess all your storm damage, starting with any damage to your roof. The roof is your first layer of protection – and thus, the first part of your house to get damaged.
Some common types of storm-related roof damage include holes; split seams; missing shingles; granulate collecting on the gutters; leaks in the roof or ceiling; and dents on the vents, gutters or flashing.
Windows and doors also are vulnerable to wind and flying debris. So inspect your windows for cracks, holes and damaged frames. Lastly, you'll need to assess the siding, paint, bricks and other exterior surfaces of your home, such as the air conditioning unit.
Once you've assessed and documented all your damage by taking pictures, contact at least three local contractors to inspect your roof and give you a written estimate. At this point, you'll be ready to file an insurance claim. Read your insurance policy and follow the specific instructions to file your claim. Process your claim as soon after the storm as possible, as many policies have a time limit for filing.
When you file a claim, your insurance provider will send an adjuster to assess the damage. It's important to insist that your contractor be present at the time of inspection. After all, it's his or her job to make sure the insurance adjuster gives you a fair assessment.
If your claim is denied, don't worry. You have the right to meet with three insurance adjusters. Even a small amount of damage should result in an approved claim, as any type of damage can devalue your home.
For more information, visit www.stromdamagecenter.org.