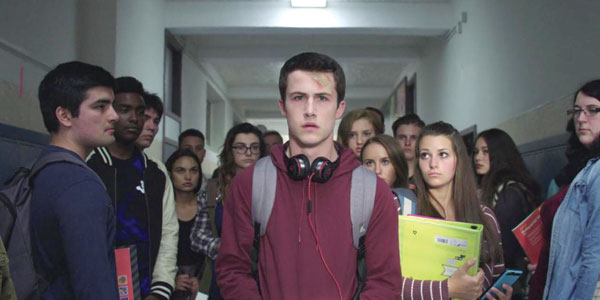 An online series is helping to break the ice about the highly difficult topic of teen suicide.
The trending Netflix series "13 Reasons Why" is a story about a teen-age boy who discovers the reasons why his high school friend committed suicide. Shortly after its release in March, counselors, social workers and members of the mental health community spoke out against the show, claiming the series makes suicide seem justified, even appealing. But beyond the glorification of suicide, this show is an opportunity to take a step back and see the bigger picture.
The show helps to address an important question: What causes suicide and what can be done to prevent it? Learning the reasons and identifying the signs can help save a life.
According to a report by the Kansas Suicide Prevention Resource Center, suicide is the second leading cause of death among ages 15-24. In a report by the National Suicide Prevention Lifeline, there are many reasons why someone would consider suicide, including bullying or a previous traumatic experience.
It's important to recognize the signs. They include talking about dying or wanting to commit suicide, increased drug or alcohol use, sleeping too little or too much and withdrawing or self-isolation.
If you recognize the signs in a young adult, no matter how subtle they might seem, it's always best to talk to a specialist, so the teen will receive help immediately. In addition, be sure to open the lines of communication with that person.
And remember to become an advocate for change at your school district and in your community. Demand anti-bullying initiatives and talk with counselors to learn how they would handle a situation involving a young adult with suicidal thoughts.
If you need help, call the 24/7 national suicide prevention lifeline at 1-(800)-273-8255 (TALK) or visit https://suicidepreventionlifeline.org/.
---
"13 razones por qué", el suicidio adolescente y el panorama general
Commentary by Melissa Arroyo
Una serie en línea está ayudando a romper el hielo sobre el tema altamente difícil de suicidio entre adolescentes.
La serie de Netflix "13 Razones por qué" es una historia acerca de un niño adolescente que descubre las razones por las que su amiga de la escuela secundaria se suicidó. Poco después de su estreno en marzo, consejeros, trabajadores sociales y miembros de la comunidad de salud mental hablaron en contra del programa, alegando que la serie hace que el suicidio parezca justificado e incluso atractivo. Pero más allá de la glorificación del suicidio, esta serie es una oportunidad para dar un paso atrás y ver el panorama más amplio.
La serie ayuda a abordar una pregunta importante: ¿Qué causa el suicidio y qué se puede hacer para prevenirlo? Aprender las razones e identificar las señas puede ayudar a salvar una vida.
Según un informe del Centro de Recursos para la Prevención del Suicidio de Kansas, el suicidio es la segunda causa de muerte entre las edades de 15 a 24 años. En un informe de la Línea de Vida Nacional de Prevención del Suicidio, hay muchas razones por las que alguien consideraría el suicidio, incluyendo el acoso o una experiencia traumática previa.
Es importante reconocer las señales. Incluyendo comentarios hacerca de morir o querer cometer suicidio, el consumo de drogas o alcohol, dormir demasiado poco o demasiado y retirarse o el auto-aislamiento.
Si usted reconoce estas señales en un adulto joven, no importa lo sutil que parezca, siempre es mejor hablar con un especialista, para que el adolescente reciba ayuda inmediatamente. Además, asegúrese de abrir las líneas de comunicación con esa persona.
Y recuerde convertirse en un defensor del cambio en su distrito escolar y en su comunidad. Exija iniciativas de anti-intimidación y hable con consejeros para aprender cómo manejaría una situación que involucra a un adulto joven con pensamientos suicidas.
Si necesita ayuda, llame a la línea de vida nacional de prevención del suicidio las 24 horas los 7 días de la semana al 1- (800) -273-8255 (TALK) o visite https://suicidepreventionlifeline.org/.