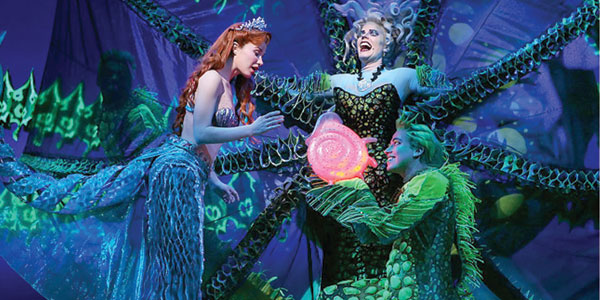 Starlight Theatre has opened its 67th season of live Broadway-style entertainment with a twist.
While audiences at the Kansas City, Mo., venue are sitting under the stars as usual, they're also venturing "under the sea" to enjoy "Disney's The Little Mermaid." The adventures of mermaid Princess Ariel and human Prince Eric began its run of eight performances on June 3 and will conclude this Sunday (June 11). All performances will begin at 8 p.m.
"We are so pleased to open Starlight's 2017 season with a show that always ranks very high on our audience surveys," said Rich Baker, Starlight president and CEO, via a recent press release. "The performances and spectacle on stage will surely hold the attention of every audience member. 'The Little Mermaid' stirs childhood memories for young adults, and it gives parents and grandparents a perfect opportunity to introduce their own children and grandchildren to the magic of live theater."
The new production of the family musical launches from Starlight before going on a tour of 18 additional U.S. cities through October. A veteran cast of performers with Broadway and regional theater experience are bringing the musical adaption of Hans Christian Andersen's fairytale to life.
Leading "The Little Mermaid" cast are Diana Huey as Ariel and Eric Kunze as Prince Eric. Huey continues in the lead role after starring in a previous tour produced by Seattle's 5th Avenue Theatre. Kunze's credits include Broadway productions of "Les Miserables," "Miss Saigon" and "Damn Yankees."
Tickets for "The Little Mermaid" available by calling (816) 363-STAR (7827), or by visiting the Starlight box office at 4600 Starlight Road or the website www.kcstarlight.com. Discount prices for groups of 10 or more are available by calling Camille Sumrall at (816) 997-1137 or emailing groups@kcstarlight.com.
---
"Disney's The Little Mermaid" inicia la temporada 67ª  en Starlight
El teatro Starlight ha iniciado su temporada 67 de entretenimiento en vivo estilo Broadway con un cambio.
Aunque el público en el teatro de Kansas City, Missouri se sienta bajo las estrellas como lo acostumbrado, también estarán aventurándose "debajo del mar" para disfrutar "Disney's The Little Mermaid." ("La Sirenita de Disney"). Las aventuras de la Princesa sirena Ariel y el príncipe humano Eric iniciaron sus ocho presentaciones el 3 de junio y concluirán este domingo 11 de junio. Todas las presentaciones empezarán a las 8 p.m.
"Estamos tan complacidos de abrir la temporada 2017 de Starlight con un show que siempre figura muy alto en nuestras encuestas del público", dijo Rich Baker, presidente y director ejecutivo de Starlight mediante un reciente comunicado de prensa. "Las presentaciones del espectáculo en escena seguramente mantendrá la atención de todo el público. "La Sirenita" incita los recuerdos de la niñez para los adultos jóvenes, y le da a los padres y abuelos una oportunidad perfecta para introducir a sus propios hijos y nietos a la magia del teatro en vivo".
La nueva producción de la obra musical familiar se lanza del Starlight antes de salir a una gira por 18 ciudades de Estados Unidos hasta el mes de octubre. Un elenco veterano de artistas con experiencia de teatro regional y de Broadway llevan a la vida la adaptación musical del cuento de Hans Christian Andersen.
Dirigiendo el elenco de "The Little Mermaid" están Diana Huey como Ariel y Eric Kunse como el príncipe Eric. Huey continúa en el papel principal después de protagonizar en una gira anterior producida por el teatro 5th Avenye de Seattle. Los créditos de Kunze incluyen producciones de Broadway de "Les Miserables," "Miss Saigon" y "Damn Yankees."
Los boletos para "The Little Mermaid" están disponibles llamando (816) 363-STAR (7827), o visitando la taquilla de Starlight localizada en 4600 Starlight Road o el sitio de Internet www.kcstarlight.com. Hay boletos disponibles con precios de descuento para grupos de 10 o más llamando a Camille Sumrall al (816) 997-1137 o por correo electrónico a groups@kcstarlight.com.