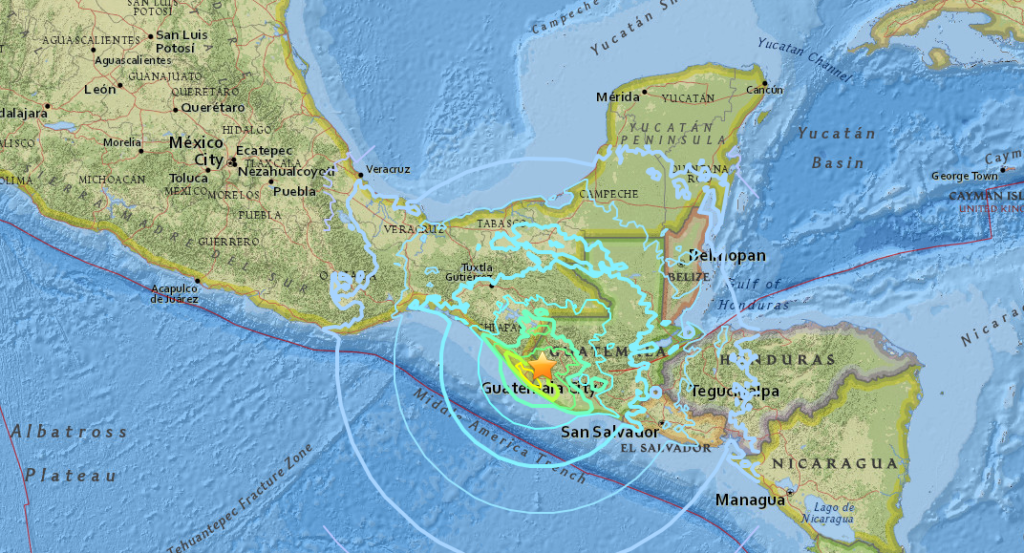 CIUDAD DE GUATEMALA – Un terremoto de magnitud 6,9 en el oeste de Guatemala, cerca de la frontera con México, causó daños moderados a las casas, provocó derrumbes en las carreteras e hirió al menos a una persona el miércoles. El Servicio Geológico de Estados Unidos informó que el temblor estaba centrado 5 millas al suroeste de Tajumulco, Guatemala cerca de 69 millas debajo de la superficie. La agencia de coordinación de emergencia de Guatemala dijo que el terremoto ocurrió a las 1:29 am hora local en el departamento de San Marcos al oeste de la capital cerca de la frontera mexicana, pero se sintió en todo el país. La Policía Nacional Civil del país dijo que una persona resultó herida en San Sebastián Retalhuelu, en el sur de Guatemala, cuando parte de una iglesia se derrumbó. Julio Sánchez de los bomberos voluntarios dijo que el hombre, que estaba pasando por la iglesia cuando el terremoto golpeó, estaba recibiendo cuidado. Las autoridades reportaron varios departamentos, o estados, sin electricidad. Al otro lado de la frontera en Chiapas, México, el gobernador Manuel Velasco dijo a través de Twitter que había informes de paredes agrietadas y ventanas rotas en Huixtla, pero hasta el momento no hubo heridos. Las autoridades de Protección Civil del estado dijeron que el terremoto se sintió en todo el estado. No hubo advertencia de tsunami
---
GUATEMALA CITY – A magnitude 6.9 earthquake in western Guatemala near the border with Mexico caused moderate damage to homes, triggered some landslides across highways and injured at least one person early Wednesday, officials said.
The U.S. Geological Survey reported the tremor was centered 5 miles southwest of Tajumulco, Guatemala about 69 miles below the surface.
Guatemala's emergency coordination agency said the quake struck at 1:29 a.m. local time in the department of San Marcos west of the capital near the Mexican border, but was felt throughout the country.
The country's National Civil Police said one person was injured in San Sebastian Retalhuelu in southern Guatemala when part of a church collapsed. Julio Sanchez of the volunteer firefighters said the man, who was passing by the church when the earthquake struck, was receiving care.
Authorities reported several departments, or states, without electricity.
Across the border in Chiapas, Mexico, Gov. Manuel Velasco said via Twitter that there were reports of cracked walls and shattered windows in Huixtla, but so far no injuries. The state's Civil Protection authorities said the quake was felt throughout the state.
There was no tsunami warning