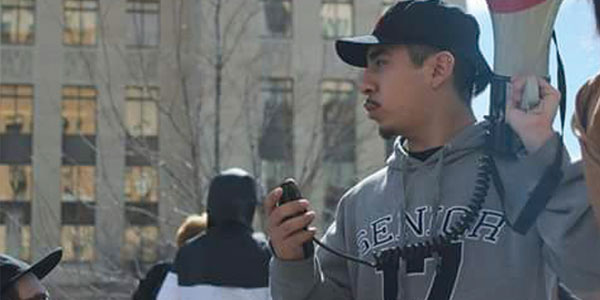 By Melissa Arroyo
Juan Alarcon was once homeless, getting by with next to nothing and couch surfing while also attending school.
Now, he's looking to help others who are struggling.
Working 40-50 hours per week and attending school, Alarcon received his high school diploma and an associate's degree from Metropolitan Community College-Penn Valley through a dual credit program. Looking back, Alarcon shared how hard it was to get by.
"No one should ever have to live penny-to-penny," he said. "I was 16 and looking for places for couch surfing and eventually trying to find a permanent place to live and pay rent."
Alarcon didn't find himself going through this situation alone. Some of his friends and peers in his college program also were homeless.
Indeed, homeless youth are a growing segment in the Kansas City area. There are several reasons why. They include living in a single-parent household, family problems and awaiting placement in foster care. In a recent report published by the Homelessness Task Force of Greater Kansas City, there were nearly 7,500 area children who were homeless during the 2011-12 K-12 school year.
Alarcon's hard work is paying off. Recently, he received the keys to his own place – and a full-ride scholarship to the University of Missouri-Kansas City. Alarcon plans to pursue a degree in secondary education and become a teacher with Kansas City (Mo.) Public Schools. He also hopes he can help students going through homelessness.
"I hope to be a role model … and out of my own pocket, feed kids that haven't been fed," Alarcon said. "If a student (comes to class hungry), I'd like to be able to provide (food) for them, so that they don't have to learn on an empty stomach."
To learn how to help or receive help, Alarcon encourages anyone from the community to reach out to him via email at proyoukc@gmail.com or by contacting local organizations.
_______________________________________________________________________________
Estudiante de KCMO previamente sin hogar obtiene diploma y beca completa a UMKC
Juan Alarcón alguna vez no tenia un hogar, saliendo adelante con poco dinero y durmiendo en el sofá de otras personas mientras que asistía a la escuela.
Ahora, está buscando ayudar a otros que están en la misma situación.
Trabajando 40 a 50 horas por semana y asistiendo a la escuela, Alarcón recibió su diploma de escuela secundaria y un título de asociado de Metropolitan Community College-Penn Valley a través de un programa de crédito dual. Mirando hacia atrás, Alarcón compartió lo difícil que era sobrevivir.
"Nadie debería tener que vivir de centavo a centavo", dijo. "Tenía 16 años y buscaba lugares para dormir en el sofá, y finalmente, tratar de encontrar un lugar permanente para vivir y pagar el alquiler".
Alarcón no se encontró a sí mismo pasando por esta situación solo. Algunos de sus amigos y compañeros en su programa de la universidad también estaban sin hogar.
De hecho, los jóvenes sin hogar son un segmento creciente en el área de Kansas City. Hay varias razones para ello. Incluyendo vivir en un hogar sin dos padres, problemas familiares y esperar la colocación en un hogar de crianza temporal. En un reciente informe publicado por el Homeless Task Force of Greater Kansas City, había cerca de 7.500 niños del área que estaban sin hogar durante el año escolar 2011-12 K-12.
El duro trabajo de Alarcón está dando sus frutos. Recientemente, recibió las llaves de su propio lugar – y una beca completa a la Universidad de Missouri-Kansas City. Alarcón planea obtener un título en educación secundaria y convertirse en maestro en las Escuelas Públicas de Kansas City (Mo.). También espera poder ayudar a los estudiantes que estén pasando por la falta de vivienda.
"Espero ser un modelo a seguir … y de mi propio bolsillo comprar alimentos para aquellos estudiantes que no hayan comido", dijo Alarcón. "Si un estudiante (viene a la clase con hambre), me gustaría poder proveer (comida) para ellos, para que no tengan que aprender con el estómago vacío".
Para aprender como ayudar o recibir ayuda, Alarcón anima a cualquier persona de la comunidad a comunicarse con él a través de correo electrónico en proyoukc@gmail.com o poniéndose en contacto con organizaciones locales.