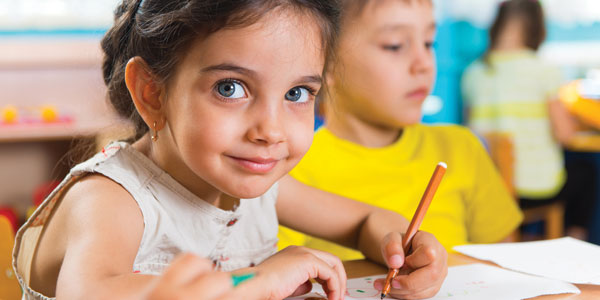 Last Thursday, Kansas Gov. Sam Brownback signed into law a new school funding bill. Legislators are hopeful that the new funding formula will meet the Kansas Supreme Court's "adequacy test" for K-12 public education. If it doesn't, schools statewide could be shuttered in July, and lawmakers could be called back for a special session to correct the new per-pupil funding formula.
Senate Bill 19 calls for increasing K-12 education funding by some $195 million for the 2017-2018 school year and about $290 million the following year. Legislators passed the bill June 5.
Kansas legislators were complying with a court ruling. Back in March, the state's high court gave the Legislature a June 30 deadline to fix the school funding system.
Late on Monday, the Kansas Supreme Court announced it would allow SB 19 to go into effect while justices determine the law's constitutionality. That means schools will continue to be funded past June 30 and continue operations at least until July 18 when the court will hear oral arguments on the new law. A ruling could come soon after.
Should the court rule in late July that SB 19 is unconstitutional, the start of school in August could be delayed unless state lawmakers quickly revise the school funding law so that it meets the state's constitutional requirement.
On June 9, the Kansas Legislature wrapped up the second longest session in state history at 113 days. As what was supposed to be a 100-day session dragged on, lawmakers faced the possibility that the Legislature would exhaust its funds and be unable to pay them. Each day they're in session costs about $43,000.
This is the third time in recent history that Kansas schools have faced a potential shutdown. In May 2016, justices ruled that the state's K-12 public school-funding system was unconstitutionally inequitable. Gov. Brownback called lawmakers back after they ended the 2016 session without complying with the court's order to remedy the funding inequity between rich and poor school districts. The Legislature reconvened on June 20 and four days later passed a funding education plan.
Similarly in June 2005, lawmakers reconvened in a special session. The Kansas Supreme Court had ordered the Legislature to provide an additional $290 million to schools or risk statewide school shutdown.
When Gov. Brownback signed SB19, he issued this statement: "The Legislature missed an opportunity to substantially improve the K-12 funding system. They did, however, direct more dollars into the classroom by limiting bond and interest aid, encouraging financial stewardship at the local level. Additionally, they included a sunset on the school funding system, allowing for regular and robust discussion about the needs of Kansas students."
No one – neither attorneys representing school districts nor the state nor parents and educators – want a school shutdown or delay in the upcoming school year. It doesn't serve the state, the students or the strained state economy.
Isn't it about time that Kansans get serious about education funding and end the everlasting tortuous school funding contention?
---
Educando de manera adecuada y equitativa a los niños de Kansas
El pasado jueves, el gobernador de Kansas, Sam Brownback firmó un nuevo proyecto de ley de financiación escolar. Los legisladores esperan que la nueva fórmula de financiación cumplirá con la "prueba de suficiencia" para el educación pública de kinder a doceavo grado. Si no es así, las escuelas a nivel estatal cerrarían en julio, y los legisladores podrían ser llamados para una sesión especial para corregir la nueva fórmula de financiación por alumno.
El proyecto de ley del Senado 19 (SB 19)  pide un aumento en la financiación educativa de unos $195 millones para el año escolar 2017 -2018 y unos $290 millones para el año siguiente. Los legisladores aprobaron el proyecto de ley el 5 de junio. Los legisladores de Kansas están cumpliendo con un mandato de la corte. En marzo, la Corte Suprema del Estado le dio a la legislatura hasta el 30 de junio para arreglar el sistema de financiación escolar.
Ya tarde el día lunes, la Corte Suprema de Kansas anunció que permitiría que el SB 19 entrara en efecto mientras que los jueces determinan la constitucionalidad de la ley. Éso significa que las escuelas seguirán siendo financiadas después del 30 de junio para continuar las operaciones por lo menos hasta el 18 de julio cuando la corte escuchará los argumentos verbales sobre la nueva ley. El mandato podría llegar poco después.
Si la corte ordena a finales de julio que la SB 19 es inconstitucional, el inicio de clases en agosto podría ser retrasado a menos que los legisladores estatales revisen rápidamente la ley de financiamiento escolar para que cumpla con el requisito constitucional del Estado.
El 9 de junio, la legislatura de Kansas concluyó la segunda sesión más larga en la historia del Estado en 113 días. Lo que se suponía sería una sesión de 100 días interminables, los legisladores enfrentaron la posibilidad de que la legislatura agotaría sus fondos y sería incapaz de pagarlos. Cada día que ellos están en sesión, cuesta unos $43,000
Esta es la tercera vez en la historia reciente que las escuelas de Kansas enfrentan un posible cierre. En mayo de 2016, los jueces declararon que el sistema de financiamiento escolar público del Estado era inconstitucionalmente injusto. El gobernador Brownback llamó a los legisladores de vuelta después de que ellos habían terminado la sesión de 2016 sin cumplir con la orden de la Corte para solucionar la desigualdad de financiamiento entre los distritos escolares ricos y pobres. La legislatura se reunió de nuevo el 20 de junio y cuatro días después aprobaron un plan de financiamiento educativo.
Similarmente en junio de 2005, los legisladores se reunieron de nuevo en una sesión especial. La Corte Suprema de Kansas había ordenado que la legislatura proporcionara $290 millones adicionales a las escuelas o estarían en riesgo de un cierre escolar a nivel estatal.
Cuando el gobernador Brownback firmó la SB19, emitió la siguiente declaración: «La legislatura perdió una oportunidad para mejorar sustancialmente el sistema financiero de kinder a 12°. Sin embargo, ellos dirigieron más dinero hacia el salón de clases limitando los bonos y ayuda de intereses, motivando la administración financiera en el nivel local. Además, ellos incluyeron una determinación en el sistema de financiamiento escolar, permitiendo una discusión regular y robusta sobre las necesidades de los estudiantes en Kansas».
Nadie -ni los abogados representando los distritos escolares ni el Estado ni los padres y educadores -desean un cierre escolar o un retraso en el próximo año escolar. Esto no le sirve al Estado, a los estudiantes ni a la tensa economía estatal.
¿Acaso no ha llegado la hora de que en Kansas tomen con seriedad la financiación de la educación y terminen con la difícil e interminable discordia de financiación escolar?