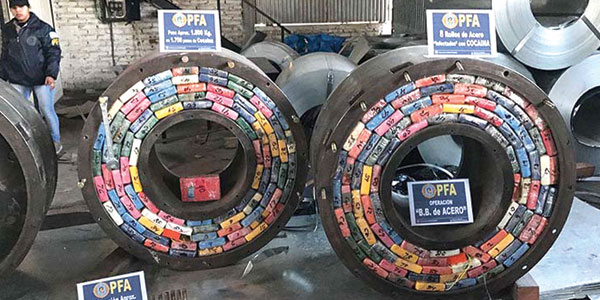 Commentary by Dermidio Juez-Perez
A recent incident begs this question: Are Mexican drug cartels working their way deep into South America?
As media agencies have reported, four Mexicans from the state of Michoacan were arrested on drug charges, with two of them escaping. In addition, 13 Argentines were arrested, including three brothers and a director of a commercial chamber. All were part of a complicated drug contraband system in Argentina.
Fortunately, the Argentine authorities raided the operation Monday (June 19) and confiscated all the merchandise. It became the second largest cocaine raid in history. Two tons were reportedly seized, valued at $60 million.
The cocaine arrived in the Industrial Park of Buenos Aires, where two of the four Mexicans from Michoacan carefully packed the cocaine inside steel coils. The coils were to be exported from Argentina to Spain and Canada.
"This is a complex and very sophisticated operation, which was prepared to carry out drug smuggling to Barcelona," Judge Adrian Conzalez Charvay told the media.
The destinations had been mentioned in the first data available to the judge about three months ago.
"An Argentine company, a subsidiary of a Canadian company, was mentioned, which was planning to take a large quantity of cocaine to Barcelona through the port of Campana, hidden in rolls of steel," the judge stated.
Gilberto Acevedo Villanueva, 28; and Jesus Madrigal Vargas, 27, were two of the Mexicans who were arrested in a shopping mall in Buenos Aires. In Puerto Madero, the police captured two of their team members – Rodrigo Alexander Naged Ramirez, 58; and Max Rodriguez Cordova, 44. An international lookout request has been executed for two other Mexicans from Michoacan.
From the analysis of the abducted documentation, it appears the same people carried out a similar operation 2012 and 2013 through the port of Bahia Blanca. However, "it will be difficult to determine if they were carrying drugs," Gonzalez Charvay said.
Is this the first Mexican cartel in Argentina? If so, fortunately, the authorities of that country will continue to work in the fight against illegal drugs. By doing so, they'll control the presence of Mexican drug cartels that are trying to get established in that part of South America.
---
¿Ha llegado el primer cartel mexicano a Argentina?
Un reciente incidente plantea esta pregunta: ¿Están los cárteles de la droga mexicanos trabajando profundamente en América del Sur?
Como informaron las agencias de medios, cuatro mexicanos del estado de Michoacán fueron arrestados por cargos de drogas y otros dos escaparon. Además, 13 argentinos fueron arrestados, entre ellos tres hermanos y un director de una cámara comercial. Todos eran parte de un complicado sistema de contrabando de drogas en Argentina.
Afortunadamente, las autoridades argentinas allanaron la operación el lunes (19 de junio) y confiscaron toda la mercancía. Se convirtió en la segunda incursión de cocaína más grande de la historia. Según informes, se capturaron dos toneladas, valoradas en $60 millones de dólares.
La cocaína llegó al Parque Industrial de Buenos Aires, donde dos de los cuatro mexicanos de Michoacán envasaron cuidadosamente la cocaína dentro de las bobinas de acero. Las bobinas iban a ser exportadas de Argentina a España y Canadá.
"Esta es una operación compleja y muy sofisticada, preparada para llevar a cabo el contrabando de drogas a Barcelona", dijo el juez Adrian Conzález Charvay a los medios de comunicación.
Los destinos habían sido mencionados en los primeros datos disponibles para el juez hace unos tres meses.
"Se mencionó a una empresa argentina, filial de una empresa canadiense, que planeaba llevar una gran cantidad de cocaína a Barcelona a través del puerto de Campana, escondido en rollos de acero", dijo el juez.
Gilberto Acevedo Villanueva, 28; Y Jesús Madrigal Vargas, de 27 años, son dos de los mexicanos detenidos en un centro comercial de Buenos Aires. En Puerto Madero, la policía capturó a dos de sus "compañeros" – Rodrigo Alexander Naged Ramírez, de 58 años; Y Max Rodríguez Córdova, 44. Se ha ejecutado una solicitud internacional de vigilancia para otros dos mexicanos de Michoacán.
Del análisis de la documentación secuestrada, parece que las mismas personas llevaron a cabo una operación similar 2012 y 2013 a través del puerto de Bahía Blanca. Sin embargo, "será difícil determinar si llevan drogas", dijo González Charvay.
¿Es este el primer cártel mexicano en Argentina? Si es así, afortunadamente, las autoridades de ese país seguirán trabajando en la lucha contra las drogas ilegales. Al hacerlo, controlarán la presencia de los cárteles de la droga mexicanos que están tratando de establecerse en esa parte de América del Sur.