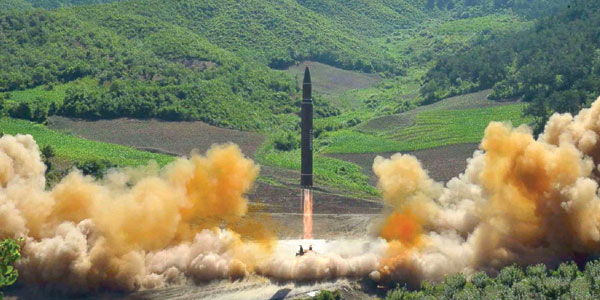 Commentary by Dermidio Juez-Perez
On Tuesday (July 4), while the United States was celebrating Independence Day, North Korean leader Kim Jong Un was testing his country's newest, strongest missile to date.
The latest missile test was North Korea's longest-reaching weapon yet — capable of reaching Alaska. Thus, the United States and its allies are pressured to collaborate on a strategy to respond to North Korea.
But while the world took Kim's actions seriously and uncertainties about him were at the highest level yet, the North Korean dictator joked online, calling the latest missile test his Independence Day gift to the United States. Moreover, the Korean News Central Agency stated that "with a broad smile on his face," Kim called on officials to "frequently send big and small 'gift packages' to the Yankees."
Unfortunately, there isn't a simple solution to this issue. Without going to war, there's not much the United States and its allies can do. The only country that can significantly affect North Korea is China – North Korea's main financial lifeline. However, China continues to fail to cut business ties with North Korea, as U.S. President Donald J. Trump suggested recently.
"Trade between China and North Korea grew almost 40 percent in the first quarter. So much for China working with us — but we had to give it a try!" Trump tweeted.
Without any major actions from the United States, its allies and the United Nations, Kim will continue to expand North Korea's nuclear and missile programs. Kim believes the programs are vital to his country's future. The dictator is convinced that, if North Korea can prove it has the ability to attack an American city, the White House will stop trying to overthrow his regime.
Meanwhile, a divided world watches as the United States continuously fails to stop China from doing business with North Korea – a country where the nuclear and missile programs are stronger than ever before, as the test on Independence Day has shown.
---
Corea del Norte "regalo del Día de la Independencia"
El martes (4 de julio), mientras en los Estados Unidos se celebraba el Día de la Independencia, el líder norcoreano Kim Jong Un probaba el más nuevo y fuerte misil de su país hasta la fecha.
La última prueba de misiles fue el arma de más largo alcance de Corea del Norte, capaz de llegar a Alaska. Por lo tanto, Estados Unidos y sus aliados están presionados en colaborar en una estrategia para responder a Corea del Norte.
Pero mientras el mundo toma las acciones de Kim en serio y las incertidumbres sobre él están se encuentran en lo más alto, el dictador norcoreano bromeó en línea, llamando a la última prueba de misiles su regalo del Día de la Independencia a los Estados Unidos. Además  la Agencia Central de Noticias de Corea afirmó que "con una amplia sonrisa en su rostro", Kim pidió a los funcionarios que "envíen frecuentemente grandes y pequeños paquetes de regalos a los Yankees".
Desafortunadamente, no hay una solución simple a este problema. Sin ir a guerra, no hay mucho que los Estados Unidos y sus aliados puedan hacer. El único país que puede afectar significativamente a Corea del Norte es China – la principal línea de vida financiera de Corea del Norte. Sin embargo, China sigue fallando en cortar los lazos comerciales con Corea del Norte, como sugirió recientemente el presidente estadounidense, Donald J. Trump.
"El comercio entre China y Corea del Norte creció casi un 40 por ciento en el primer trimestre." Trump twitteó.
Sin medidas importantes de Estados Unidos, sus aliados y las Naciones Unidas, Kim continuará ampliando los programas nucleares y de misiles de Corea del Norte. Kim cree que los programas son vitales para el futuro de su país. El dictador está convencido de que, si Corea del Norte puede demostrar que tiene la capacidad de atacar una ciudad estadounidense, la Casa Blanca dejará de intentar derrocar a su régimen.
Mientras tanto, un mundo dividido observa cómo Estados Unidos continúa fallando impedir que China haga negocios con Corea del Norte, un país donde los programas nucleares y de misiles son más fuertes que nunca, como ha demostrado la prueba del Día de la Independencia.