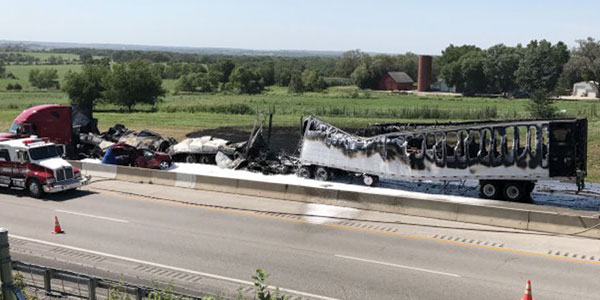 Six vehicles, including two semi-trucks that collided, were involved in a fiery accident on Tuesday afternoon (July 11) that left at least five people dead.
The accident took place on Interstate Highway 70 westbound in Bonner Springs, Kan. The road remained closed the rest of the day and into the night while traffic was diverted to Kansas Highway 7. Commuters on the eastbound lane remained at the scene for several hours until one lane opened to let traffic through. The highway reopened early Wednesday morning.
According to the Kansas Turnpike Authority (KTA), at least five people were pronounced dead at the scene, and four of them were identified. The dead are Teresa J. Butler, 61, of Urbana, Ill., an unnamed 63-year-old woman in Butler's vehicle was also killed; Sheldon H. Cohen, 83, and Virginia Cohen, 79, of Topeka; and Ricardo Mireles, 38, of Topeka. At the time of this writing, the condition of the truck drivers remained unknown.
It was reported that one of the semis had hit one vehicle, setting off a chain reaction and eventually hitting another semi, which set the vehicles on fire and covered the scene in black smoke.  
KTA spokesperson Rachel Bell shared in a statement to the Lawrence Journal-World that it was initially believed four vehicles had been involved, until authorities discovered two additional vehicles during the investigation.   
---
Destrucción de seis vehículos en la carretera I-70 deja al menos cinco muertos
Seis vehículos, entre ellos dos semi-camiones que chocaron, participaron en un intenso accidente el martes por la tarde (11 de julio) que dejó al menos cinco muertos.
El accidente ocurrió en la autopista interestatal 70 hacia el oeste en Bonner Springs, Kan. El camino permaneció cerrado el resto del día y en la noche mientras que el tráfico fue desviado a Kansas Highway 7. Los viajeros en el carril dirigido al este permanecieron en la escena por varias horas hasta que un carril abrió para dejar pasar el tráfico. La carretera reabrió el miércoles temprano por la mañana.
Según el Kansas Turnpike Authority (KTA), por lo menos cinco personas fueron declaradas muertas en la escena, y cuatro de ellas fueron identificadas. Los muertos son Teresa J. Butler, 61, de Urbana, Illinois, una mujer de 63 años sin nombre en el vehículo de Butler también murió; Sheldon H. Cohen, 83, y Virginia Cohen, 79, de Topeka; Y Ricardo Mireles, de 38 años, de Topeka. En el momento de escribir este artículo, el estado de los conductores de los camiones no ha sido declarado.
Se informó de que una de los semi-camiones había golpeado un vehículo, provocando una reacción en cadena y eventualmente golpeando otro semi, que prendió fuego a los vehículos y cubrió la escena con humo negro.
La portavoz de la KTA Rachel Bell compartió en una declaración al Lawrence Journal-World que inicialmente se creía que cuatro vehículos habían estado involucrados, hasta que las autoridades descubrieron dos vehículos adicionales durante la investigación.