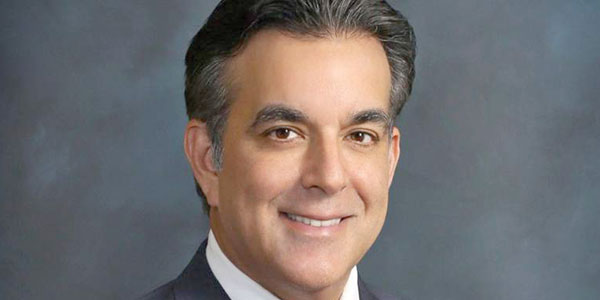 By Chara
Hector V. Barreto hasn't forgotten his Kansas City area roots.
On Oct. 12, the Latino activist and entrepreneur made a guest speaking during the Hispanic Chamber of Commerce of Greater Kansas City's awards gala in Kansas City, Mo. And in November, the chair of The Latino Coalition – a Latino advocacy group with headquarters in Washington, D.C. – will be a guest on the radio show "Talking with the Experts," hosted by Dos Mundos co-founder Clara Reyes.
Barreto's recent and upcoming public appearances follow an honor he received in September: induction into the Van Horn High School Hall of Honor.
Barreto, who graduated from the Independence, Mo., school before receiving bachelor's degrees from Rockhurst University, said he felt "very honored" to be inducted into the Van Horn Hall of Honor.
"I think a lot of children will feel … (they can identify) with me because I come from the same background that most of them come from," he said.
Indeed, Van Horn has a high percentage of Latino students. However, Barreto sees himself as an example to Van Horn students, whether they're Latino or not.
"I feel they have somebody they can look (up) to," he said. "They have someone who came (from Van Horn) like them and that they can relate to."
Barreto's path after Van Horn and then Rockhurst University led him to work for the Miller Brewing Co. and then to start his own company in California, Barreto Insurance and Financial Services. He also worked for the federal government for a while, serving as head of the Small Business Administration.
Other paths explored by Barreto during the journey of his working life have included tequila production. In 2011, he began producing Tributo a Mi Padre, a tequila created to honor his father, entrepreneur and Latino activist Hector Barreto Sr. That and his other endeavors, no doubt, inspired Van Horn to induct him into its Hall of Honor.
"I can tell you that I have had the opportunity to receive several recognitions and awards," he said. "But when you have the chance … (to receive) something from your community, it is different. It is an extra special recognition."
___________________________________________________________________________________
Líder nacional latino originario del área de KC, mantiene sus lazos con la comunidad vivos
Héctor V. Barreto no ha olvidado sus raíces en el área de Kansas City.
El 12 de octubre, el activista y empresario latino dio un discurso en la gala de premios de la Cámara de Comercio Hispana de Greater Kansas City en Kansas City, Mo. En noviembre, el presidente de The Latino Coalition – un grupo de defensa latina con sede en Washington, DC – será invitado en el programa de radio "Hablando con los expertos", organizado por la cofundadora de Dos Mundos, Clara Reyes.
Las recientes y próximas apariciones públicas de Barreto están relacionadas con el reconocimiento que recibió en septiembre: la inducción a la sala de honor de la escuela Preparatoria Van Horn.
Barreto, quien se graduó de la escuela de Independence, Mo., antes de cursar una licenciatura en la Universidad de Rockhurst, mencionó sentirse "muy honrado" de ser incluido en la sala de honor de Van Horn.
"Creo que muchos niños pueden identificarse conmigo porque vengo del mismo origen que la mayoría de ellos", dijo.
De hecho, Van Horn tiene un alto porcentaje de estudiantes latinos. Sin embargo, Barreto se ve a sí mismo como un ejemplo para los estudiantes de Van Horn, ya sean latinos o no.
"Siento que tienen a alguien a quien pueden admirar", dijo. "Tienen a alguien que viene de Van Horn como ellos y con quien pueden identificarse".
El camino de Barreto después de Van Horn y la Universidad de Rockhurst lo llevó a trabajar para Miller Brewing Co. y luego a crear su propia compañía en California, Barreto Insurance and Financial Services. También trabajó para el gobierno federal por un tiempo, sirviendo como jefe de la Administración de Pequeñas Empresas.
Otros caminos explorados por Barreto durante el viaje de su vida laboral incluyen la producción de tequila. En 2011, comenzó a producir Tributo a Mi Padre, un tequila creado para honrar a su padre. Ser un empresario y activista latino y sus otros esfuerzos, sin duda, inspiraron a Van Horn a introducirlo a su sala de honor.
"Puedo decirte que he tenido la oportunidad de recibir varios reconocimientos y premios", dijo. "Pero cuando tienes la oportunidad de recibir algo de tu comunidad, es diferente. Es un reconocimiento extra especial ".