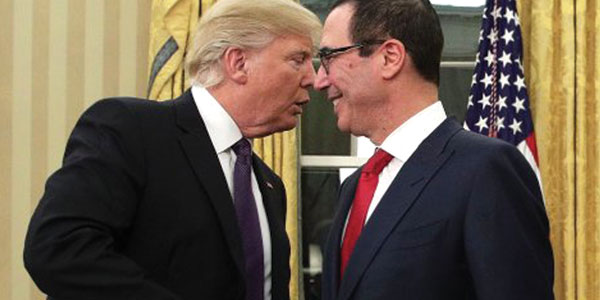 By Tere Siqueira
Critics claim bill would hurt middle class, increase national debt
On Dec. 2, President Trump and members of the Republican-controlled U.S. Senate celebrated over having enough votes to pass a tax reform bill that would be the first major change to the country's tax system in decades.
Many Americans weren't celebrating.
Steven Mnuchin, Trump's treasury secretary, told Fox News recently that the reform is supposed to be about "making the business tax system competitive" and that the bill would "help to create jobs." And bill supporters such as Sen. Shelley Moore Capito of West Virginia are claiming the legislation will be great for American economy.
"This tax reform bill will spur economic growth," Moore Capito said during a press conference.
But the bill has drawn criticism since it was reported that enacting it would increase the national debt by $1.4 trillion. Some critics also are claiming that corporations and the wealthy would receive the biggest tax cuts under the legislation. Corporate tax cuts would be permanent, but individual tax cuts American payers would expire after 10 years.
Moreover, according to an analysis by the non-partisan Congressional Budget Office (CBO), low-income Americans would start to see their taxes increase in 2021. By 2027, all individuals making $75,000 or less would pay more than they do under current law, according to the CBO.
___________________________________________________________________________________________________
El proyecto de ley respaldado por los republicanos atrae críticas
Los críticos afirman que el proyecto de ley perjudicaría a la clase media y aumentaría la deuda nacional
El 2 de diciembre, el presidente Trump y los miembros del Senado de Estados Unidos, controlado por los republicanos, celebraron haber tenido suficientes votos para aprobar un proyecto de reforma fiscal que sería el primer cambio importante en el sistema fiscal del país en décadas.
Muchos estadounidenses no estaban celebrando.
Steven Mnuchin, secretario del Tesoro de Trump, indicó recientemente a Fox News que se supone que la reforma es sobre "hacer competitivo el sistema de impuestos a las empresas" y que el proyecto de ley "ayudaría a crear empleos". Partidarios que apoyan la reforma como la senadora Shelley Moore Capito de West Virginia afirman que la legislación será excelente para la economía estadounidense.
"Este proyecto de reforma fiscal estimulará el crecimiento económico", mencionó Moore Capito durante una conferencia de prensa.
Pero el proyecto de ley ha generado críticas desde que se informó que promoverlo aumentaría la deuda nacional en $1.4 billones. Algunos críticos también afirman que las corporaciones y los ricos recibirían los mayores recortes de impuestos de acuerdo a la legislación. Los recortes de impuestos corporativos serían permanentes, pero los recortes fiscales individuales de los contribuyentes estadounidenses expirarían después de 10 años.
Además, según un análisis no partidista de la Oficina de Presupuesto del Congreso (CBO), los estadounidenses de bajos ingresos comenzarían a ver aumentar sus impuestos en 2021. En 2027, todas las personas que ganan $ 75,000 o menos pagarían más de lo que pagan bajo la ley actual.