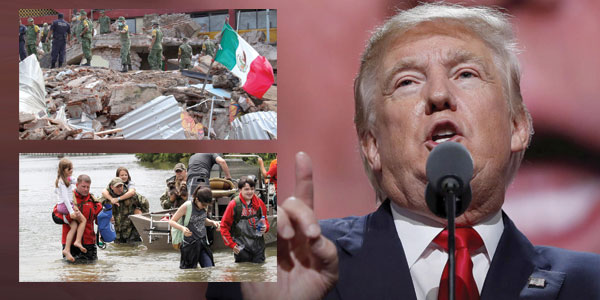 Compiled by the Dos Mundos staff
January
Protests and road blockades emerged on Jan. 2 in Mexico after a "gasolinazo" – a Spanish term for a forceful hike in gas prices – kicked into effect for the new year. The hike marked a new government policy of deregulating the country's previously nationalized oil industry, according to news outlets. A gallon of regular unleaded gas rose from around $2.60 on Dec. 31, 2016, to $2.95 on Jan. 1.
On Jan. 19, Joaquin Guzman Loera – a.k.a. "El Chapo" – was extradited from Mexico to the United States after the Mexican Ministry of Foreign Relations had announced the drug lord had exhausted his appeals to prevent extradition.
Donald Trump took the oath of office on Jan. 20, becoming the 45th U.S. president.
In entertainment news, Mary Tyler Moore died on Jan. 25. Moore, 80, was considered a pioneer in the depiction of women on American television.
On Jan. 27, President Trump signed an executive order to impose a travel ban. Designed primarily to prevent potential terrorists from Muslim-majority countries from entering the United States, the order was met with protests. In addition, the order became the subject of court cases and ended up being revised more than once.
February
February marked the confirmation of some of the Trump administration's Cabinet posts, including Rex Tillerson on Feb. 1 as secretary of state.
The process to end Colombia's civil war took a step forward on Feb. 2, when onetime lawmaker Odin Sanchez was released after roughly 10 months of captivity by the National Liberation Army guerilla group.
March
In entertainment news, actress Miriam Colon died on March 3. Colon, 80, was known as trailblazer for Latino stage performers in the United States.
On March 6, several tornadoes and other storms affected the Kansas City area. As multiple news agencies reported, hundreds of buildings were damaged from severe thunderstorms, high wind gusts and several tornadoes. Multiple news sources reported the damage in Missouri overall was so severe it was under a state of emergency, per governor's declaration.
In music news, guitarist, singer and songwriter Chuck Berry died on March 18. The native Missourian, 90, was a rock music pioneer.
April
On April 1, Mocoa, Colombia, was swept over by a huge landslide of mud, rocks and gushing water. The natural disaster swept away homes and cars. The Colombian National Disaster Agency reported more than 200 deaths.
On April 12, the Kansas City (Mo.) Council's Planning, Zoning and Economic Development Committee voted 4-1 to send the proposal for a convention center and hotel to the general council for approval.
A dead body was found in Cass County, Mo. Fox 4 reported on April 19 that the body had been found on April 18 near Harrisonville – a town of about 10,000 people that's also the Cass County seat. The discovery came roughly a few weeks after the discovery of the remains and skulls of two other people in Cass County.
On April 20 at City Hall, the Kansas City (Mo.) Council approved the proposal to add a convention center and hotel in downtown Kansas City 11-0. Local lawmaker Scott Taylor was expecting the facility to be a boost to the economy, particularly through job creation.
May
An ISIS-orchestrated terrorist attack put Great Britain on heightened alert and left a U.S. entertainer feeling devastated. As multiple news agencies reported, a bomb was set off May 22 in the Manchester (England) Arena lobby following a concert that night by singer Ariana Grande. Grande expressed her grief over the tragedy via Twitter.
In political news, Manuel Noriega died on May 29. The controversial dictator ruled Panama from 1983 to 1989, when U.S. military forces ousted him from power.
June
In environmental news, President Trump announced on June 1 that the United States was pulling out of the Paris Agreement regarding climate change. The announcement led to a few notable public figures resigning from presidential advisory councils in protest, including Disney executive Bob Iger.
On June 14, a 6.9-magnitude earthquake shook Guatemala, resulting in several deaths and injuries.
On June 16, President Trump announced the reversal of some Obama-era policies regarding U.S.-Cuban relations.
On June 26, the United Nations announced the Revolutionary Armed Forces of Colombia had finished disarming as part of the steps to end the decades-long civil war in the South American country.
July
Ten people were dead and dozens more were hospitalized in critical condition in San Antonio after a truck driver had attempted to smuggle undocumented immigrants from Mexico into the United States. The vehicle, a tractor trailer, was found parked on July 23 at a Walmart in San Antonio by authorities after receiving a call from a Walmart employee. According to statements by Charles Hood, city fire chief, more than 100 people who were trying to cross the border inside the truck suffered from extreme heat conditions, lack of oxygen and dehydration.
August
As multiple news sources reported, white supremacist groups staged a "Unite the Right" rally on Aug. 11 and 12 in Charlottesville, Va. The rally sparked counter-protests. As multiple sources reported, fighting broke out among groups of protesters and counter-protestors, with one protester – white supremacist James Alex Fields Jr. – driving his vehicle the day of Aug. 12 into a crowd, killing Charlottesville resident Heather Heyer and causing multiple injuries. President Trump drew criticism for his comments after the tragedy.
On Aug. 17 and 18, Spain was the site of two terrorist attacks. News agencies reported the first attack was carried out Aug. 17 via a van being driven into a crown in Barcelona. The second attack was carried out via car early on Aug. 18, in Cambrils.
In entertainment news, comedian and civil rights activist Dick Gregory died on Aug. 19. The native Missourian, 84, died two days before legendary Spanish-language sportscaster Rafael "Felo" Ramirez, who was 94.
On Aug. 21, millions of Americans witnessed an event that hadn't taken place in 99 years, two months and 13 days: a solar eclipse with a coast-to-coast path of totality. It was called "The Great American Eclipse."
On Aug. 25, Hurricane Harvey struck Texas, affecting several major Texas cities, including Corpus Christi, Houston, Austin and San Antonio.
September
On Sept. 5, U.S. Attorney General Jeff Sessions announced the Trump administration would rescind the Deferred Action for Childhood Arrivals (DACA) program. Implemented in 2012 by the Obama administration, DACA was designed to help undocumented children get an education and offer youth renewable two-year term work authorizations. The decision was expected to cut benefits to more than 800,000 students in the United States.
In early September, Hurricane Irma destroyed several areas in Florida, Puerto Rico and St. Martin. In mid- to late September, Hurricane Maria inflicted heavy damages in the Caribbean, particularly Puerto Rico.
Sept. 19 was a tragic day for millions of Mexicans. That day, a 7.1 earthquake shook parts of Mexico, including Pueblo, Guerrero, the State of Mexico and Mexico City. The earthquake left hundreds of people dead.
October
On Oct. 1, Las Vegas, Nev., became the site of deadliest mass shooting in U.S. history. The tragedy took place while singer and guitarist Jason Aldean was performing during the fourth annual Route 91 Harvest Music Festival at the Mandalay Bay Resort and Casino. Reports stated that more than 520 people were injured and 59 people were killed.
As multiple news agencies reported, the Boy Scouts of America announced on Oct. 11 that it would begin accepting girls as Cub Scouts in 2018. Open to ages 7-11½, Cub Scouts is the initial scouting program offered by the Boy Scouts.
In literary news, Latina writer Reyna Grande lectured on Oct. 18 at Avila University in Kansas City, Mo. Grande appeared as part of the Harry S. Truman Distinguished Lecture Series.
On Oct. 31, Colombian President Juan Manuel Santos spoke at the Lied Center of Kansas. Santos appeared at the venue to receive an honorary doctorate from the University of Kansas, where he had graduated in 1973.
New York City was the site of another terrorist attack. Multiple news agencies reported that eight people died and 12 were injured on Oct. 31 in New York City's Manhattan borough by a truck driven along a bicycle path.
November
About a month after the Las Vegas shooting massacre, another mass shooting made headlines. News agencies reported a shooting on Nov. 5 in Sutherland Springs, Texas. Reports around the time of the shooting listed the death toll at 26 people, with the number of wounded estimated at 20.
On Nov. 7, Kansas City, Mo., voters spoke – and they said that Kansas City International (KCI) Airport would undergo renovations. They did so by passing Question 1 49,950-16,378 (75 percent to 25 percent). As was stated on the ballot, Question 1 was a city request for approval to build a new terminal at the 45-year-old airport "and demolish existing terminals as necessary."
In other election news, Wyandotte County native David Alvey defeated Mark Holland on Nov. 7 to become the new Unified Government of Wyandotte County/Kansas City, Kan., mayor/CEO.
On Nov. 13, Missouri Attorney General Josh Hawley launched an investigation of Google to seek information about the company's collection and use of users' private data. According to the Republican, who's running in 2018 for the U.S. Senate, Google has mishandled private customers' data and manipulated its search results to favor Google products.
A 37-year reign ended on Nov. 21 – much to the relief of millions of people. News agencies reported that Zimbabwean President Robert Mugabe resigned that day. Mugabe was prime minister for seven years (1980-87) and Zimbabwe's president for his final 30 years in office. He allegedly resorted to strong-armed tactics and electoral fraud to keep himself and his party, the Zimbabwe African National Union-Patriotic Front (ZANU-PF), in power.
A terrorist attack was carried out on Nov. 24 at a mosque in Egypt in North Sinai, a section of the Sinai Peninsula. The death toll topped 300, with more than 120 injuries also reported.
December
On Dec. 14, the Federal Communications Commission voted 3-2 to end net neutrality, a policy established during the Obama administration regarding internet content and service.
In local political news, another controversial vote took place on Dec. 14: As multiple Kansas City area news agencies reported, the Kansas City (Mo.) Council voted 9-4 that day against a memorandum of understanding with Edgemoor Infrastructure & Real Estate to oversee converting KCI Airport from a three-terminal to a one-terminal airport.
In Latin American political news, former Peruvian President Alberto Fujimori was released on Sunday (Dec. 24) from his prison sentence for human rights abuses with a medical pardon.
On Monday (Dec. 25), Erie, Pa., was hammered with 34 inches of snow. On Tuesday (Dec. 26), another 24 inches fell there. As CNN reported, it was a state record for snowfall during a 48-hour period.
Also on Tuesday, multiple news agencies reported that former Peruvian President Alberto Fujimori was requesting forgiveness from Peruvians. At press time, Fujimori remained bedridden in a hospital.
______________________________________________________________________________________________
Recordando el 2017: El año en las noticias
Enero
Las protestas y los bloqueos en las carreteras surgieron el 2 de enero en México después de un "gasolinazo", un término para un alza enérgica de los precios de la gasolina, que entró en vigencia para el nuevo año. El aumento marcó una nueva política del gobierno para desregular la industria petrolera previamente nacionalizada del país, de acuerdo con los medios de comunicación. Un galón de gasolina regular sin plomo aumentó de alrededor de $2.60 el 31 de diciembre del 2016 a $2.95 el 1 de enero.
El 19 de enero, Joaquín Guzmán Loera, alias "El Chapo", fue extraditado de México a los Estados Unidos después de que el Ministerio de Relaciones Exteriores de México anunciara que el capo de la droga había agotado sus apelaciones para evitar la extradición.
Donald Trump tomó el juramento el 20 de enero y se convirtió en el 45º presidente de los EE. UU.
En noticias de entretenimiento, Mary Tyler Moore murió el 25 de enero. Moore, de 80 años, fue considerada una pionera en la representación de mujeres en la televisión estadounidense.
El 27 de enero, el presidente Trump firmó una orden ejecutiva para imponer una prohibición de viaje. Diseñado principalmente para evitar que potenciales terroristas de países de mayoría musulmana ingresen a los Estados Unidos, la orden se encontró con protestas. Además, la orden se convirtió en el tema de los casos judiciales y terminó siendo revisada más de una vez.
Febrero
Febrero marcó la confirmación de algunos de los puestos del Gabinete del gobierno de Trump, incluyendo a Rex Tillerson el 1 de febrero como secretario de estado.
El proceso para terminar con la guerra civil colombiana dio un paso adelante el 2 de febrero, cuando el ex legislador Odin Sánchez fue liberado después de aproximadamente 10 meses de cautiverio por el grupo guerrillero del Ejército de Liberación Nacional.
Marzo
En noticias de entretenimiento, la actriz Miriam Colón murió el 3 de marzo. Colón, de 80 años, era conocido como el pionero de los artistas latinos en los Estados Unidos.
El 6 de marzo, varios tornados y otras tormentas afectaron el área de Kansas City. Como informaron varios medios de comunicación, cientos de edificios sufrieron daños debido a fuertes tormentas eléctricas, ráfagas de viento y varios tornados. Según la declaración del gobernador múltiples medios de comunicación informaron que el daño en Missouri en general fue tan severo que se encontraba bajo un estado de emergencia.
En noticias de música, el guitarrista, cantante y compositor Chuck Berry murió el 18 de marzo. El nativo de Missouri, de 90 años, era un pionero de la música rock.
Abril
El 1 de abril, Mocoa, Colombia, fue arrasada por un gran deslizamiento de lodo, rocas y agua. El desastre natural derrumbó casas y autos. La Agencia Nacional de Desastres de Colombia informó más de 200 muertes.
El 12 de abril, el Comité de Planificación, Zonificación y Desarrollo Económico del Consejo de Kansas City (Mo.) votó 4-1 para enviar la propuesta de un centro de convenciones y hotel al Consejo general para su aprobación.
Se encontró un cadáver en el condado de Cass, Mo. Fox 4 informó el 19 de abril que el cuerpo había sido encontrado el 18 de abril cerca de Harrisonville, un pueblo de aproximadamente 10,000 personas que también es el asiento del condado de Cass. El descubrimiento se produjo aproximadamente unas semanas después del descubrimiento de los restos y cráneos de otras dos personas en el condado de Cass.
El 20 de abril en el Ayuntamiento, el Concejo de Kansas City (Mo.) aprobó la propuesta de agregar un centro de convenciones y hotel en el centro de Kansas City 11-0. El legislador local Scott Taylor esperaba que la instalación sea un impulso para la economía, particularmente a través de la creación de empleos.
Mayo
Un ataque terrorista orquestado por ISIS puso a Gran Bretaña en estado de alerta y dejó a un artista de los Estados Unidos sintiéndose devastado. Como informaron varios medios de comunicación, una bomba se activó el 22 de mayo en el vestíbulo de la Arena de Manchester (Inglaterra) luego de un concierto de la cantante Ariana Grande esa noche. Grande expresó su dolor por la tragedia a través de Twitter.
En noticias políticas, Manuel Noriega murió el 29 de mayo. El controvertido dictador gobernó Panamá de 1983 a 1989, cuando las fuerzas militares de Estados Unidos lo expulsaron del poder.
Junio
En materia ambiental, el presidente Trump anunció el 1 de junio que Estados Unidos se retiraba del Acuerdo de París sobre el cambio climático. El anuncio llevó a algunas figuras públicas notables que renunciaron a los consejos asesores presidenciales en protesta, incluido el ejecutivo de Disney, Bob Iger.
El 14 de junio, un terremoto de 6.9 grados de magnitud sacudió a Guatemala, causando varias muertes y lesiones.
El 16 de junio, el presidente Trump anunció la reversión de algunas políticas de la era de Obama con respecto a las relaciones entre Estados Unidos y Cuba.
El 26 de junio, las Naciones Unidas anunciaron que las Fuerzas Armadas Revolucionarias de Colombia habían terminado de desarmarse como parte de los pasos para poner fin a la guerra civil que duró décadas en el país sudamericano.
Julio
Diez personas murieron y decenas más fueron hospitalizadas en estado crítico en San Antonio luego de que un conductor de camión intentó ingresar de contrabando a inmigrantes indocumentados de México a Estados Unidos. El vehículo, un camión tractor, fue encontrado estacionado el 23 de julio en un Walmart en San Antonio por las autoridades después de recibir una llamada de un empleado de Walmart. De acuerdo con las declaraciones de Charles Hood, jefe de bomberos de la ciudad, más de 100 personas que intentaban cruzar la frontera dentro del camión sufrieron condiciones extremas de calor, falta de oxígeno y deshidratación.
Agosto
Como informaron varios medios de comunicación, los grupos de supremacía blanca organizaron una manifestación de "Unite the Right" el 11 y 12 de agosto en Charlottesville, Virginia. La manifestación provocó contra-protestas. Según informaron múltiples fuentes, estallaron enfrentamientos entre grupos de manifestantes y contrarreclamantes, con un manifestante, el supremacista blanco James Alex Fields Jr., conduciendo su vehículo el 12 de agosto contra una multitud, matando a la residente de Charlottesville Heather Heyer y causando múltiples lesiones El presidente Trump recibió críticas por sus comentarios después de la tragedia.
El 17 y 18 de agosto, España fue el sitio de dos ataques terroristas. Las agencias de noticias informaron que el primer ataque se llevó a cabo el 17 de agosto a través de una camioneta impulsada a una corona en Barcelona. El segundo ataque se llevó a cabo en coche temprano el 18 de agosto en Cambrils.
En noticias de entretenimiento, el comediante y activista de derechos civiles Dick Gregory murió el 19 de agosto. El nativo Missouri, de 84 años, murió dos días antes del legendario comentarista deportivo en español Rafael "Felo" Ramirez, que tenía 94 años.
El 21 de agosto, millones de estadounidenses presenciaron un evento que no había tenido lugar en 99 años, dos meses y 13 días: un eclipse solar con un camino de totalidad de costa a costa. Se llamaba "El gran eclipse estadounidense".
El 25 de agosto, el huracán Harvey azotó Texas, afectando a varias ciudades importantes de Texas, incluyendo Corpus Christi, Houston, Austin y San Antonio.
Septiembre
El 5 de septiembre, el Fiscal General de EE. UU., Jeff Sessions, anunció que la administración de Trump rescindiría el programa de Acción Diferida para Llegados en la Infancia (DACA). Implementado en el 2012 por la administración de Obama, DACA fue diseñada para ayudar a los niños indocumentados a obtener una educación y ofrecer autorizaciones de trabajo renovable de dos años para jóvenes. Se esperaba que la decisión redujera los beneficios a más de 800,000 estudiantes en los Estados Unidos.
A principios de septiembre, el huracán Irma destruyó varias áreas en Florida, Puerto Rico y San Martín. A mediados o finales de septiembre, el huracán María causó grandes daños en el Caribe, particularmente en Puerto Rico.
El 19 de septiembre fue un día trágico para millones de mexicanos. Ese día, un terremoto de 7.1 sacudió partes de México, incluyendo Puebla, Guerrero, el estado de México y la Ciudad de México. El terremoto dejó cientos de personas muertas.
Octubre
El 1 de octubre, Las Vegas, Nevada, se convirtió en el sitio del tiroteo más masivo y mortífero en la historia de EE. UU. La tragedia tuvo lugar mientras el cantante y guitarrista Jason Aldean se presentaba durante el cuarto Festival Anual de Música de la Ruta 91 en el Mandalay Bay Resort and Casino. Los informes indicaron que más de 520 personas resultaron heridas y 59 personas fueron asesinadas.
Como informaron diversos medios de comunicación, Boy Scouts of America anunció el 11 de octubre que comenzaría a aceptar niñas como Cub Scouts en el 2018. Abierto a edades de 7-11 años, Cub Scouts es el programa inicial de exploradores ofrecido por los Boy Scouts.
En las noticias literarias, la escritora latina Reyna Grande dio una conferencia el 18 de octubre en la Universidad de Ávila en Kansas City, Mo. Grande apareció como parte de la serie de conferencias distinguidas de Harry S. Truman.
El 31 de octubre, el presidente colombiano, Juan Manuel Santos, habló en el Centro Lied de Kansas. Santos apareció en el lugar para recibir un doctorado honorario de la Universidad de Kansas, donde se había graduado en 1973.
La ciudad de Nueva York fue el sitio de otro ataque terrorista. Múltiples agencias de noticias informaron que ocho personas murieron y 12 resultaron heridas el 31 de octubre en la ciudad de Manhattan de Nueva York por un camión conducido a lo largo de un carril de bici.
Noviembre
Alrededor de un mes después de la masacre del tiroteo en Las Vegas, otro tiroteo masivo fue noticia. Los medios de comunicación informaron un tiroteo el 5 de noviembre en Sutherland Springs, Texas. Los informes alrededor del momento del tiroteo enumeraban el número de muertos en 26 personas, con un número estimado de heridos de 20.
El 7 de noviembre, los votantes de Kansas City, Missouri, hablaron y dijeron que el Aeropuerto Internacional de Kansas City (KCI) se renovaría. Lo hicieron pasando la pregunta 1 49,950-16,378 (75 por ciento a 25 por ciento). Como se indicó en la boleta electoral, la pregunta 1 era una solicitud de la ciudad para la aprobación de la construcción de una nueva terminal en el aeropuerto de 45 años de antigüedad "y demolición de las terminales existentes según sea necesario".
En otras noticias electorales, el nativo del condado de Wyandotte David Alvey derrotó a Mark Holland el 7 de noviembre para convertirse en el nuevo alcalde/director general del Gobierno Unificado del Condado de Wyandotte / Kansas City, Kansas.
El 13 de noviembre, el Fiscal General de Missouri, Josh Hawley, inició una investigación de Google para buscar información sobre la recopilación y el uso de los datos privados de los usuarios. Según el republicano, que se postulará en el Senado estadounidense en 2018, Google ha manejado mal los datos de los clientes privados y ha manipulado sus resultados de búsqueda para favorecer a los productos de Google.
Un reinado de 37 años terminó el 21 de noviembre, para alivio de millones de personas. Los medios de comunicación informaron que el presidente zimbabuense, Robert Mugabe, dimitió ese día. Mugabe fue primer ministro durante siete años (1980-87) y presidente de Zimbabwe durante sus últimos 30 años en el cargo. Supuestamente recurrió a tácticas de armamento fuerte y fraude electoral para mantenerse él y su partido, el Frente Patriótico de la Unión Nacional Africana de Zimbabue (ZANU-PF), en el poder.
Un ataque terrorista se llevó a cabo el 24 de noviembre en una mezquita en Egipto en el norte de Sinaí, una sección de la península del Sinaí. El número de muertos superó los 300 y también se reportaron más de 120 heridos.
Diciembre
El 14 de diciembre, la Comisión Federal de Comunicaciones votó 3-2 para poner fin a la neutralidad de la red, una política establecida durante el gobierno de Obama en relación con el contenido y el servicio de Internet.
En noticias políticas locales, otro voto polémico tuvo lugar el 14 de diciembre: como informaron varios medios de comunicación del área de Kansas City, el Concejo de Kansas City (Mo.) votó 9-4 ese día contra un memorando de entendimiento con Edgemoor Infrastructure & Real Estate para supervisar la conversión del aeropuerto KCI de un aeropuerto de tres terminales a uno de una terminal.
En las noticias políticas de América Latina, el ex presidente peruano Alberto Fujimori fue liberado el domingo (24 de diciembre) de su sentencia de prisión por abusos contra los derechos humanos con un perdón médico.
El lunes (25 de diciembre), Erie, Pa., fue golpeado con 34 pulgadas de nieve. El martes (26 de diciembre), cayeron otras 24 pulgadas. Como informó CNN, fue un récord estatal de nevadas durante un período de 48 horas.
También el martes, varios medios de comunicación informaron que el ex presidente peruano Alberto Fujimori solicitaba perdón a los peruanos. En el cierre de está edición, Fujimori permaneció postrado en cama en un hospital.