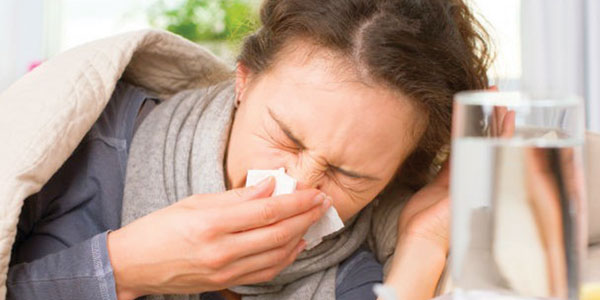 CDC provides prevention and management tips
According to the Centers for Disease Control and Prevention (CDC), a flu virus is spreading quickly in the United States.
The CDC website reports flu activity in at least 46 states, with Missouri and Kansas reporting high flu activity. Although it's not considered an epidemic yet, the rise in the number of flu cases has caused concern among health professionals. The flu-related death total for this year is only .2 percent below the threshold set by the CDC using data from previous years.
The main virus that's spreading is the H3N2, a type of influenza that was included in the vaccine strains this year. To reduce the risk of getting or spreading the flu, the CDC has issued the following recommendations:
*Get an annual flu vaccination: The vaccine will provide protection from various viruses and reduce illnesses – and reduce doctor's visits, and missed workdays or school days.
*Get an injected vaccine: Injectable influenza vaccines are considered more effective than nasal sprays.
*Avoid contact with sick people: Likewise, anyone who's sick is advised to limit his or her contact with others.
*Wash your hands regularly with soap and water: If that's not possible, carrying an antibacterial gel to kill bad germs is recommended.
*Clean and disinfect surfaces: This will help prevent germs from spreading.
Anyone who gets sick with the flu is advised to do as follows:
*Visit a doctor and get a prescription for an antiviral medicine.
*Cover the mouth and nose when sneezing or coughing.
*Stay home and avoid contact with others: The CDC recommends staying home 24 hours after a fever is gone.
*If cases of vomiting, difficult breathing, pain or pressure in the chest, confusion and dizziness, visit an emergency room or call a doctor.
---
El virus de la gripe se propaga rápidamente
CDC proporciona consejos de prevención y tratamiento
Según los Centros para el Control y Prevención de Enfermedades (CDC), un virus de la gripe se está propagando rápidamente en Estados Unidos.
El sitio web de los CDC informa sobre la actividad de la gripe en al menos 46 estados, Missouri y Kansas informan sobre una alta actividad de gripe. Aunque aún no se considera una epidemia, el aumento en el número de casos de gripe ha causado preocupación entre los profesionales de la salud. El total de muertes relacionadas con la gripe para este año es sólo .2 por ciento por debajo del umbral establecido por el CDC utilizando datos de años anteriores.
El virus principal que se está propagando es el H3N2, un tipo de influenza que se incluyó en la variedad de vacunas este año. Para reducir el riesgo de contraer o propagar la gripe, el CDC ha emitido las siguientes recomendaciones:
* Obtenga una vacuna anual contra la gripe: La vacuna brindará protección contra varios virus y reducirá enfermedades y reducirá las visitas al médico y los días de trabajo perdidos o escolares.
* Obtenga una vacuna inyectable: Las vacunas inyectables contra la influenza se consideran más efectivas que las atomizadores nasales.
* Evite el contacto con personas enfermas: Del mismo modo, se aconseja a cualquier persona enferma que limite su contacto con otras personas.
* Lávese las manos regularmente con agua y jabón: Si eso no es posible, se recomienda llevar un gel antibacterial para matar los gérmenes malos.
* Limpie y desinfecte las superficies: Esto ayudará a prevenir la propagación de gérmenes.
Se recomienda a toda persona que se enferme con gripe que haga lo siguiente:
* Visite a un médico y obtenga una receta para un medicamento antiviral.
* Cúbrase la boca y la nariz al estornudar o toser.
* Quédese en casa y evite el contacto con otras personas: el CDC recomienda quedarse en su hogar 24 horas después de que la fiebre desaparezca.
* Si hay casos de vómitos, dificultad para respirar, dolor o presión en el pecho, confusión y mareos, visite una sala de emergencias o llame a un médico.