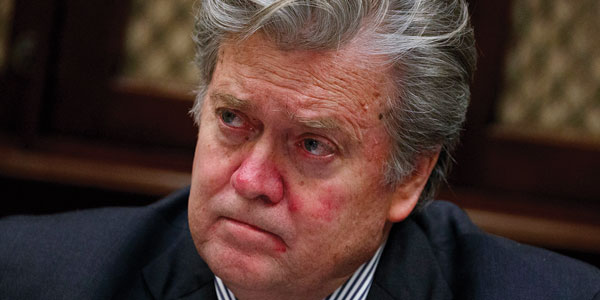 *Steve Bannon to testify: President Trump's former chief strategist faced angry lawmakers during a recent contentious 10-hour interview. Bannon confirmed to the U.S. House Intelligence Committee that he was issued a subpoena from special counsel Robert Mueller. He's scheduled to testify before a grand jury as part of the investigation into possible links between Trump's associates and the Russian government.
*Former CIA officer suspected of compromising Chinese informants: Jerry Chung Shing Lee was arrested on Monday (Jan. 15) at John F. Kennedy Airport. The former intelligence officer allegedly had the names of undercover CIA employees, top-secret phone numbers, addresses of covert facilities and operational notes. The suspect was charged with unlawful retention of national defense information and faces up to a decade in prison.
*Palestinian aid: The U.S. government has announced plans to hold back more than half the funding it gives to Palestinian refugees. It'll release $60 million to the U.N. Relief Works Agency, which helps Palestinians; however, another $65 million it had planned to contribute will be held indefinitely. News agencies reported the decision resulted from Palestinians pushing for a U.N. vote to condemn Trump's decision to recognize Jerusalem as Israel's capital.
*Repatriation of Rohingya refugees: Bangladesh plans to return more than 650,000 Rohingya refugees back to Myanmar. The refugees of the predominantly Muslim ethnic group are trying to escape violence in Myanmar, a predominantly Buddhist country in Asia. The repatriation plan has sparked criticism from human rights groups.
*North and South Korea to show signs of solidarity at Olympics: The two countries agreed to field a joint women's ice hockey team for the Winter Olympics, scheduled for Feb. 9-25 in Pyeongchang County, South Korea. In addition, North and South Korean athletes will march under one flag during the opening ceremony.
*New Catalan parliament: News agencies reported that the Catalan parliament met on Wednesday (Jan. 17) in Barcelona. The legislative body hadn't met since October 2017, when the Spanish government disbanded it as part of its efforts to cease a movement in Catalonia to secede from Spain. As news agencies reported, eight lawmakers – all of them secessionist supporters – didn't attend because five were exiled in Belgium and three others were incarcerated and awaiting trial for treason and related charges by the Spanish government.
---
* Steve Bannon testificará: El ex estratega del presidente Trump se enfrentó a enojados legisladores durante una reciente y polémica entrevista de 10 horas. Bannon confirmó al Comité de Inteligencia de la Cámara de los EE.UU. que recibió una citación del asesor especial Robert Mueller. Está programado para testificar ante un gran jurado como parte de la investigación sobre posibles vínculos entre los asociados de Trump y el gobierno ruso.
* Ex oficial de la CIA sospechoso de comprometer a informantes chinos: Jerry Chung Shing Lee fue arrestado el lunes (15 de enero) en el aeropuerto John F. Kennedy. El ex oficial de inteligencia supuestamente tenía los nombres de empleados encubiertos de la CIA, números telefónicos ultra secretos, direcciones de instalaciones encubiertas y notas operativas. El sospechoso fue acusado de retención ilegal de información de defensa nacional y enfrenta hasta una década de prisión.
* Apoyo a Palestina: El gobierno de EE. UU. ha anunciado planes para retener más de la mitad de los fondos que otorga a los refugiados palestinos. Mandará $ 60 millones al Organismo de Obras Públicas y Socorro de la ONU, que ayuda a los palestinos. Sin embargo, otros $ 65 millones que había planeado contribuir se mantendrán indefinidamente. Los medios de comunicación informaron que la decisión se debió a que los palestinos presionaron por un voto en la ONU para condenar la decisión de Trump de reconocer a Jerusalén como la capital de Israel.
* Repatriación de refugiados Rohingya: Bangladesh planea devolver a Myanmar a más de 650,000 refugiados Rohingya. Los refugiados del grupo étnico predominantemente musulmán intentan escapar de la violencia en Myanmar, un país predominantemente budista en Asia. El plan de repatriación ha suscitado críticas de grupos de derechos humanos.
* Corea del Norte y Corea del Sur muestran signos de solidaridad en los Juegos Olímpicos: Los dos países acordaron formar un equipo conjunto de hockey sobre hielo femenino para los Juegos Olímpicos de Invierno, programados para el 9 y 25 de febrero en el condado de Pyeongchang, Corea del Sur. Además, los atletas de Corea del Norte y Corea del Sur marcharán bajo una misma bandera durante la ceremonia de apertura.
* Nuevo parlamento catalán: Los medios de comunicación informaron que el parlamento catalán se reunió el miércoles (17 de enero) en Barcelona. El órgano legislativo no se había reunido desde octubre del 2017, cuando el gobierno español lo disolvió como parte de sus esfuerzos para poner fin a un movimiento en Cataluña para separarse de España. Según informaron los medios de comunicación, ocho legisladores, todos partidarios secesionistas, no asistieron porque cinco fueron exiliados en Bélgica y otros tres fueron encarcelados y están en espera de juicio por traición y cargos relacionados por parte del gobierno español.