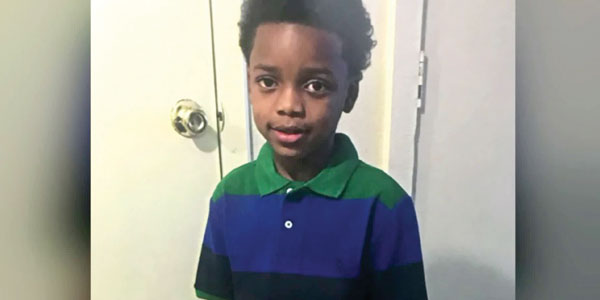 Nine-year-old Dominic Young Jr. skated and played video games for the last time Saturday afternoon, Jan. 20. Hours later, he was dead — not from a terminal disease or deadly traffic accident, but at the hands of ruthless, reckless strangers. The Grandview third grader was fatally shot on his way home from a day of fun with his brother.
They were homebound with their dad when they were caught in the crossfire of a highway shootout. It wasn't until they reached home that Dominic's dad realized one of his boys had been shot and called 911. It was too late. Dominic was pronounced dead at a nearby hospital.
His large, loving family said goodbye to their precious Dominic on Jan. 29.
By all accounts, Dominic's future was promising. An avid reader, he satisfied a fascination for Martin Luther King by reading all he could about the civil rights leader. He played basketball, loved football and aspired to play pro ball. According to remarks attributed to his second grade teacher, Dominic was "very, very smart," loved to dance, loved to draw and loved family time.
His promising future didn't end tragically in some poor, developing nation, such as Togo or in a city like Karachi, Pakistan, brutalized by political unrest, piracy, suicide bombings and gang warfare. Dominic was robbed of life here in the heartland of America, where such tragedy should be rare to nonexistent.
"This (carnage) will go on as long as we allow it," says Rosilyn Temple, founder of KC Mothers in Charge. "We have to get fed up with this horrible incidence of children being murdered. The police are doing all they can do. We in the community have to step up."
Temple, whose own son, Antonio "PeeWee" Thompson was murdered in 2011, is fed up, and she channeled her grief and anger into helping other grieving families. She founded a crime prevention and family support group in 2013 and served on Mayor Sly James's citizens' task force on violence.
Another member of the task force was Judy Sherry, a well-known advocate, honored for her efforts to end gun violence. Sherry co-founded the Kansas City area chapter of Grandparents Against Gun Violence in 2013 after the Sandy Hook elementary school massacre.
Both organizations are working for a community that is safe for families and children by preventing gun violence. Why aren't we all members? Last year, gunfire robbed the lives of seven metro area kids under age 16. And nationwide, as many kids suffer gun-related injuries each year as people injured in the September 11 terrorist attacks.
Firearm-related deaths are the third leading cause of death in the U.S. among children ages 1 through 17, according to "Child Firearm Injuries in the United States." The study published last June in the journal Pediatrics reported that an average of 5,790 children in the U.S. receive emergency room treatment for gun-related injuries each year and an average of 1,297 children die from gun-related injuries.
Those youngsters, like Dominic Young trusted us to take care of them, to ensure their safety. We let them down. How many deaths of precious children will it take for us as a community to step up?
Nota bene: Read the entire study, "Child Firearm Injuries in the United States" online at http://pediatrics.aappublications.org/content/early/2017/06/15/peds.2016-3486.
---
Niños muertos
El sábado 20 de enero por la tarde Dominic Young Jr., de nueve años, patinaba y jugaba videojuegos por última vez. Horas después, estaba muerto, no por una enfermedad terminal o un accidente de tráfico mortal, sino por manos despiadadas de extraños imprudentes. El niño de tercer grado de Grandview recibió un disparo mortal en su camino a casa después de un día de diversión con su hermano.
Estaban en camino en casa con su padre cuando quedaron atrapados en el fuego cruzado de un tiroteo en la carretera. No fue hasta que llegaron a casa que el padre de Dominic se dio cuenta de que uno de sus muchachos había recibido disparos y llamó al 911. Era demasiado tarde. Dominic fue declarado muerto en un hospital cercano.
Su gran y amorosa familia se despidió de su precioso Dominic el 29 de enero.
Según las versiones de todos, el futuro de Dominic era prometedor. Lector ávido, satisfacía su fascinación por Martin Luther King al leer todo lo que pudo sobre el líder de los derechos civiles. Jugaba al baloncesto, amaba el fútbol y aspiraba a jugar fútbol profesional. De acuerdo con comentarios atribuidos a su maestro de segundo grado, Dominic era "muy, muy inteligente", le encantaba bailar, dibujar y amaba el tiempo en familia.
Su futuro prometedor no terminó trágicamente en una nación pobre y en desarrollo, como Togo o en una ciudad como Karachi, Pakistán, embrutecida por el descontento político, la piratería, los atentados suicidas y la guerra de pandillas. A Dominic se le robó la vida aquí en el corazón de América, donde tal tragedia debería ser rara o inexistente.
"Esta (carnicería) continuará mientras la permitamos", indica Rosilyn Temple, fundadora de KC Mothers in Charge. "Tenemos que estar hartos de la horrible incidencia de niños asesinados. La policía está haciendo todo lo que puede hacer. Nosotros en la comunidad tenemos que dar un paso adelante".
Temple, cuyo propio hijo, Antonio "PeeWee" Thompson fue asesinado en el 2011, está harto por lo que canalizó su dolor y enojo para ayudar a otras familias afligidas. Ella fundó un grupo de prevención de la familia y apoyo familiar en el 2013 y sirvió en el grupo de trabajo de ciudadanos sobre la violencia del alcalde Sly James.
Otro miembro de la fuerza especial fue Judy Sherry, una conocida defensora, honrada por sus esfuerzos para poner fin a la violencia armada. Sherry fue cofundadora de la sección del área de Kansas City de Grandparents Against Gun Violence en el 2013 después de la masacre de la escuela primaria Sandy Hook.
Ambas organizaciones están trabajando por una comunidad que sea segura para las familias y los niños mediante la prevención de la violencia armada. ¿Por qué no somos todos miembros? El año pasado, los disparos robaron la vida de siete niños del área metropolitana menores de 16 años. A nivel nacional la cantidad de niños sufren lesiones relacionadas con armas de fuego cada año es la misma que las personas heridas en los ataques terroristas del 11 de septiembre.
De acuerdo a "Lesiones infantiles por arma de fuego en los Estados Unidos", las muertes relacionadas con armas de fuego son la tercera causa de muerte en EE.UU. entre los niños de 1 a 17 años. El estudio publicado en junio pasado en la revista Pediatrics informó que un promedio de 5,790 niños en los EE.UU. reciben tratamiento en la sala de emergencias por lesiones relacionadas con armas cada año y un promedio de 1,297 niños mueren por lesiones relacionadas con armas de fuego.
Esos jóvenes, como Dominic Young, confiaron en nosotros para cuidarlos, para garantizar su seguridad. Los decepcionamos. ¿Cuántas muertes de niños preciosos tomará para que nosotros como comunidad intervengamos?
Nota bene: Lea el estudio completo, "Lesiones de niños con armas de fuego en los Estados Unidos" en línea en http://pediatrics.aappublications.org/content/early/2017/06/15/peds.2016-3486.