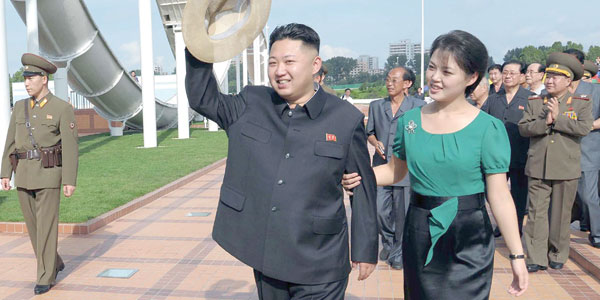 Here are some of the latest stories making national and international headlines:
*Porter leaves Trump administration: As multiple news agencies reported Wednesday (Feb. 7), Rob Porter stepped down that day as U.S. President Donald Trump's White House staff secretary following accusations of having physically and verbally abused two ex-wives. Porter had served with the Trump administration since Trump's inauguration in January 2017.
*Power outage: On Tuesday (Feb. 6), areas of Caracas, Venezuela, lost power for a few hours, multiple news agencies reported. The British Broadcasting Corp. reported that many commuters in the South American country's capital city had to get home on foot because the electrical outage precluded them from being able to withdraw money for public transportation or ride subway trains. Reuters estimated that "at least 10 subway stations" had to shut down during the partial blackout.
*North Koreans headed home: Alexander Matsegora, Russian ambassador to North Korea, announced that Russia has begun deporting North Korean workers to honor punishments issued in 2017 by the United Nations regarding the North Korean nuclear arms program, The Telegraph reported Wednesday. Matsegora predicted the deportations would hurt Russia economically because of the loss of tens of thousands of North Koreans from the Eastern European nation's workforce.
*Kim Yo Jong heading delegation at Olympics: In other North Korea-related news, news outlets are reporting that Kim Yo Jong, the sister of North Korean leader Kim Jong Un, will head up North Korea's delegation at the Winter Olympics. Canadian Broadcasting Corp. reporter Jonathon Gatehouse stated Wednesday in a story online that Kim Yo Jong would be at the quadrennial athletic festival's opening ceremony, scheduled for this Friday (Feb. 9) in Pyeongchang, South Korea. The Olympics will conclude on Feb. 25.
_______________________________________________________________________
Al rededor del mundo
Estas son algunas de las últimas noticias que llegaron a los titulares nacionales e internacionales:
* Porter deja el gobierno de Trump: Según informaron varios medios de comunicación el miércoles (7 de febrero), Rob Porter renunció como secretario del personal de la Casa Blanca del presidente estadounidense Donald Trump después de acusaciones de haber abusado física y verbalmente de sus dos ex esposas. Porter había servido en el gobierno desde la toma de posesión de Trump en enero del 2017.
* Corte de energía: Medios de comunicación informaron que el martes (6 de febrero), el área de Caracas, Venezuela, perdió energía durante unas horas. La British Broadcasting Corp. informó que muchos pasajeros en la capital del país sudamericano tuvieron que llegar a su casa a pie porque el corte de electricidad les impidió poder retirar dinero para el transporte público o los trenes subterráneos. Reuters estimó que «al menos 10 estaciones de metro» tuvieron que cerrar durante el apagón parcial.
* Los norcoreanos volvieron a casa: The Telegraph informó el miércoles que Alexander Matsegora, embajador ruso en Corea del Norte, anunció que Rusia comenzó a deportar a los trabajadores norcoreanos para cumplir los castigos emitidos en el 2017 por las Naciones Unidas con respecto al programa de armas nucleares de Corea del Norte. Matsegora predijo que las deportaciones dañarían a Rusia económicamente debido a la pérdida de decenas de miles de norcoreanos de la mano de obra de la nación del este de Europa.
* Kim Yo Jong encabeza la delegación en los Juegos Olímpicos: En otras noticias relacionadas con Corea del Norte, los medios informan que Kim Yo Jong, la hermana del líder norcoreano Kim Jong Un, encabezará la delegación de Corea del Norte en los Juegos Olímpicos de Invierno. El reportero Jonathon Gatehouse de Canadian Broadcasting Corp. declaró el miércoles en una historia en línea que Kim Yo Jong estaría en la ceremonia inaugural del festival atlético cuatrienal, programada para este viernes (9 de febrero) en Pyeongchang, Corea del Sur. Los Juegos Olímpicos concluirán el 25 de febrero.