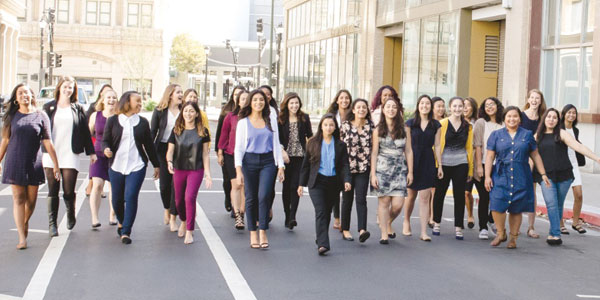 By Tere Siqueira
There's an unprecedented surge of first-time female candidates in upcoming elections, according to the Center for American Women and Politics at Rutgers University.
More than 79 women are pursuing gubernatorial runs this year, potentially doubling a record for women candidates set in 1994, the center recently announced.
Data shows the candidates are skewing toward the Democratic Party. According to the center, about four times as many Democratic women are running for House seats as Republican women are. And the number of Democratic women seeking spots in the U.S. House is up almost 350 percent from in 2016.
Some followers of politics might attribute the increase to Donald Trump winning the 2016 presidential election and a growing frustration with his presidency. In 2016, 900 women reached out to Emily's List, a recruiting and training group for Democratic women, about running for office. Since Trump's election, more than 26,000 women have contacted the group.
In a recent article, Time magazine claimed that November's midterm elections would be a crucial test of whether the new group of female candidates could overcome a traditional lack of voting support for female candidates. Most female Democratic candidates have concluded that the key to winning their respective races is to drive up turnout among liberals and swing voters.
_______________________________________________________________________
Centro informa un número récord de mujeres que se postulan para cargos públicos

Hay un aumento sin precedentes de candidatas por primera vez en las próximas elecciones, según el Centro para Mujeres y Política Estadounidenses de la Universidad de Rutgers.
El Centro anunció recientemente que más de 79 mujeres persiguen carreras para gobernador este año, lo que podría duplicar el récord de candidatas establecido en 1994.
Los datos muestran que las candidatas se inclinan hacia el Partido Demócrata. Según el centro, alrededor de cuatro veces más mujeres demócratas se postulan para cargos en la Cámara que las mujeres republicanas. Y el número de mujeres demócratas que buscan plazas en el Congreso de los EE. UU. ha aumentado casi un 350 por ciento desde el 2016.
Algunos seguidores de la política podrían atribuir el aumento a Donald Trump ganando las elecciones presidenciales del 2016 y una creciente frustración con su presidencia. En el 2016, 900 mujeres recurrieron a Emily's List, un grupo de reclutamiento y capacitación para mujeres demócratas, para postularse para un cargo. Desde la elección de Trump, más de 26,000 mujeres se han comunicado con el grupo.
En un reciente artículo, la revista Time afirmó que las elecciones de mitad de período de noviembre serían una prueba crucial de si el nuevo grupo de candidatas podría superar una falta tradicional de apoyo electoral a las candidatas. La mayoría de las candidatas demócratas han llegado a la conclusión de que la clave para ganar sus respectivas carreras es impulsar la participación entre los liberales y los votantes indecisos.