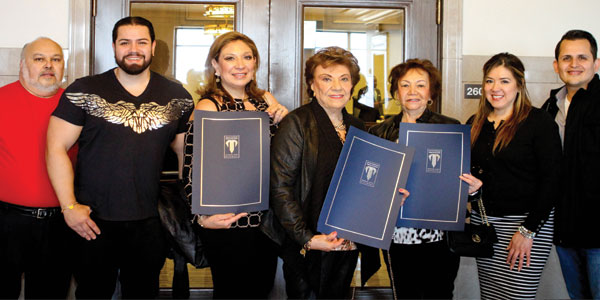 Photos By Michael Alvarado
On Thursday, March 22, 2018 a resolution was presented in honoring and recognizing Manuel Reyes for his many contributions to Kansas City, its Latino community, and community journalism. The resolution was presented by Mayor Sylvester James Jr. and given to his family, wife Clara, daughter Diana and son Edward Reyes, as well as staff.
---
Honrando y reconociendo a Manuel Reyes
El jueves 22 de marzo de 2018 se presentó una resolución para honrar y reconocer a Manuel Reyes por sus muchas contribuciones a Kansas City, su comunidad latina y el periodismo comunitario. La resolución fue presentada por el alcalde Sylvester James Jr. y entregada a su familia, su esposa Clara, su hija Diana y su hijo Edward Reyes, así como al equipo de trabajo.