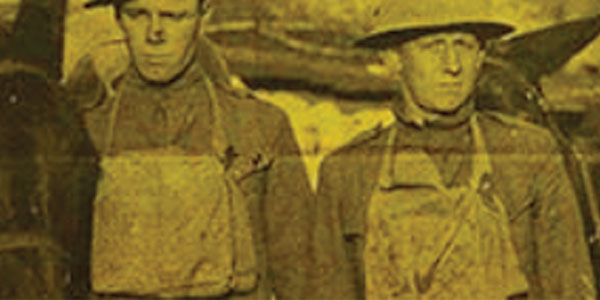 Congressman Emanuel Cleaver, II is proud to announce the approval of $7 million in funding for the U.S. World War I Centennial Commission (WWICC). The funding is included in the Fiscal Year 2018 omnibus funding bill, passed by the U.S. House of Representatives today.  Along with the funding, the bill allows other federal agencies to contribute funding or personnel to support the activities of the Commission. Commemoration events are scheduled throughout the next year nationwide to educate American citizens about the causes and consequences of the "war to end all wars" and to honor the heroism and sacrifices of those Americans who served.
The WWICC was created in 2013 by an Act of Congress, sponsored by Congressman Cleaver and Congressman Ted Poe (R-TX) to honor, educate and commemorate soldiers and participants of World War I. The Centennial of the United States' entry into World War I was commemorated on April 6, 2017 at the National World War I Museum and Memorial in Kansas City, MO. Over 4,000 people attended the ceremony, along with foreign dignitaries from 27 countries as jets from the Patrouille de France flew above. Over 4.7 million men and women served our nation in uniform and over 116,000 Americans gave their lives in defense of liberty. The funding approved by this bill will support activities and events in all 50 states over the next year. 
"This is tremendous news. This means WWICC can continue to do the great work of further educating and remembering what WWI means to this country," said Congressman Cleaver. Congressman Cleaver has been a long-time supporter of WWI commemoration efforts. He was the co-author of the 2014 WWI American Veterans Centennial Commemorative Coin Act. The coin was struck this past November.  
 The National World War I Museum and Memorial is the only National WWI Museum and is located in Kansas City, MO. Congressman Cleaver attended the ground breaking for a second national WWI museum to be located at Pershing Park. 
"My thanks to Chairman Frelinghuysen, Ranking Member Lowey, Subcommittee Chairman Calvert, and Subcommittee Ranking Member McCollum for hearing my appeal for WWI and working with me over the last couple of years.  This was a years-long, bipartisan effort with support from Representatives Shuster (R-PA), Yoder (R-KS), Sam Graves (R-MO), and Wagner (R-MO)", said Congressman Cleaver. "I am pleased that the bipartisan support for the Commission has continued and that we will be able to appropriately honor the centennial and the brave Americans who served in World War I."
---
Congressman Cleaver Secures $7 Million for WWI Centennial Commission
El congresista Cleaver asegura $ 7 millones para la Comisión Centenaria de la Primera Guerra Mundial
El WWICC recibe $7 millones en un gasto del presupuesto total para el año fiscal 2018
El congresista Emanuel Cleaver II, se enorgullece en anunciar la aprobación de $7 millones en fondos para la Comisión del Centenario de la Primera Guerra Mundial de los EE. UU. (WWICC). El financiamiento está incluido en el proyecto de ley del presupuesto del año fiscal 2018, aprobado hoy por la Cámara de Representantes de los Estados Unidos. Junto con el financiamiento, el proyecto de ley permite a otras agencias federales contribuir con fondos o personal para apoyar las actividades de la Comisión. Los eventos conmemorativos están programados a lo largo del próximo año a nivel nacional para educar a los ciudadanos estadounidenses sobre las causas y consecuencias de la "guerra para terminar con todas las guerras" y para honrar el heroísmo y los sacrificios de los estadounidenses que sirvieron.
El WWICC fue creado en el 2013 por una ley del Congreso, patrocinada por el congresista Cleaver y el congresista Ted Poe (R-TX) para honrar, educar y conmemorar a los soldados y participantes de la Primera Guerra Mundial. El centenario de la entrada de Estados Unidos en la guerra mundial fui conmemorado el 6 de abril de 2017 en el Museum and Memorial de la Primera Guerra Mundial en Kansas City, MO. Más de 4.,000 personas asistieron a la ceremonia, junto con dignatarios extranjeros de 27 países, ya que los aviones de la Patrouille de Francia volaron por encima. Más de 4.7 millones de hombres y mujeres sirvieron a nuestra nación en uniforme y más de 116,000 estadounidenses dieron sus vidas en defensa de la libertad. El financiamiento aprobado por este proyecto de ley apoyará actividades y eventos en los 50 estados durante el próximo año.
"Estas son grandes noticias". Esto significa que WWICC puede continuar haciendo el gran trabajo de educar más y recordar lo que significa la Primera Guerra Mundial para este país", dijo el congresista Cleaver. El congresista Cleaver ha sido desde hace mucho tiempo partidario de los esfuerzos de conmemoración de la Primera Guerra Mundial. Fue el coautor de la Ley de Monedas Conmemorativas del Centenario de los Veteranos Estadounidenses de la WWI 2014. La moneda fue acuñada este pasado noviembre.
El Museum and Memorial Nacional de la Primera Guerra Mundial es el único Museo Nacional de la Primera Guerra Mundial y está ubicado en Kansas City, MO. El congresista Cleaver asistió a la inauguración de un segundo museo nacional de la Primera Guerra Mundial que se ubicará en Pershing Park.
"Agradezco al presidente Frelinghuysen, al director Lowey, al presidente del subcomité, Calvert, y al director del subcomité, McCollum, por escuchar mi llamado para la Primera Guerra Mundial y haber trabajado conmigo durante los últimos años. Este fue un esfuerzo bipartidista de varios años con el apoyo de los representantes Shuster (R-PA), Yoder (R-KS), Sam Graves (R-MO) y Wagner (R-MO)", dijo el congresista Cleaver. "Me complace que el apoyo bipartidista a la Comisión haya continuado y que podamos honrar adecuadamente al centenario y a los valientes estadounidenses que sirvieron en la Primera Guerra Mundial".