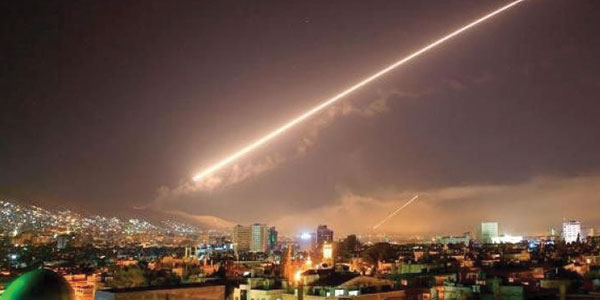 Here are some of the recent stories that have made regional, national and international headlines:
*Airstrikes: Reacting to an April 7 gas attack believed to have been carried out against Syrian civilians by Syrian President Bashar al-Assad, the United States, France and Great Britain launched airstrikes on April 14 against the Middle Eastern country. News agencies reported that the attacks targeted sites believed to have been involved in producing chemical weapons for Assad's regime for use in Syria's seven-year-old civil war.
*Greitens in hot political water: There are calls for Missouri Gov. Eric Greitens to voluntarily leave or be forced from office following an April 11 report by the Missouri House Special Investigative Committee on Oversight. Totaling 24 pages, the report from the seven-member committee provided details from a woman who had testified recently to the committee about an alleged encounter with Greitens in March 2015 – about six months before he formally announced his candidacy for the 2016 elections. Her testimony included accusations of physical violence, blackmail and non-consensual sexual activity.
As multiple news sources have reported, Greitens has dismissed the committee's report as a "political witch hunt" and has expressed no desire to resign. As they also have reported, the governor is awaiting trial in criminal court on a privacy invasion charge – which Greitens and his legal team are trying to get dismissed. On Monday (April 16), the St. Louis Post-Dispatch and other media outlets reported that St. Louis Circuit Judge Rex Burlison was planning to rule this Thursday (April 19) on the dismissal request.
In other Greitens-related news, Missouri Attorney General Josh Hawley told the press Tuesday (April 17) that his office had "evidence" that Greitens might have illegally obtained information from a charity (co-founded by Greitens) for political campaigning purposes. According to the Huffington Post, the evidence has been forwarded to the St. Louis circuit attorney to determine if legal action should be taken.
*Cancun killings: On April 4 and 5, attacks were carried out in the Mexican resort community, resulting in 14 deaths and five injuries. Multiple news sources reported that the attacks were believed to have been carried out by drug cartels.
In related news, the Daily Mail and other news outlets reported that the body of a shooting victim had washed ashore on Sunday (April 15) on a beach in Acapulco, another tourist spot in Mexico. As with the Cancun attacks, the shooting was believed to have been drug cartel-related.
*Zuckerberg's trip to Washington, D.C., part II: After testifying on April 10 to a joint U.S. Senate committee in America's capital regarding alleged leaks of confidential user data, Facebook co-founder and executive Mark Zuckerberg testified on April 11 to the U.S. House Energy and Commerce Committee. Topics covered during the House hearing included online data security, Facebook users' rights to expression, and the need for Facebook and other tech-oriented businesses to hire and retain more African Americans.
To read the House hearing transcript, visit https://www.washingtonpost.com/news/the-switch/wp/2018/04/11/transcript-of-zuckerbergs-appearance-before-house-committee/?utm_term=.e97c40b82093.
---
Alrededor del mundo
Estas son algunas de las historias recientes que han llegado a los titulares regionales, nacionales e internacionales:
* Ataques aéreos: Estados Unidos, Francia y Gran Bretaña lanzaron ataques aéreos el 14 de abril contra el país de Medio Oriente como reacción a un ataque con gas del 7 de abril que el presidente sirio Bashar al-Assad perpetró contra civiles sirios. Los medios de comunicación informaron que los ataques se concentraron en sitios que se creía habían estado involucrados en la producción de armas químicas para el régimen de Assad para su uso en la guerra civil de Siria que ha durado durante siete años.
* Greitens en aguas políticas tumultuosas: Hay pedidos para que el gobernador de Missouri, Eric Greitens, se vaya voluntariamente o sea obligado a dejar el cargo luego de un informe del 11 de abril del Comité Especial de Investigaciones de Supervisión de la Cámara de Representantes de Missouri. Con un total de 24 páginas, el informe del comité de siete miembros proporcionó detalles de una mujer que había testificado recientemente ante el comité sobre un supuesto encuentro con Greitens en marzo del 2015, unos seis meses antes de que anunciara formalmente su candidatura para las elecciones del 2016. Su testimonio incluyó acusaciones de violencia física, chantaje y actividad sexual no consensual.
Como han informado varias fuentes de información, Greitens ha denominado el informe del comité como una "cacería de brujas política" y no ha expresado ningún deseo de renunciar. Como también informaron, el gobernador está a la espera de un juicio en un tribunal penal por un cargo de invasión a la privacidad, que Greitens y su equipo legal están tratando de desestimar. El lunes (16 de abril), el St. Louis Post-Dispatch y otros medios informaron que el Juez del Circuito de St. Louis, Rex Burlison, estaba planeando gobernar este jueves (19 de abril) en respuesta a la solicitud de despido.
En otras noticias relacionadas con Greitens, el fiscal general de Missouri, Josh Hawley, dijo a la prensa el martes (17 de abril) que su oficina tenía "evidencia" de que Greitens podría haber obtenido información ilegalmente de una organización benéfica (cofundada por Greitens) con fines políticos. Según el Huffington Post, la evidencia ha sido enviada al abogado del circuito de St. Louis para determinar si se deben tomar acciones legales.
* Asesinatos en Cancún: Los días 4 y 5 de abril, se llevaron a cabo ataques en la comunidad turística mexicana, que causaron 14 muertos y cinco heridos. Varios medios de comunicación informaron que los ataques se cree que fueron llevados a cabo por cárteles de la droga.
En noticias relacionadas, el Daily Mail y otros medios de comunicación informaron que el cadáver de una víctima de un tiroteo había llegado a la costa el domingo (15 de abril) en una playa de Acapulco, otro lugar turístico de México. Al igual que con los ataques de Cancún, se cree que el tiroteo estuvo relacionado con el cártel de drogas.
* Segunda parte del viaje de Zuckerberg a Washington, DC: Después de testificar el 10 de abril ante un comité conjunto del Senado estadounidense en la capital de Estados Unidos sobre presuntas filtraciones de datos confidenciales de los usuarios, el cofundador y ejecutivo de Facebook, Mark Zuckerberg, testificó el 11 de abril ante el US House Energy. y el Comité de Comercio. Los temas tratados durante la audiencia de la Cámara incluyeron la seguridad de los datos en línea, los derechos de expresión de los usuarios de Facebook y la necesidad de que Facebook y otras empresas orientadas a la tecnología contraten y retengan en su equipo a más afroamericanos.
Para leer la transcripción de la audiencia de la Cámara, visite https://www.washingtonpost.com/news/the-switch/wp/2018/04/11/transcript-of-zuckerbergs-appearance-before-house-committee/?utm_term=. e97c40b82093.