By Tom Sawyer
Welcome tourists! In this edition, we will talk about one of the most densely populated sovereign states in the world and also one of the most important financial centers in the Asian world. We are talking about the Special Administrative Region (SAR) ) of Hong Kong, China. It has a peninsula and 236 islands, of which the best known are Hong Kong, Kowloon, and Lantau.
From the First Opium War (1839-1842) Hong Kong became a British colony and remained in this way until 1997 when Chinese sovereignty over Hong Kong was restored. But what is really interesting is that an administrative model is known as "one country, two systems" is applied, which consists of a capitalist economic system under the sovereignty of a country with an official communist ideology. Which makes it unique and different from traditional China. Among the great differences that exist is the language, while in China Mandarin Chinese is encouraged, in Hong Kong it is spoken mainly in Chinese and English. Something that makes Hong Kong different, is that from many Western countries it requires a visa for any stay. The currency is also a break. And the last one is that the Internet also has big differences since most of the information is censored and controlled in China while in Hong Kong it is freely accessible as in most European or American countries.
Round flights from Kansas to Hong Kong are around $1,200 and usually have 1 or 2 layovers. If you want to visit another China territory that requires a special visa to enter and exit. The two most common ways to transport around the region are the metro, which has 12 lines that cover the entire territory and the ferry, which helps you move through the different islands that may interest you. The price of a 3-star hotel is at $70 per night, but you may find hostels from $25. Due to the influence of Western countries, you can find a variety of international food. In fact, you can find cheap food in the stalls of restaurants or eat in restaurants of international fame. The average price of a meal goes around $25.
With greater expectations of what you can find in such a beautiful place, I leave you some recommendations of places and things to do in your stay:
Victoria Peak is the highest mountain of the island of Hong Kong with a height of 550 meters. It is undoubtedly the best viewpoint of the city, from there you can admire the beauty of a city surrounded by huge skyscrapers mixed with nature and its bay. At the top, you can find 2 shopping centers and also a beautiful terrace from which you can have the best view of the place with an admission fee of $ 6.5. You can climb on foot or funicular with a price of $ 6 per round trip.
Tsim Sha Tsui is one of the most popular and prosperous areas of the city, and from where you can have the best views of the Hong Kong Bay. There you can find the "Hall of Fame", which is nothing more than a copy of the hall of fame of LA, but with the names of the famous Chinese actors, among which those of Jackie Chan and Bruce Lee stand out. From this place, you will see the Hong Kong's urban show, "Symphony of Lights". This is a show of lights and sounds that shine with their own light on the Skyline of Hong Kong. This show is made daily at 8:00 pm with a duration of 20 minutes, the show is divided into 45 buildings that change their tonalities according to the meaning of the stage they are in. If you feel tired of the bustle of the city, you can go to Kowloon Park to enjoy a large green area to relax. Or you can attend the art museum or the museum of space that are also in this area.
Po Lin Monastery, the most important Buddhist monastery in Hong Kong, is located on the highest part of Lantau Island. Founded by three monks in 1906, the compound is composed of the temple, the houses of monks, a restaurant of vegetarian food and several stores for the purchase of incense. You can find several incense burners for all the faithful and visitors who decide to leave an offering. You can also find 3 Buddhas statues, which represent the past, present and future. To complement this trip you can climb the 268 steps and admire the Great Buddha Tian Tan, which is the largest sitting Buddha in the world. To get to the monastery you will have to take the Ngong Ping cable car at a cost of $ 17.5 per round trip.
___________________________________________________________________________________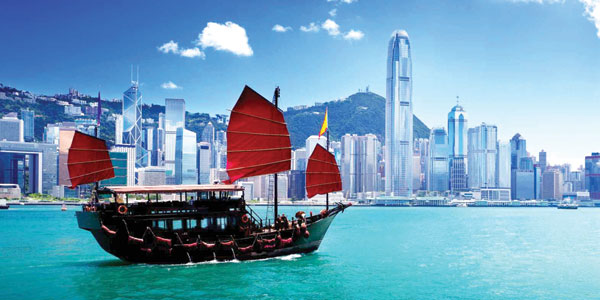 Conoce Hong Kong
Bienvenidos turistas, en esta edición nos toca hablar de uno de los Estados Soberanos más densamente poblados del mundo, y que a su vez también es uno de los centros financieros más importantes no sólo en Asia sino que en todo el mundo, nos referimos a la Región Administrativa Especial (SAR) de Hong Kong, China. Cuenta con una península y 236 islas, de las cuales las más conocidas son la de Hong Kong, la de Kowloon y la de Lantau.
A partir de la Primera Guerra del Opio (1839-1842) Hong Kong pasó a ser una colonia británica, y permaneció de esta manera hasta 1997 año en el que fue restablecida la soberanía china sobre Hong Kong. Pero lo realmente interesante es que al ser una SAR se aplica un modelo administrativo conocido como "un país, dos sistemas", el cual consiste en un sistema económico capitalista bajo la soberanía de un país con una ideología oficial comunista. Lo cual la vuelve única y diferente a la China tradicional. Entre las grandes diferencias que existen está el idioma, mientras en China se fomenta el chino mandarín, en Hong Kong se habla principalmente el chino cantonés y el inglés, el visado también se diferencía, ya que mientras en Hong Kong para muchos países occidentales no se requiere ninguna clase de visado para una permanencia menor a 3 meses, en China si se requiere de un visado especial para la mayoría de países occidentales, la moneda también es un punto a destacar, en Hong Kong se usa el Dólar Hong Kong y en China se utiliza el Renminbi, y por último pero no menos importante el internet también tiene grandes diferencias, ya que mucha de la información está censurada y controlada en China mientra que en Hong Kong es de libre acceso tal y como en la mayoría de los países europeos o americanos.
Los vuelos redondos de Kansas a Hong Kong rondan los $1,200 y por lo regular cuentan con 1 o 2 escalas, si tienes contemplado moverte a otro territorio de China ten en consideración que requieres de una visa especial para entrar y salir, las dos formas más habituales para moverse por toda la región son el metro el cual cuenta con 12 líneas que cubren prácticamente todo el territorio y el ferry que te ayudará a moverte a través de las distintas islas que pertenecen al territorio. Los costos de un hotel 3 estrellas se encuentran en un promedio de $70 por noche, mientras que en hosteles podrás encontrar precios desde $25 por noche. Debido a la influencia de los países occidentales, podrás encontrar comida no sólo de origen chino, sino que podrás encontrar una gran variedad de comida internacional, podrás encontrar comida muy económica en puestos callejeros o bien restaurantes de fama internacional, los costos promedio de una comida son de $25.
Con el panorama un poco más amplío y con mayores expectativas de lo que podrás encontrar en tan bello lugar, te dejo algunas recomendaciones de lugares y cosas por hacer en tu estancia:
Pico Victoria, es la montaña más alta de la isla de Hong Kong con una altura de 550 metros. Es sin duda el mejor mirador de la ciudad, desde ahí podrás admirar la belleza de una ciudad rodeada por enormes rascacielos mezclados con naturaleza y su bahía. En la cima podrás encontrar 2 centros comerciales y además una hermosa terraza desde la que podrás tener la mejor vista del lugar con un costo de entrada de $6.5, podrás subir a pie o en funicular con un costo de $6 por viaje redondo.
Tsim Sha Tsui, es una de las zonas más populares y prósperas de la ciudad, y desde donde podrás tener las mejores vistas de la bahía de Hong Kong, ahí podrás encontrar la "avenida de las estrellas", que no es más que una copia de la avenida de las estrellas de LA, pero con los nombres de los actores famosos chinos, entre las que destacan las de Jackie Chan y Bruce Lee. Desde este lugar podrás ver el espectáculo urbano más conocido de Hong Kong, "Symphony of Lights", se trata de un espectáculo de luces y sonidos que brillan con luz propia en el Skyline de Hong Kong, este espectáculo se hace a diario a las 8:00 pm con duración de 20 minutos, el espectáculo es repartido por 45 edificios que cambian de tonalidades conforme el significado de la fase en la que se encuentre. Si te sientes cansado de los bullicios de la ciudad podrás asistir al Parque de Kowloon para disfrutar de un extensa zona verde para relajarte. O bien podrás asistir al museo de arte o al museo del espacio que también se encuentran en esta zona.
Monasterio Po Lin, es el monasterio budista más importante de Hong Kong, está situado en la parte más alta de la isla Lantau, fundado por tres monjes en 1906, el recinto está compuesto por el templo, las casas de los monjes, un restaurante de comida vegetariana y varias tiendas para la compra de incienso. Podrás encontrar varios quemadores de incienso para todos los fieles y visitantes que decidan dejar una ofrenda. Además podrás encontrar 3 estatuas budas, que dan representación al pasado, presente y al futuro. Para complementar este viaje podrás subir los 268 escalones y admirar de cerca al Gran Buda Tian Tan, el cual es el buda sentado más grande del mundo. Para llegar al monasterio tendrás que tomar el teleférico Ngong Ping con un costo de $17.5 por viaje redondo.