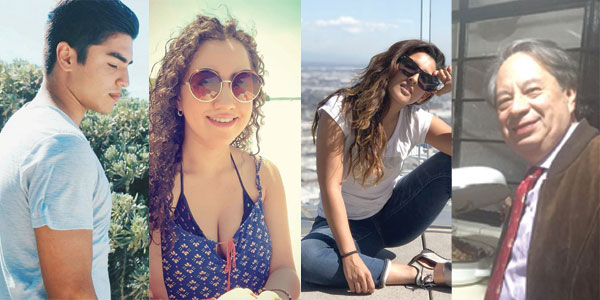 By Yanis De Palma
On Sunday night (May 20), the second presidential debate for Mexico's July elections took place in Mexico City.
To get a sense of the mood in Mexico, Dos Mundos asked some Mexicans for their thoughts about the debate and the candidates. Here are their answers:
"The candidates only attacked each other. I think that no one really talked about their plans or agenda. They only agreed … (on raising) the minimum wage. Even though the format was different, everything always ended in a very repetitious and boring point. (Ricardo) Anaya and (Jose Antonio) Meade feel like they are the winners, and I think that Bronco (Jaime Rodriguez) was smarter than both of them. Overall, I think that … (it) was an awful debate. In the end we all know that AMLO (Andres Manuel Lopez Obrador) is going to become president."
– Javier Jimenez –
"I think that I lost two hours of my life … because no one answered anything. I didn't like anyone, besides Bronco (Jaime Rodriguez) – that was the most honest one. What everyone was saying didn't make any sense. I felt (for) the moderator because they didn't say nothing important."
– Eduardo Reyes –
"I think that Meade won the debate, because he's the experienced one and he really knows the … (political) topics. AMLO (Andres Manuel Lopez Obrador) didn't made sense; he didn't give any … (proposals) to (achieve) his agenda. Bronco (Jaime Rodriguez) only talks nonsense. More than a debate, it … (looked) like a show where Anaya and AMLO … (roasted) each other."
– Regina Sanchez –
"The format of the debate was good, but I feel like they only focused … (on) one topic. They didn't … (get) any chance to speak about economic or other public matters. I feel like (Ricardo) Anaya and (Jose Antonio) Meade answered the questions. Meanwhile, AMLO (Andres Manuel Lopez Obrador) didn't … (leave) his comfort zone about being the favorite one, which put him in (a) vulnerable situation."
– Paola Gonzalez –
---
Conversaciones Callejeras: El segundo debate presidencial en México
El domingo por la noche (20 de mayo), el segundo debate presidencial para las elecciones de julio en México tuvo lugar en la Ciudad de México.
Para tener una idea del estado de ánimo en México, Dos Mundos preguntó a algunos mexicanos por sus pensamientos sobre el debate y los candidatos. Aquí están sus respuestas:
"Los candidatos sólo se atacaron entre sí. Creo que nadie realmente habló sobre sus planes o propuestas. Sólo acordaron (en subir) el salario mínimo. Aunque el formato era diferente, todo siempre terminaba en un punto muy repetitivo y aburrido. (Ricardo) Anaya y (José Antonio) Meade sienten que son los ganadores, y creo que Bronco (Jaime Rodríguez) fue más inteligente que los dos. En general, creo que … fue un debate terrible. Al final, todos sabemos que AMLO (Andrés Manuel López Obrador) se convertirá en presidente".
– Javier Jiménez –
"Creo que perdí dos horas de mi vida … porque nadie respondió nada. No me gustó nadie, además de Bronco (Jaime Rodríguez) – fue el más honesto. Lo que todos decían no tenía ningún sentido. Me identifique el moderador porque no dijeron nada importante".
– Eduardo Reyes –
"Creo que Meade ganó el debate, porque él es el experimentado y realmente sabe sobre los … temas (políticos). AMLO (Andrés Manuel López Obrador) no decía nada con sentido, no dio ninguna propuestas para lograr sus planes. Bronco (Jaime Rodríguez) sólo habla tonterías. Más que un debate, … (parecía) un espectáculo en el que Anaya y AMLO … se molestaban uno a otro".
– Regina Sánchez –
"El formato del debate fue bueno, pero siento que sólo se enfocaron … en un tema. No tuvieron ninguna oportunidad de hablar sobre asuntos económicos u otros asuntos públicos. Siento que (Ricardo) Anaya y (José Antonio) Meade respondieron las preguntas. Mientras tanto, AMLO (Andrés Manuel López Obrador) no … salió de su zona de confort sobre ser el favorito, lo cual lo puso en una situación vulnerable ".
– Paola Gonzalez –