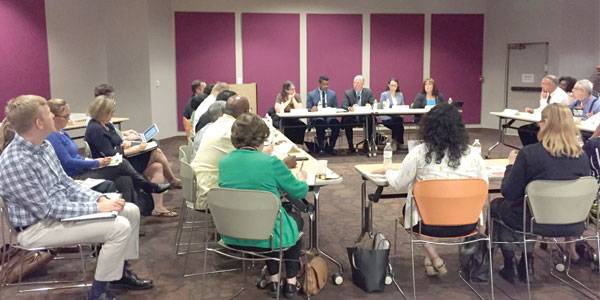 By Chara
On June 13, representatives of the Federal Trade Commission (FTC), Kansas Attorney General's Office, Missouri Attorney General's Office and Kansas Legal Services hosted an event in the Kansas City area to talk about scammers and how to avoid falling prey to them.
Scammers defraud consumers by selling fake services or products. According to FTC data, consumers in African-American and Latino communities are more likely to be victims of consumer fraud, but less likely to report it. Latinos, for example, report fraud at a rate that's 40 percent lower than the general population, according to the FTC.
"It's very important that consumers report frauds that are impacting their communities," said Todd Kossow, FTC Director of the Midwest. "The FTC's law enforcement work relies on people reporting fraud and telling us what happened to them.  People should think of it as a way of protecting their communities."
During the event, the experts discussed the top scams in Kansas and Missouri. The two states had a combined total of 50,000 scam reports in 2017. That year, the FTC's Consumer Sentinel Network received 14,586 reports from Kansas and 39,148 from Missouri. They also discussed the national trend in 2017.
"The top consumer fraud reported to the FTC in 2017 was imposter scams," Kossow stated. "These include things like the IRS imposter calls that many people have been receiving; tech support scams – the calls and pop-up messages indicating that there's a serious problem with your computer that needs to be fixed right away; the grandparents scam, where the scammer impersonates your grandchild and asks you to wire money to help get them out of trouble; and romance scams, where the scammer develops an online relationship with the victim and then asks the victim to send money. Imposter scams include any scam where someone is trying to get your money by pretending to be someone else."
Other scam reports include fake debt collection attempts and fake prizes.
According to the experts, the best way to identify a scam is if someone unknown to the targeted individual requests payment via a money transfer or gift card. Scammers usually like those types of payments because, once they receive them, they can't get tracked.
Experts advise using the following tips to avoid being scammed:
*Tell someone if you think someone is trying to scam you. Friends or relatives can help determine if a request for money is a scam or not.
*Research online to see if an organization is legitimate or call the official offices of the organization the individual claims to represent.
*Don't pay with gift cards or send a money transfer.
To report scams, visit www.ftc.gov. The website also includes resources in English at ftc.gov/scams and in Spanish ftc.gov/estafas.
---
Los expertos enseñan a los consumidores del área cómo estar al tanto de los estafadores
El 13 de junio, representantes de la Comisión Federal de Comercio (FTC), la Fiscalía General de Kansas, la Oficina del Procurador General de Missouri y Kansas Legal Services organizaron un evento en el área de Kansas City para hablar sobre estafadores y cómo evitar ser víctimas de ellos.
Los estafadores defraudan a los consumidores al vender servicios o productos falsos. Según los datos de la FTC, los consumidores en las comunidades afroamericanas y latinas son más propensos a ser víctimas de fraude al consumidor, pero es menos probable que lo denuncien. Los latinos, por ejemplo, informan sobre fraudes en un 40 por ciento menos que la población general, según la FTC.
«Es muy importante que los consumidores informen de fraudes que están afectando a sus comunidades", dijo Todd Kossow, Director de la FTC para el Medio Oeste. "El trabajo de aplicación de la ley de la FTC se basa en personas que denuncian fraude y nos dicen lo que les sucedió. La gente debería pensar en ello como una forma de proteger a sus comunidades".
Durante el evento, los expertos discutieron las principales estafas en Kansas y Missouri. Los dos estados tuvieron un total combinado de 50,000 informes de estafa en el 2017. Ese año, la Red de Centinelas del Consumidor de la FTC recibió 14,586 informes de Kansas y 39,148 de Missouri. También discutieron la tendencia nacional en el 2017.
"El fraude al consumidor más elevado informado a la FTC en el 2017 fue una estafa impostora", afirmó Kossow. "Estos incluyen cosas como las llamadas de impostores del IRS que muchas personas han estado recibiendo; fraudes de soporte técnico: las llamadas y los mensajes que indican que hay un problema serio con su computadora que necesita ser reparado de inmediato; la estafa de los abuelos, donde el estafador se hace pasar por su nieto y le pide que transfiera dinero para ayudarlos a salir de problemas; estafas de romance, donde el estafador desarrolla una relación en línea con la víctima y luego le pide a la víctima que le envíe dinero. Las estafas de Imposter incluyen cualquier estafa en la que alguien intenta obtener su dinero fingiendo ser otra persona".
Otros informes de estafa incluyen intentos falsos de cobro de deudas y premios falsos.
Según los expertos, la mejor forma de identificar una estafa es si alguien desconocido para la persona a la que se dirige solicita el pago a través de una transferencia de dinero o una tarjeta de regalo. Los estafadores suelen preferir esos tipos de pagos porque, una vez que los reciben, no pueden ser rastreados.
Los expertos sugieren seguir los siguientes consejos para evitar ser estafado:
* Dígale a alguien si cree que está tratando de ser estafado. Los amigos o parientes pueden ayudar a determinar si una solicitud de dinero es una estafa o no.
* Investigue en línea para ver si una organización es legítima o llame a las oficinas oficiales de la organización que realiza las reclamaciones.
* No pague con tarjetas de regalo o envíe una transferencia de dinero.
Para reportar fraudes, visite www.ftc.gov. El sitio web también incluye información en inglés en ftc.gov/scams y en español en ftc.gov/estafas.