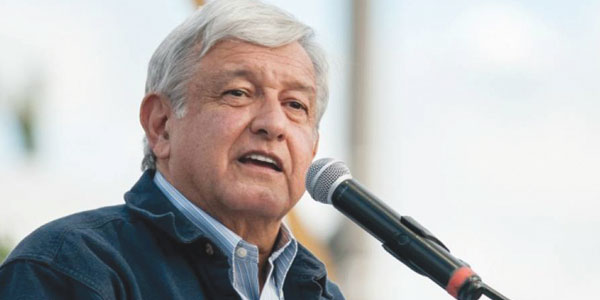 By Chara
A letter that could affect U.S.-Mexican relations has finally been made public.
Recently, Mexican President-elect Andres Manuel Lopez Obrador met with members of the Trump administration and sent a letter to President Trump. Lopez Obrador said the contents of the letter wouldn't be revealed until the U.S. president had received it.
Following confirmation that Trump had received the letter, Lopez Obrador and soon-to-be Mexican Foreign Minister Marcelo Ebrard held a press conference to let people know the document's contents.
"The purpose (of reading the letter) is that all Mexican people know what … our position (is) regarding the relationship that we have with the United States government," Lopez Obrador said.
The seven-page document covers such issues as U.S.-Mexican relations, immigration, security and international commerce – specifically, NAFTA. Lopez Obrador calls on Trump to conclude NAFTA negotiations in a positive way.
"I propose to resume negotiations with the participation of representatives from Mexico, Canada and the United States," the letter states.
Regarding immigration, an issue that has strained relations between the two countries in recent years, Lopez Obrador's letter states that his government will focus on creating jobs, so Mexicans aren't forced to immigrate because of poverty or security issues.
In addition, the letter covers Lopez Obrador's plans for Mexico. According to the document, the president-elect plans to initiate a "new national project" that will focus on "banishing corruption, abolishing impunity, acting with austerity and allocating all the money saved to the country's development."
Lopez Obrador's letter concludes by saying there'll be changes and that he's happy to work with Trump's government.
During a recent press conference at the White House, President Trump told the Mexican newspaper El Pais and other media outlets that he had talked to Lopez Obrador and that both governments would work toward something positive for both countries.
---
López Obrador revela contenido de la carta hacia Trump
Una carta que podría afectar las relaciones entre Estados Unidos y México finalmente se hizo pública.
El presidente electo de México, Andrés Manuel López Obrador, se reunió recientemente con miembros del gobierno de Trump y envió una carta al presidente Trump. López Obrador dijo que el contenido de la carta no se revelaría hasta que el Presidente de EE. UU. la hubiera recibido.
Luego de la confirmación de que Trump había recibido la carta, López Obrador y el futuro Ministro de Relaciones Exteriores de México, Marcelo Ebrard, realizaron una conferencia de prensa para informar a la gente sobre el contenido del documento.
"El propósito (de leer la carta) es que todos los mexicanos sepan cual es … nuestra posición con respecto a la relación que tenemos con el gobierno de los Estados Unidos", dijo López Obrador.
El documento de siete páginas cubre temas tales como las relaciones entre Estados Unidos y México, la inmigración, la seguridad y el comercio internacional, específicamente, el TLCAN. López Obrador hace un llamado a Trump para que concluya las negociaciones del TLCAN de una manera positiva.
"Propongo reanudar las negociaciones con la participación de representantes de México, Canadá y Estados Unidos", dice la carta.
En cuanto a la inmigración, un tema que ha tensado las relaciones entre los dos países en los últimos años, la carta de López Obrador afirma que su gobierno se centrará en crear empleos, para que los mexicanos no se ven obligados a emigrar por cuestiones de pobreza o seguridad.
Además, la carta cubre los planes de López Obrador para México. Según el documento, el Presidente electo planea iniciar un "nuevo proyecto nacional" que se enfocará en "desterrar la corrupción, abolir la impunidad, actuar con austeridad y asignar todo el dinero ahorrado para el desarrollo del país".
La carta de López Obrador concluye diciendo que habrá cambios y que está contento de trabajar con el gobierno de Trump.
Durante una reciente conferencia de prensa en la Casa Blanca, el presidente Trump dijo al periódico mexicano El País y otros medios de comunicación que había hablado con López Obrador y que ambos gobiernos trabajarían para lograr algo positivo para ambos países.