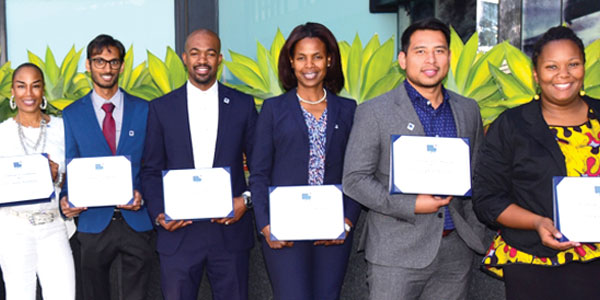 Project REAP (Real Estate Associate Program) has opened applications for its 2018 program, which will begin in September, in both Kansas Cities.
Applications can be accessed at www.projectreap.org. The application period closes on Aug. 15.
This will be the first time the program has been open to candidates in both Kansas Cities. In 2017, with only Kansas City, Missouri, participating, the program graduated 19 minority professionals.
"KCK (Kansas City, Kansas) is a community founded on the bedrock of diversity and opportunity," said Jon Stephens, director of economic development for the Unified Government of Wyandotte County/Kansas City, Kansas. "As a leading center of commercial development, it only makes sense that we work with our partners to bring greater professional opportunity to individuals of color."
REAP is an effort to link individuals of color to real estate careers. The program includes a 10-week schedule of 20-plus classes, with topics ranging from market analysis to leasing and brokerage. The classes are taught by industry leaders in the area. Although real estate experience isn't necessary, all applicants must have a four-year degree and three to five years of professional, post-college work experience.
For more information, contact Osayamen Bartholomew, REAP associate program director, at (646) 728-3496.
---
El Proyecto REAP regresa a Kansas City
El Proyecto REAP (Programa de Asociados de Bienes Raíces; REAP por sus siglas en inglés) ha abierto solicitudes para su programa 2018, que comenzará en septiembre, en ambas Kansas City.
Se puede acceder a las aplicaciones en www.projectreap.org. El período de aplicación cierra el 15 de agosto.
Esta será la primera vez que el programa ha sido abierto a candidatos en ambas Kansas City. En el 2017, con sólo Kansas City, Missouri participando, el programa graduó a 19 profesionales de minorías.
"KCK (Kansas City, Kansas) es una comunidad fundada sobre una base de diversidad y oportunidad", dijo Jon Stephens, director de desarrollo económico del Gobierno Unificado del Condado de Wyandotte / Kansas City, Kansas. "Como centro principal de desarrollo comercial, tiene sentido que trabajemos con nuestros socios para brindar mayor oportunidad profesional a las personas de color".
REAP es un esfuerzo que busca conectar personas de color con carreras en bienes raíces. El programa incluye un programa de 10 semanas de más de 20 clases, con temas que van desde el análisis de mercado hasta el arrendamiento y la intermediación. Las clases son impartidas por líderes de la industria en el área. Aunque la experiencia en bienes raíces no es necesaria, todos los solicitantes deben tener un título de cuatro años y tres a cinco años de experiencia laboral profesional después de la universidad.
Para más información, contacta a Osayamen Bartholomew, director asociado del programa REAP, al (646) 728-3496.