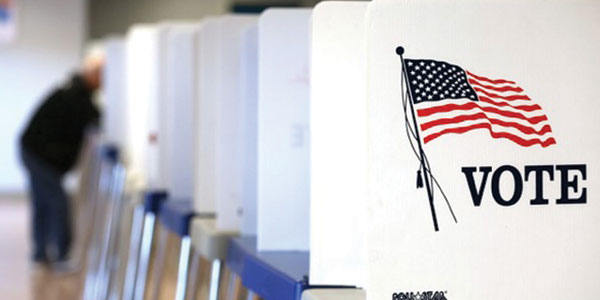 Republicans currently wield tremendous power. The party controls the executive and legislative branches of the federal government, 31 state legislatures and 33 state governorships. But the political sands could soon shift dramatically. On Nov. 6, Americans will elect 435 U.S. representatives and 35 U.S. senators. Furthermore, constituents in 36 states will elect governors, and voters in 46 states will elect state senators and House members.
Democrats are banking on a takeover of at least one house of the U.S. Congress. To gain a majority in the House, they need retake only 23 seats, and to control the Senate, Democrats just need to win back two seats.
On Nov. 6, Kansans will elect a governor, lieutenant governor, secretary of state, attorney general, state treasurer, commissioner of insurance, all four U.S. representatives from Kansas, one state senator, all 125 state representatives, five state board of education members and various judges.
Missourians will re-elect two-term incumbent U.S. Sen. Claire McCaskill or replace her with Republican opponent Josh Hawley, Green Party candidate Jo Crain or Libertarian candidate Japheth Campbell. Seven-term incumbent U.S. Rep. Emanuel Cleaver's job is on the line, too. He faces Republican challenger Jacob Turk. Ten-term incumbent Sam Graves's Democrat opponent is Henry Martin
The Kansas gubernatorial race has commanded national attention. The race for the Republican nomination was just decided late Tuesday night, Aug. 14 – a full week after the election. At a news conference after 8 p.m., Kansas Gov. Jeff Colyer announced he was conceding to his opponent, Secretary of State Kris Kobach. Colyer said he'd spoken with Kobach and congratulated him. He threw his support behind Kobach and restated his "determination to keep the seat in Republican hands."
Kobach will face Democrat Laura Kelly, independent Greg Orman and Libertarian Jeff Caldwell in the Nov. 6 general election. The four candidates offer very different priorities and have very different visions for the future of Kansas.
The outcome of the November election could potentially recalibrate the political environment here in Kansas, among other states, and nationally. There are considerations to inform how we vote. As a community, a state, a nation, what values do we embrace? What are our priorities? What is our vision for our world? Which, if any, of the candidates share our values, priorities and vision?
Nota bene:
The deadline to register for adults who will be eligible to vote in the Nov. 6 general election is Oct. 16 in Kansas and Oct. 10 in Missouri.
__________________________________________________________________________________________
Elecciones por el control político

Los republicanos actualmente tienen mucho poder. El partido controla las ramas ejecutiva y legislativa del gobierno federal, 31 legislaturas estatales y 33 gobernaciones estatales. Pero las arenas políticas podrían cambiar pronto y drásticamente. El 6 de noviembre los estadounidenses elegirán a 435 representantes y 35 senadores. Además, los electores de 36 estados elegirán gobernadores y los votantes en 46 estados elegirán senadores estatales y miembros de la Cámara.
Los demócratas están confiando en la toma de al menos una de las cámaras del Congreso de Estados Unidos. Para obtener la mayoría de la Cámara de Representantes tendrán que volver a tomar sólo 23 escaños, y para controlar el Senado, los demócratas tendrán que recuperar dos escaños.
El 6 de noviembre, los residentes de Kansas elegirán a su gobernador, vicegobernador, secretario de estado, fiscal general, tesorero estatal, comisionado de seguros, los cuatro representantes para la Cámara de EE.UU, un senador estatal, todos los 125 representantes estatales, cinco miembros de la junta estatal de educación, y varios jueces.
Los residentes de Missouri volverán a elegir a la senadora nacional titular por dos periodos Sen. Claire McCaskill o reemplazarla con su oponente republicano Josh Hawley, candidata del Partido Verde Jo Crain o candidato libertario Japheth Campbell. El puesto del Representante de la Cámara de EE.UU. Emanuel Cleaver está en juego también. Se enfrenta al aspirante republicano Jacob Turk. El oponente demócrata de Sam Graves, titular por diez periodos, es Henry Martin.
La elección de gobernador en Kansas ha atraído atención nacional. La carrera por la nominación republicana acaba de decidirse tarde la noche del martes, 14 de agosto, una semana después de las elecciones. En una conferencia de prensa después de las 8 p.m., el gobernador de Kansas Jeff Colyer anunció que estaba concediendo la victoria a su oponente, el secretario de estado Kris Kobach. Colyer dijo que había hablado con Kobach y lo había felicitado. Lanzó su apoyo a Kobach y reiteró su "determinación para mantener el puesto en manos republicanas".
Kobach se enfrentará a la demócrata Laura Kelly, al independiente Greg Orman y al libertario Jeff Caldwell en las elecciones generales del 6 de noviembre. Los cuatro candidatos ofrecen diferentes prioridades y tienen visiones diferentes visiones para el futuro de Kansas.
El resultado de la elección de noviembre podría recalibrar el ambiente político aquí en Kansas, entre otros estados, y a nivel nacional. Hay consideraciones para informar cómo votamos. Como comunidad, estado, nación, ¿qué valores nos importan? ¿Cuáles son nuestras prioridades? ¿Cuál es nuestra visión del mundo? ¿Cuáles, si alguno, de los candidatos comparten nuestros valores, prioridades y visión?
Observa bien:
La fecha límite para registrarse para los adultos elegibles para votar en la elección general del 6 de noviembre es 16 de octubre en Kansas y 10 de octubre en Missouri.