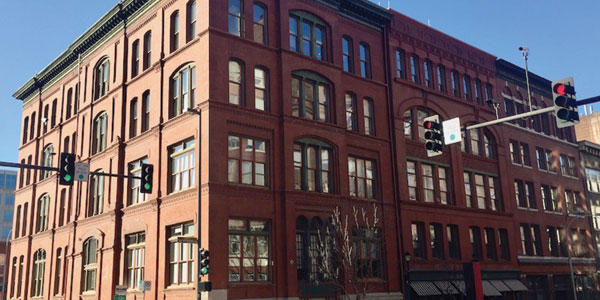 By Angie Baldelomar
Crossroads Charter Schools has opened its newest facility, the Historic Thayer Building, which will house Crossroads Preparatory Academy (CPA).
The opening was on Monday (Aug. 20). Home to nearly 200 students in grades 7-10, CPA will grow to serve 600 students in grades 7-12 by 2025, according to a press release.
"The passion the Crossroads Preparatory Academy staff and scholars bring to this historic building is both exciting and contagious," said Kirsten Brown, CPA principal, in the press release. "Teachers, parents and community members are eager to collaboratively transform the secondary educational experience and outcomes for the scholars of Kansas City through the work that will be done at CPA."
Crossroads announced in February that CPA would be in the Historic Thayer Building. Phase I of the renovation has been completed, including learning spaces for seventh- and eighth-graders on one level, and ninth- and 10th-graders on another.
Future phases of the building renovation will include spaces for visual and performing arts, STEM labs, "maker spaces" and other common spaces within the building and construction of a gymnasium.
---
Se abre la nueva instalación de Crossroads Charter
Crossroads Charter Schools ha abierto su nueva instalación, el histórico edificio Thayer, que albergará la Academia Preparatoria Crossroads (CPA por sus siglas en inglés).
La apertura fue el lunes (20 de agosto). Hogar de casi 200 estudiantes en los grados 7-10, CPA crecerá para atender a 600 estudiantes en los grados 7-12 para el 2025, según un comunicado de prensa.
"La pasión que el personal y los eruditos de la Academia Preparatoria Crossroads traen a este edificio histórico es emocionante y contagiosa", dijo Kirsten Brown, directora de CPA, en el comunicado de prensa. "Los maestros, padres y miembros de la comunidad están ansiosos por transformar colaborativamente la experiencia educativa secundaria y los resultados para los académicos de Kansas City a través del trabajo que se realizará en CPA".
Crossroads anunció en febrero que CPA estaría en el histórico edificio Thayer. La Fase I de la renovación ha sido completada, incluyendo espacios de aprendizaje para alumnos de séptimo y octavo grado en un nivel, y estudiantes de noveno y décimo grado en otro.
Las fases futuras de la renovación del edificio incluirán espacios para artes visuales y escénicas, laboratorios STEM, "espacios de fabricación" y otros espacios comunes dentro del edificio y la construcción de un gimnasio.