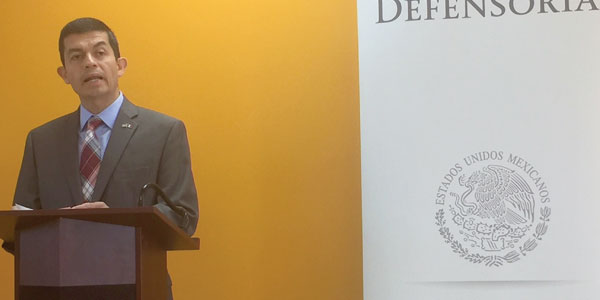 Story and photo by Angie Baldelomar
On Monday (Aug. 27), the Consulate of Mexico in Kansas City, Missouri, started its 10th annual Labor Rights Week.
The week's activities include several informative workshops at the consulate. Head Consul Alfonso Navarro-Bernachi said the week of activities is designed to enhance the knowledge of labor rights within the Mexican and other Hispanic communities that live in the United States, and that work and contribute to the nation's economy.
"The slogan of this week is precisely that all workers have rights – and we are going to concentrate, for example, on sharing information with those who carry work visas H-2A and H-2B, but also (with) people who are working independently of their migratory status," Navarro-Bernachi said.
Another goal of the weeklong event is to approach current workers. Navarro-Bernachi said there'll be some visits made to agricultural communities where there are Mexican workers.
"(We are going to visit these places) to know the recruitment process, how the transfer process is carried out here to the farms and also inform them (of their rights)," he said.
The third goal for the week is to approach people who've recently joined the labor force, particularly the Deferred Action for Childhood Arrivals population.
"(We want to reach) young people who have just obtained their work permit, who are just entering the labor market, so they know precisely what rights they have and how to enforce them," he said.
Ultimately, the goal for the week is to give community members the tools to enforce their rights at work and to defend their rights by filing complaints when those rights are violated.
"The assistance and protection of the rights of Mexican workers is a priority of the Mexican government through the consulates we have in the United States," Navarro-Bernachi stated.
The head consul also emphasized that the week's events are open to the entire Hispanic community. Through Sept. 3, there will be informative talks at the consulate, given at 10 a.m. by lawyers and specialists from agencies that deal with labor issues.
_________________________________________________________________________________________
Consulado mexicano comienza su semana anual de derechos laborales
El Consulado de México de Kansas City, Missouri comenzó su decima Semana Anual de Derechos Laborales el lunes (27 de agosto).
La semana de actividades incluye varios talleres informativos en el consulado. El cónsul titular Alfonso Navarro-Bernachi dijo que la semana de actividades está diseñada para intensificar el conocimiento de los derechos laborales entre la comunidad mexicana e hispana que reside en los Estados Unidos, y que trabaja y contribuye a la economía del país.
"El lema de esta décima semana es precisamente que todos los trabajadores tenemos derechos, y nos vamos a concentrar, por ejemplo, a compartir información con los que son portadores de visas de trabajo H-2A y H-2B pero también (con) las personas que están trabajando independientemente de su calidad migratoria", dijo Navarro-Bernachi.
Otra parte de esta semana de eventos es de acercamiento a las personas activas en lugares de trabajo. Navarro-Bernachi dijo que algunas de esas visitas serán a comunidades agrícolas donde hay trabajadores mexicanos.
"(Vamos a visitar estos lugares) para conocer el proceso de reclutamiento, cómo se lleva a cabo su proceso de traslado aquí a las granjas, e informarles también (de sus derechos)", explicó.
La tercer vertiente de esta semana de actividades es poder acercarse a personas que recién se han incorporado al mercado laboral, particularmente la población DACA.
"(Queremos alcanzar a) los jóvenes que acaban de obtener su permiso de trabajo, que están apenas entrando al mercado laboral, (para) que sepan precisamente qué derechos tienen y cómo hacerlos valer", dijo.
El objetivo final de esta semana es darle a la comunidad herramientas para que hagan valer sus derechos en el trabajo y saber cómo presentar quejas en caso de violaciones a estos derechos.
"La asistencia y protección de los derechos de las personas trabajadoras mexicanas es una prioridad del gobierno de México a través de los consulados que tenemos en los Estados Unidos", dijo el cónsul.
El cónsul titular tambien enfatizó que los eventos de la semana están abiertos a toda la comunidad hispana. Hasta el 3 de septiembre habrán charlas informativas con abogados y especialistas de agencias que ven temas laborales a las 10 a.m.