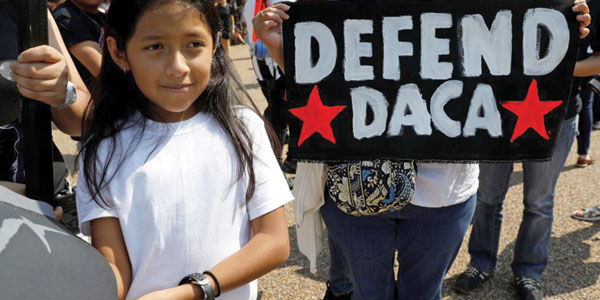 August ended last week with a temporary reprieve for the Deferred Action for Childhood Arrivals (DACA) program. Seven states had joined a lawsuit filed by Texas to stop the DACA program and declare it illegal. On Aug. 31, Judge Andrew Hanen of the Federal District Court in Houston, Texas declined to issue an injunction terminating DACA. But he also gave the states a chance to appeal.
Moreover, the judge wrote in his 117-page opinion that the six-year-old program probably violates federal law (the Administrative Procedures Act) for the manner in which it was enacted. Frustrated when Congress failed to pass legislation protecting young immigrants brought here illegally as children, former President Obama set up DACA in 2012 with an executive order. He intended it as a "stop-gap measure" until Congress passed comprehensive immigration reform or at least the DREAM (Development, Relief and Education for Alien Minors) Act, which would provide a path to citizenship.
When he signed the executive order, Obama announced, "Precisely because this is temporary, Congress needs to act."
Judge Hanen noted that in his ruling last Friday, advocating for a legislative solution to the problem. He wrote, "DACA is a popular program and one that Congress should consider saving. (But) this court will not succumb to the temptation to set aside legal principles and to substitute its judgement in lieu of legislative action. If the nation truly wants to have a DACA program, it is up to Congress to say so."
President Trump brought Congress's DACA impasse to a head last September. He announced that his administration would phase out DACA by March 5, 2018. He challenged lawmakers to pass legislation legalizing DACA and making it permanent.
Civil and immigrant rights groups stepped up. As a result of various lawsuits challenging the Trump administration and fighting to preserve the program, federal judges so far have blocked the administration from ending DACA and ordered the Department of Homeland Security to continue renewing two-year work permits under the program. (Note: the department isn't accepting new DACA applicants.) There are several more lawsuits in at least four states as well as current and eventual appeals.
When he refused to grant a preliminary injunction immediately blocking DACA, Judge Hanen argued that more harm would be done to DACA recipients if they lost the program and the ability to work, study and travel freely in the U.S.
That gave rise to faint optimism on the part of immigrant rights groups and DACA recipients. They hope this legal whirlwind is a catalyst for Congress to finally find a permanent legislative solution to DACA.
Nota Bene: Read Judge Hanen's Aug. 31 decision in English online at https://www.maldef.org/assets/pdf/order_denying_inj.pdf
_________________________________________________________________________________________
Alivio temporal de DACA levemente alentador
El mes de agosto acabó la semana pasada con un alivio temporal para el programa de Acción Diferida para Llegados en la Infancia (DACA, por sus siglas en inglés). Siete estados se unieron a una demanda presentada por Texas para detener el programa DACA y declararlo ilegal. El 31 de agosto, el juez Andrew Hanen del Tribunal Federal de Distrito en Houston, Texas se negó a emitir un mandato judicial terminando DACA. Pero también le dio a los estados la oportunidad de apelar.
Además, el juez escribió en su opinión de 117 páginas que el programa de seis años probablemente viola las leyes federales (la Ley de Procedimientos Administrativos) por la forma en que se promulgó. Frustrado luego de que el Congreso no aprobara una legislación que proteja a los jóvenes inmigrantes traídos aquí ilegalmente cuando eran niños, el ex-presidente Obama estableció DACA en 2012 con una orden ejecutiva. Lo pensó como una "medida provisional" hasta que el Congreso aprobara una reforma migratoria integral o al menos la Ley DREAM (Desarrollo, Alivio y Educación para Menores Extranjeros, DREAM por sus siglas en inglés), que proporcionaría un camino hacia la ciudadanía.
Cuando firmó la orden ejecutiva, Obama anunció, "Precisamente porque esto es temporal, el Congreso necesita actuar".
El juez Hanen señaló que en su fallo del viernes pasado, abogó por una solución legislativa al problema. Escribió: "DACA es un programa popular y uno que el Congreso debería considerar salvar. (Pero) este tribunal no sucumbirá a la tentación de dejar de lado los principios legales y de sustituir su juicio en lugar de acción legislativa. Si la nación de verdad quiere un programa DACA, le corresponde al Congreso decirlo".
El presidente Trump trajo el impase de DACA del Congreso a un punto crítico en septiembre pasado. Anunció que su administración eliminaría gradualmente DACA antes del 5 de marzo de 2018. Desafió a los legisladores a aprobar leyes que legalicen DACA y lo conviertan en permanente.
Grupos de derechos civiles e inmigrantes intensificaron su labor. Como resultado de varios juicios desafiando a la administración de Trump y luchando por preservar el programa, los jueces federales hasta ahora han impedido que la administración ponga fin a DACA y ordenaron al Departamento de Seguridad Nacional que continúe renovando los permisos de trabajo de dos años bajo el programa. (Nota: el departamento no está aceptando nuevos solicitantes de DACA.) Existen varias demandas más en al menos cuatro estados, así como apelaciones actuales y eventuales.
Cuando se negó a otorgar una orden judicial preliminar que bloqueara inmediatamente a DACA, el juez Hanen argumentó que se causaría más daño a los beneficiarios de DACA si perdían el programa y la capacidad de trabajar, estudiar y viajar libremente en los EE. UU.
Eso dio lugar a un leve optimismo por parte de los grupos de derechos de los inmigrantes y los destinatarios de DACA. Esperan que este torbellino legal sea un catalizador para que el Congreso finalmente encuentre una solución legislativa permanente para DACA.
Nota bene: Lee la decisión del juez Hanen del 31 de agosto en inglés en el sitio https://www.maldef.org/assets/pdf/order_denying_inj.pdf