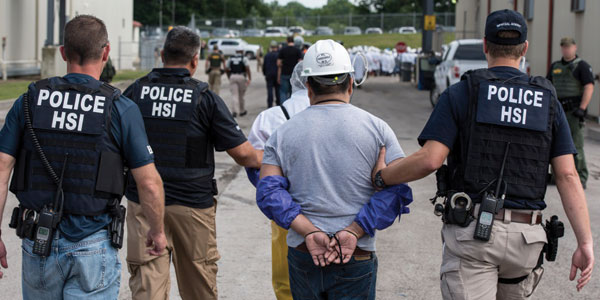 By Chara
Texas raid leaves 160 undocumented workers detained
On Aug. 28, U.S. Immigration and Customs Enforcement (ICE) agents raided the facility of a manufacturing company in Texas.
According to ICE, the raid of the company, Load Trail, resulted in 160 arrests. ICE officers from New Orleans, Houston and San Antonio staged the raid, with multiple helicopters and buses surrounding the area.
"Though we are surprised by today's developments, we intend to fully cooperate with the government's investigation and to make sure the full and accurate Load Trail story is made known," Gene Besen, legal counsel for Load Trail, told the Dallas Morning News.
Federal authorities started investigating when they learned that Load Trail was hiring undocumented immigrants to work at its facility in Sumner, Texas.
"Businesses that knowingly hire illegal aliens create an unfair advantage over their competing businesses," said Katrina W. Berger, special agent in charge, HSI Dallas, in a statement from ICE. "In addition, they take jobs away from U.S. citizens and legal residents – and they create an atmosphere poised for exploiting their illegal workforce."
Load Trail has been involved in several cases related to hiring undocumented immigrants. The most recent one took place in 2014. The company was fined $445,000.
All the subjects in the latest case involving Load Trail will be interviewed by ICE staff members. After the interviews, it will be determined if those arrested should remain in custody or be considered for humanitarian release.
Immigration-related raids have increased during the Trump administration. Recently, one raid took place in Nebraska. In June, a raid was conducted on a meat supplier in Ohio, resulted in 100 arrests. However, according to ICE, the most recent raid in Texas is considered the largest site-single enforcement operation in a decade.
_________________________________________________________________________________________
Las redadas de ICE no paran
Redada en Texas deja detenidos a 160 trabajadores indocumentados
El 28 de agosto, agentes de la Oficina de Inmigración y Control de Aduanas (ICE) de EE. UU. allanaron las instalaciones de una empresa de fabricación en Texas.
De acuerdo a ICE, la redada de la compañía Load Trail resultó en 160 arrestos. Oficiales de ICE de New Orleans, Houston y San Antonio organizaron el ataque, con múltiples helicópteros y autobuses que rodearon el área.
"Aunque estamos sorprendidos por los desarrollos de hoy, tenemos la intención de cooperar completamente con la investigación del gobierno y asegurarnos de que se conozca la historia completa y precisa de Load Trail", dijo Gene Besen, asesor legal de Load Trail, al periódico Dallas Morning News.
Las autoridades federales comenzaron a investigar cuando se enteraron que Load Trail estaba contratando inmigrantes indocumentados para trabajar en sus instalaciones en Sumner, Texas.
"Las empresas que contratan a extranjeros ilegales a sabiendas crean una ventaja injusta sobre sus negocios competidores", dijo Katrina W. Berger, agente especial a cargo, HSI Dallas, en un comunicado de ICE. "Además, les quitan empleos a los ciudadanos y residentes legales de EE. UU. y crean una atmósfera preparada para explotar su fuerza de trabajo ilegal".
Load Trail ha estado involucrada en varios casos relacionados con la contratación de inmigrantes indocumentados. El más reciente ocurrió en 2014. La compañía recibió una multa de $445,000.
Todos los sujetos en el último caso relacionado con Load Trail serán entrevistados por miembros del personal de ICE. Después de las entrevistas, será determinado si los que fueron arrestados deberían permanecer bajo custodia o ser considerados para liberación humanitaria.
Redadas relacionadas con inmigración han aumentado durante la administración de Trump. Recientemente, se realizó una redada en Nebraska. En junio, se llevó a cabo una redada contra un proveedor de carne en Ohio, que resultó en 100 arrestos. Sin embargo, según ICE, la incursión más reciente en Texas se considera la operación de imposición en un solo sitio más grande en una década.